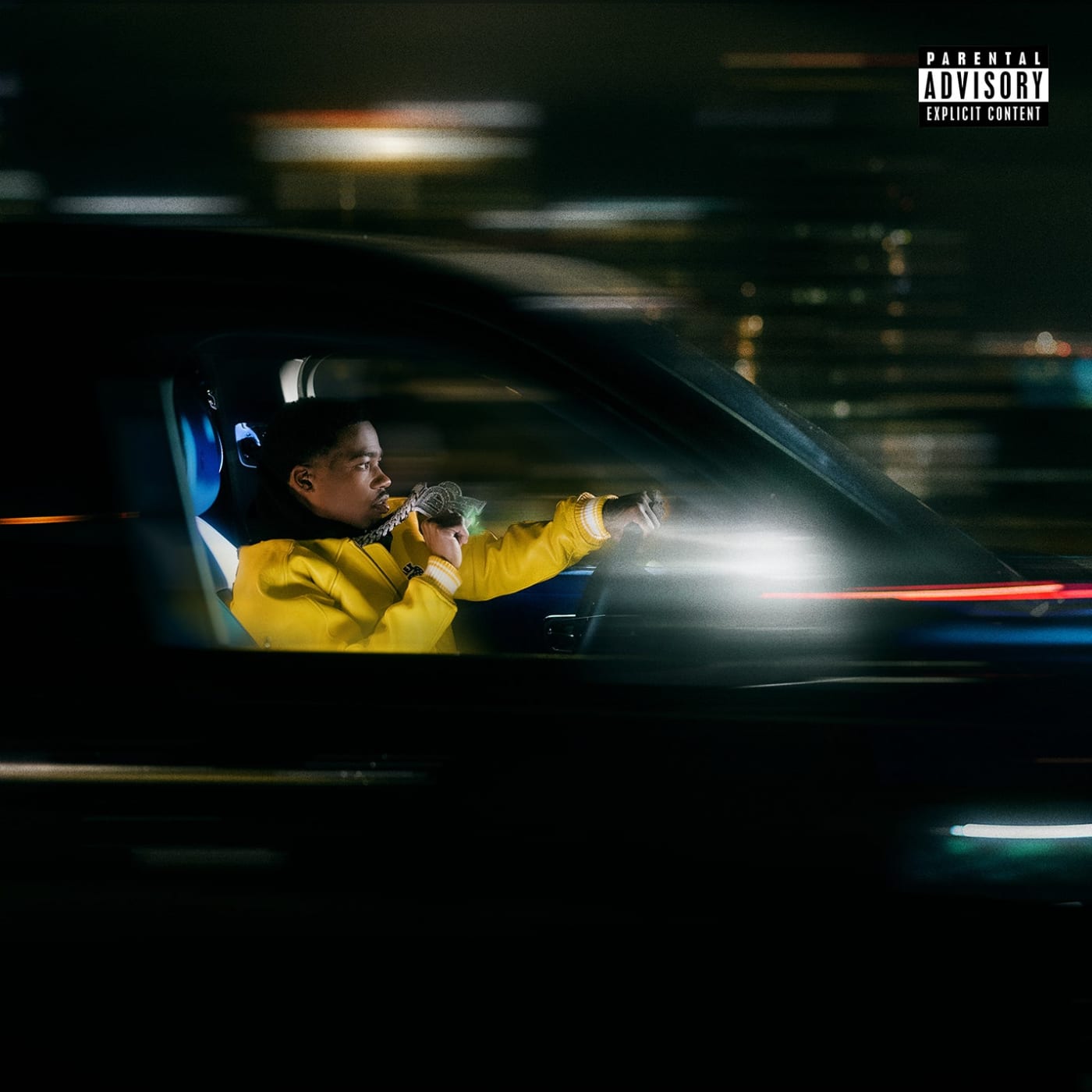 After exploding overnight to kick off 2020 with a bevy of big hits, Roddy Ricch is trying to do the same again with another late-year drop two years later. While his debut was so widely celebrated that it generated a meme about having "no skips," Ricch's status has seemingly dimmed a bit since then after the lukewarm reception to his latest lead single and a subsequent drop in his sales numbers. It would seem that while many of his contemporaries have surprisingly avoided it lately, the sophomore curse will never truly die. It just may have struck him. LIVE LIFE FAST still has a handful of tracks where Ricch's infectious vocal inflections and delivery and eccentric lyrical flips elevate things to a level close to the genius of "The Box," but all too often it feels like he's in search of an artistic identity in the wake of a surprise global phenomenon, without a full understanding of his strengths as he half-heartedly stumbles through some murkier trap soundscapes.
The project opens with a speech from Ricch outlining the album's themes and the titular philosophy that inspired them, as he takes a surprisingly cautious approach and advises listeners to not let the fast lifestyle take over and cause drastic consequences. The first song "thailand" kicks things off with the song that's most similar to "The Box," though it'd be impossible to recapture that lightning in a bottle. Featuring some deafening bass hits that take up all the space in the headphones, it's the most classic, fun-loving Roddy sound you're going to get here. More of a catchy melody rather than an infectious chant that we get might have sent the track over the edge, but the absolute wide-eyed glee he delivers some of these lines with is what's most important. A random shout of "hooray hooray!" is the kind of non-sequitur that works best for him. "all good," on the other hand, should be a trap banger of the highest order, featuring a cinematic, gold-studded instrumental and a feature from Future, but Ricch feels so low-effort on it that it doesn't quite connect. Seemingly focusing more on his bars, he doesn't have the natural musicality or sense of flow to pull off straight rap tracks and his melodic side is sorely mixed, while Future delivers one of his most phoned-in verses of the year. "rollercoastin" brings things back up as Ricch uses his skills in a new way as he reflects on his tumultuous lifestyle over a tender and pensive acoustic loop and some ghostly synths. Flipping through all of his most charismatic and captivating vocal tones – the way he overenunciates "gymnasium" is so strangely gripping – it's nice to hear his melodic abilities used to show a more sensitive side, tacking a voicemail from his grandma onto the end for maximum wholesomeness.
The dissonance between the potential of these tracks and what we actually end up getting continues for most of the album. "hibachi" features a creative standout instrumental from Wheezy full of stuttered and overlapping guitar tones, but both Roddy and featured artist Kodak Black feel like they're asleep at the wheel despite the gift they've been given, falling off the beat a couple times and sounding bored – luckily, 21 Savage takes up the majority of the track and makes up for it in a huge way with some of his trademark hilariously deadpan flexes. The features continue to shine on "paid my dues" as Ricch trades bars with Takeoff, showing that the Migos flow is still fun in moderation as we haven't heard from any of them in a while. The two have a clear hook each, which is something that's surprisingly innovative, but the track feels short and underwritten and the instrumental doesn't jump out at you. The track "crash the party" is where it starts to become clear that either some of these tracks should have been cut, or Ricch should have spent more time in the studio instead of trying to replicate his previous marketing technique – it feels like a disinterested, meandering freestyle as Ricch adopts new flows every few seconds and sounds like he's talking more so than rapping. "no way" works better as Roddy locks more into the pocket with his flow, but halfway through the album, I'm just left wondering why he's not using the melodic talent that attracted so many to him – his voice is naturally built for it. The song transitions into an awkwardly cut sub-minute soul track with Ty Dolla $ign and an Isley, adding to the feeling that there was no real creative direction here.
As the album transitions into its back half and begins to throw more and more obvious filler at listeners, the most baffling thing is the fact that looking at the tracklist for a repeat listen finds me failing to recall any details about certain tracks from their title alone – a lack of memorable hooks on a Roddy Ricch album means that something has gone very, very wrong. "man made" and "everything you need" fall into this category, feeling more like streams of consciousness than attempts at a hit. The latter especially finds him obnoxiously ignoring the instrumental and singing in an entirely different tempo – the rhythms all around are shockingly off-kilter at times for a man with a #1 hit single. "murda one" recruits Fivio Foreign for a drill track – the only song here where Roddy's new "harder" sound might have worked – and he infuriatingly reverts back to his old, lighter and joyful ways as if he's actively trying to be contrarian. It all feels like an obvious identity crisis as he goes forward with his young career – half the time it's pretty obvious he's trying to emulate the success of Lil Baby, who appears on "moved to miami," a track where the two both bring their dissonant melodic tones to every syllable without actually making any effort to have a real melody, creating grating soundscapes.
Ricch thankfully saves some of the better tracks on the project for the end – other than the strange minute and a half long track "more than a trend," where Ricch admits to being one. Gunna drops by with some engaging triplet flows and what might be a career-best verse (though the bar wasn't too high) on "don't i," predicting that the song is going to be a hit. After the rest of the project, to hear such a fun and quotable hook from Ricch is refreshing and his eccentric turns of phrase are all over the track. "late at night" appears here, and the fact that the much-chagrined single now stands out tells you what you need to know about the rest of the project. Still, it's the connection with producer Mustard and Ricch's standard formula still clicking together, just at a slightly lesser level than before – there are still some fun melodies to be had. The closing track "25 million" is actually the greatest song here, elevated by a fantastic medieval-sounding trap instrumental and a nonstop, breathless flow from Ricch on top.
There's obviously still so much potential here, Ricch just needs to take a step back and figure out exactly what works for him. The sophomore jinx doesn't last forever, and if his hook on Kanye's latest project is any indication, we're going to have a couple more Roddy Ricch smash hits on our hands when he returns.
Favourite Tracks: 25 million, rollercoastin, don't i, thailand
Least Favourite Track: everything you need
Score: 5/10