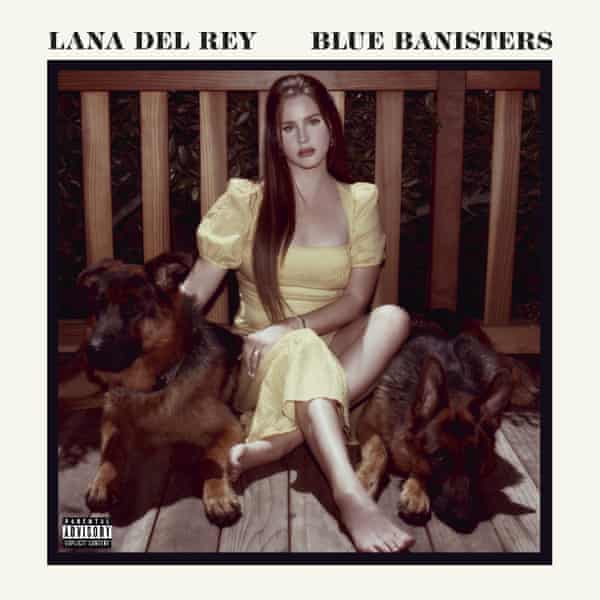 After her last project was renamed a couple times, delayed a couple times, and briefly abandoned in favour of promoting a joint poetry collection and spoken-word album, the glamorous folk-pop singer-songwriter that is Lana Del Rey has been uncharacteristically following through on her lengthy list of promises and announcements as of late. Releasing her second album of the year, Blue Banisters sees Del Rey on the other side of the free-spirited romantic bliss she described on March's Chemtrails over the Country Club, reaching deep into her back catalogue to reclaim her strong sense of self in the wake of a breakup. Del Rey's lyrics are as dense and allusive as ever on Banisters. As her nation has become increasingly chaotic, her romanticization of America and Old-Hollywood aesthetics have subsided in recent years, but as she confidently reclaims who she is – with help from her sisters, friends and dogs – images of Hilton Hotels, movie marquees and Swisher Sweets return. The project also includes a handful of tracks from nearly decade-old recording sessions, and while including these alongside overt nods to the pandemic and recent times can sometimes make the project feel like a disjointed collection of B-sides, there are some poignant full-circle moments as well. Jack Antonoff's absence is felt, but Del Rey's vocals are still undeniable.
If you thought Chemtrails was a looser, folksier comedown from magnum opus Norman F**king Rockwell!, the opening track of Blue Banisters shows that Del Rey is willing to go even further down that route. "Text Book" finds her poking some fun at herself as she finds herself single, dubbing herself a textbook case of daddy issues, but the part that catches you off guard is the track's tempo consistently shifting up and down. It morphs from minimalistic, Bond theme-esque dramatic guitar strums to driving soft rock, before gradually slowing it back down to the beginning through a folk-rock passage ready for swaying arms at festivals. It's a little jarring, but Del Rey's vocals are stunning, introducing the themes of the album as she asserts at the end that Old Man River keeps running with or without her departed beau – a nod to the themes of idealized Americana that return as Del Rey rediscovers herself. Fans are aware the colour blue has been a major lyrical motif throughout her entire career, as she twists the familiarly forlorn colour to apply it to happier moments inescapably and beautifully tinged with the lachrymose melodrama of her extravagant character. As the colour appears in one of her album titles for the first time, she latches onto it as a descriptor of her persona. "Blue Banisters" sees Del Rey in the supportive company of friends and family to get her through her grief over muted pianos, turning her banisters green to signal a brand-new start after the broken promise to turn them blue.
"Arcadia" is the first knockout punch of classic Del Rey imagery, culminating in a comparison of herself and her lasting influence to the Statue of Liberty. It's one of the most strikingly beautiful melodies on the project, but the opening run of tracks can't help but feel a little sad after all the progress we've seen Del Rey make reckoning with her blindly patriotic lyrics that haven't aged well. It's still invigorating to hear her voice soar and powerful to hear her so tangibly crushed, but the notion of dejectedly stomping back to the only place it seems she feels at home is a little worrisome – especially as she brings back leftovers from her uneven Ultraviolence era later on in the tracklisting. Most of these tracks are quite long and musically empty, without much to return to unless you're a massive fan of Del Rey's poetry – but still, later on the poetry suffers a little too – she's already proven that she's so much more interesting than simply longing after a guy, and with tracks like "Black Bathing Suit" we just see her retreading the same damsel in distress and powerful seductress characters that she's already been over, now with awkward beat switches. "If You Lie Down With Me" is the best of the older outtakes, Del Rey applying a warm, husky lower tone on her voice that makes it feel like her new charismatic storyteller sensibilities applied to the grand and cinematic sound of her older tracks. The danceable brass outro is one of the only moments that brings us out of the album's overarching midtempo sigh, as well.
The big comparisons come out again on "Beautiful," another stereotypically Lana piano ballad where she equates her somber lyricism to Picasso's Blue Period. It serves as an intro of sorts to big thematic track "Violets for Roses," where she builds up the revelation that a major point of contention in the relationship was an attempt to change Del Rey's core personality traits, removing the omnipresent blue for pink – never tell her not to be sad. Amidst some more images of Americana, Del Rey sends some of her most direct shots at her ex, letting brief silences speak volumes after placing hard consonants on words like "hate." We're still not treading much new musical ground, but this time Del Rey is rejoicing in her name up in lights on the Paramount sign, instead of sadly turning back to it – it's a nice sentiment. The tracks "Dealer" and "Thunder" both come from an earlier recording session as well, this time from Del Rey's proposed album with The Last Shadow Puppets from 4 years ago. The pop-rock outfit brings some added rhythm and groove to the project, and it results in two of the better tracks here, both of which see Del Rey getting a little more unhinged with her vocals than we're used to. Vocalist Miles Kane appears on the former, his nasal tone a nice contrast to Del Rey's breathier one until she cuts loose with some chaotic, shouted vocals. "Thunder" coasts over a more percussion-heavy soft rock sound, gospel-inspired backing vocals and violins, Del Rey unleashing some more post-breakup vitriol as she searches for the spark that had dimmed.
The project winds down with another series of sparse piano ballads, although legendary producer Mike Dean certainly adds a bit of his own spark to "Wildflower Wildfire," which also contains some of her most confessional lyrics here as she tries to discover the parts of herself that allow her to settle into cycles of abuse perpetuated by both parents and partners, wanting to distance herself from the wildfire and become a wildflower instead. "Nectar of the Gods" and "Cherry Blossom" are both holdovers from the Ultraviolence era that didn't make it on for a reason – Del Rey still sounds great, of course, but the melodies here simply aren't as gripping. "Living Legend" mostly suffers for the same reasons as Del Rey continues to return to places she's already been, but "Sweet Carolina" closes things out with a truly sweet full-circle moment. Co-written by not only her sister but also her father, a man famously decried in her past works, the track is an ode to the unconditional love of family as she celebrates her sister having a baby on the way with heartwarmingly genuine delivery – except towards Bitcoin enthusiast boyfriend Kevin, of course.
Dropping two great albums in the space of a single year is a truly difficult feat that it seems like more and more artists are attempting lately, and not even one of the greatest working songwriters can pull it off. While this is likely to prove an important stepping stone in the Lana Del Rey journey when it's all said and done, it won't go down as one of her musical essentials despite her consistently entrancing vocal work.
Favourite Tracks: Arcadia, Thunder, If You Lie Down With Me, Dealer
Least Favourite Track: Nectar of the Gods
Score: 6/10