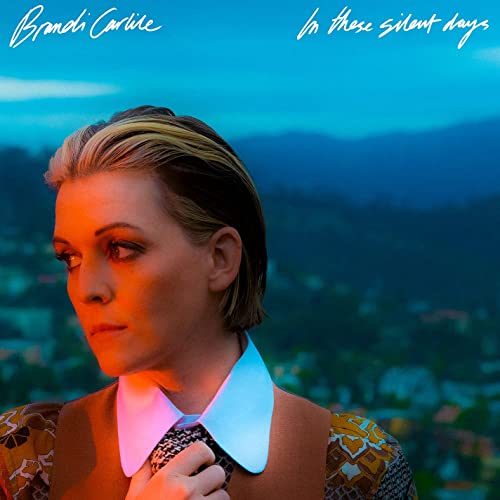 Now having firmly established herself as an artist that you have to look out for at the Grammys every time she releases, Brandi Carlile continues to push on as one of the most celebrated working songwriters of the moment. Taking a break after her critically acclaimed last solo album to join the country supergroup The Highwomen, Carlile is back on her own and in her comfortable space of folk-pop and Americana. Featuring a tight tracklist of 10 songs, Carlile continues to flex her singer-songwriter muscles and moves through poetically worded tracks with a strong running theme of motherhood and family life – as well as a couple songs about beating the omnipresent pandemic funk. Effortlessly shifting between quieter acoustic numbers and tracks that verge on full-on rock with heavier guitars, Carlile's powerful and incisive vocals and the dramatic vibrato of an experienced storyteller provide the constant anchor for a frequently emotional experience.
The opening track "Right on Time" feels almost as if it comes straight from a Broadway show, starting out as a scene-setting piano ballad as Carlile begins addressing herself, hoping not to lose the strength she found in her past as the insanity of our current times rages around her. With a chorus full of grandeur, the piano plays some somewhat gospel-inspired chords as she ascends to the climax, a belted high note that the entire song slows down to let it ring out for as long as it needed to. As Carlile's determination builds up as she tells her story, the guitars come in for the end to elevate things to an even higher level. It's a great opening track, and it certainly establishes the world of the album as Carlile goes on with this mindset to analyze how she's been doing in her familial roles. The track "You and Me On The Rock" brings aboard indie-pop band and masters of harmony Lucius for a lighthearted folk-pop number about finding marital bliss in a somewhat remote location, the relationship a fine replacement for the joys of city life. The track coasts on a gently plucked but instantly memorable acoustic riff that gives things an adorably joyful bounce. The rasp that can creep into Carlile's voice when she gets into her most passionate modes is almost more hard-hitting when used in a happier song, sounding like a carefree celebration as she hits some impressive notes in the more unstructured bridge.
Carlile's country roots come out most obviously on the track "This Time Tomorrow," which feels like a stripped-back campfire song moment as the twang of her bandmates come in to harmonize behind some heavy vibrato from our lead artist. It's a lot to take in over such a bare-bones instrumental that doesn't provide much to return to from a musical standpoint, but the sentiment of the track is extremely affecting and it more than earns its place in the tracklisting. A song meant to last for her children to play after she's gone, Carlile's lyrics represent the kind of genuine, raw emotion you don't get much anymore from the top tracks of the day, a heartfelt and loving dedication. "Broken Horses," on the other hand, immediately snaps listeners out of that mood with pounding keys and crashing percussion, moving into more of a Southern rock and outlaw country mode as Carlile opens the track with squeaking vocal eccentricities as she violently spits out some lyrical vitriol. An ode to a poor upbringing that taught her how to fight her way through life more so than those who were living comfortably, it's the longest track here and leaves a lot of space for fiery delivery, instrumental interludes and guitar solos, and time to earn the screams she builds up to by its conclusion.
The tracks "Letter To the Past" and "Mama Werewolf" feel like they reply to each other in a way, continuing to build up the story of the album in the way that only a natural like Carlile can. The former finds Carlile right in her vocal sweet spot, hitting some beautifully resonant notes in the chorus as she offers some words of advice to her young daughter, taking advantage of an opportunity to mend her own mistakes as she sees them crop up once again in her offspring. "Mama Werewolf" observes things from another perspective of the mother-daughter relationship between two equally troubled souls, where Carlile draws on some horror imagery to implore her children to be the one to slap some sense into her by any means necessary if she starts to turn to the unfavourable habits of her parents, slaying the metaphorical werewolf with the silver bullet. Letting Carlile's imagination run wild with an allegory that runs for a full track is a great showcase for her lyricism. "When You're Wrong" turns her attention to a different family dynamic, this time addressing her wife and a relationship that holds strong through the disagreements. The track is another slower acoustic number that feels like the instrumental doesn't measure up to the dynamism of Carlile's vocals, but the chilling raspy belt she hits at the end is a standout moment for the whole album.
The brief track "Stay Gentle" is another shift that shows off Carlile's versatility, and a pleasant respite from some of the more tense emotions displayed earlier on – the track has the kind of melodic simplicity reminiscent of a timeless standard and some great harmonies as Carlile once again provides some advice to her children. The album closes out with "Sinners, Saints and Fools," a cinematic and orchestral tale that delves into Carlile's faith and powerfully intersects with a political angle as a religious man is locked out of heaven for abandoning the tenets of love and acceptance, and "Throwing Good After Bad," a final sparse piano ballad where Carlile's whispery tones where she once again finds herself treading water to keep a family functional.
As the rave reviews once again roll in for Carlile as she enters a new phase of recognition in this middle point of her career, it's easy to see why so many are captivated by someone who has such a natural voice of a storyteller. Shifting between genre lines with ease and appealing to a wide audience of music-lovers, Carlile once again brings listeners on an emotional journey.
Favourite Tracks: You And Me On The Rock, Letter To The Past, Stay Gentle, Broken Horses, Right On Time
Least Favourite Track: When You're Wrong
Score: 8/10