Watching the growing ability for TikTok to catapult songs by essentially unknown artists into global hit singles over the past couple of years has been one of the most captivating musical trends. Now, the creators themselves are getting involved in things. With a track by social media superstar Bella Poarch dominating the charts at the moment, jxdn, a former member of the "Sway House" which houses many of the app's most notable stars (forgive me, I'm not entirely sure what I'm talking about either), drops his debut album after making some noise with a couple pop-punk singles and covers last year. Produced by the legendary Travis Barker – who has been using his legend status to attend the Snoop Dogg school of showing up literally anywhere for a paycheque as of late – and clearly inspired by the work of pop punk-inspired hip-hop stars like jxdn's beloved Juice WRLD and XXXTENTACION, the project gets lost in the shuffle amidst the recent resurgence of pop-punk revivalism outside the realm of hip-hop. Barker and his close collaborators that appear here have what is essentially a monopoly on this sound in the public sphere, and I can only take so many tired facsimiles of the glory days. Still young at age 20, jxdn's lyrics that aren't surface-level and derivative come across as juvenile and melodramatic. This might be a hit within jxdn's key demographic, but it'll be a non-starter for most.
After Travis Barker's voice introduces the album with a recording explaining that jxdn is "up next," we crash into the project's first track, "PILLS." Jxdn has explained how many of these tracks were inspired by some highly serious and harrowing events, many relating to his own battles with depression and the first being about a friend who had a hard time overcoming drug addiction. It just makes me wish that jxdn was able to apply some more vivid or specific lyricism to these events, to see how he personally felt and dealt with them past some surface-level lyrics that sound like they were lifted out of some of Juice WRLD's safest rhyme schemes and easy lyrical lay-ups – genuine emotion is replaced by naming lists of drugs and vaguely stating that he feels bad, sad or mad. Although jxdn sounds like he's intentionally singing with an obnoxious pout about all the things he doesn't like and drawing some clear reference from Trippie Redd's trademark horrible strain, "PILLS" is one of the more instrumentally palatable tracks here with some nice drum fills from Barker and a more refreshingly in-your-face guitar tone. The writing influence of some of the music industry's blandest trend-hoppers in blackbear and Lauv is felt on "THINK ABOUT ME," jxdn breezing through some more tedious party details before a chorus where he strains his voice in a higher register, putting on the most egregious punk vocal inflections he possibly can. Who else but recent genre convert Machine Gun Kelly appears on "WANNA BE," the formula already beginning to wear thin as a quieter, picked section gives way to some pounding power chords and jxdn blowing out his tinny voice on a shouted chorus – it's even funnier when MGK joins him in the sulk-fest, however, the 31-year-old sounding like a toddler who didn't get his way as he grumbles about "more bad news" and then screams obscenities off to the side in a garbled, unpleasant and unhealthy-sounding voice.
The album's clear best song, "A WASTED YEAR," isn't even really jxdn's at all. It sees Travis Barker bring the rest of Blink-182 on board to help jxdn boost their old material back into the public consciousness – the track heavily interpolates their 2003 track "Feeling This." At least jxdn sings in a more comfortable and natural register, letting some believable emotion and vulnerability creep into some more tangible lyrics about a turbulent summer romance. The track "ONE MINUTE" is similarly unoriginal, jxdn offering his own spin on what just might be one of the most overused song concepts of all time – what he would do if he had a minute (or a day, or what have you) to live. What revelatory things would jxdn do that warrants adding another entry to the annals of history? Get this – he would call his loved ones. Things veer a little closer to the hip-hop side of things with the back-to-back tracks "BRAINDEAD" and "TONIGHT," which features iann dior. The former actually possesses one of the project's only truly memorable melodies, sticking in my head through multiple listens – the incongruous trap beat and excessive Auto-Tune throw things off, but there's a decent tune at the centre of it all. "TONIGHT," on the other hand, simply ticks all the boxes of a party scenario – dior's verse in particular sounds like it was filled out through some kind of Mad Libs generator. The most jarring use of a trap beat of all, however, comes on the track "SO WHAT!", in which the guitars are more muted than usual despite jxdn's voice still at a full, strained belt, the rattling hi-hats in the front of the mix sounding as if they lost their way in some kind of musical transport terminal.
Venturing into the album's second half yields not only some of the album's most indiscriminate and seemingly Auto-generated tracks of all, but also some of the most laughable lyricism. There's really not much to say about a track like "F**KED UP," a completely forgettable and repetitive track where jxdn whines through a breakup, but at least it doesn't open with the line "It's been cloudy with a chance of depression" like the track "BETTER OFF DEAD," also co-written by blackbear and coming equipped with yet another skittering trap beat that pops up all too often as the album grinds slowly to its conclusion – it's one of the poppiest tracks here, a wispy synth line echoing jxdn's melody, and obnoxiously sanitized for someone clearly interested in presenting themselves as edgy and cool. "DTA," as well, finds jxdn crossing his arms and harrumphing about all the reasons that he's been wasting his time on a relationship, concluding "love is dead and I don't trust anyone" and echoing it in a pitched-down vocal to make himself sound even more like a petulant child. The character presented across the album is endlessly unlikeable. He continues to complain and rehash the same points on "LAST TIME" and "NO VANITY" as well, the latter with some of the project's most laughably melodramatic lyrics about black hearts and the like.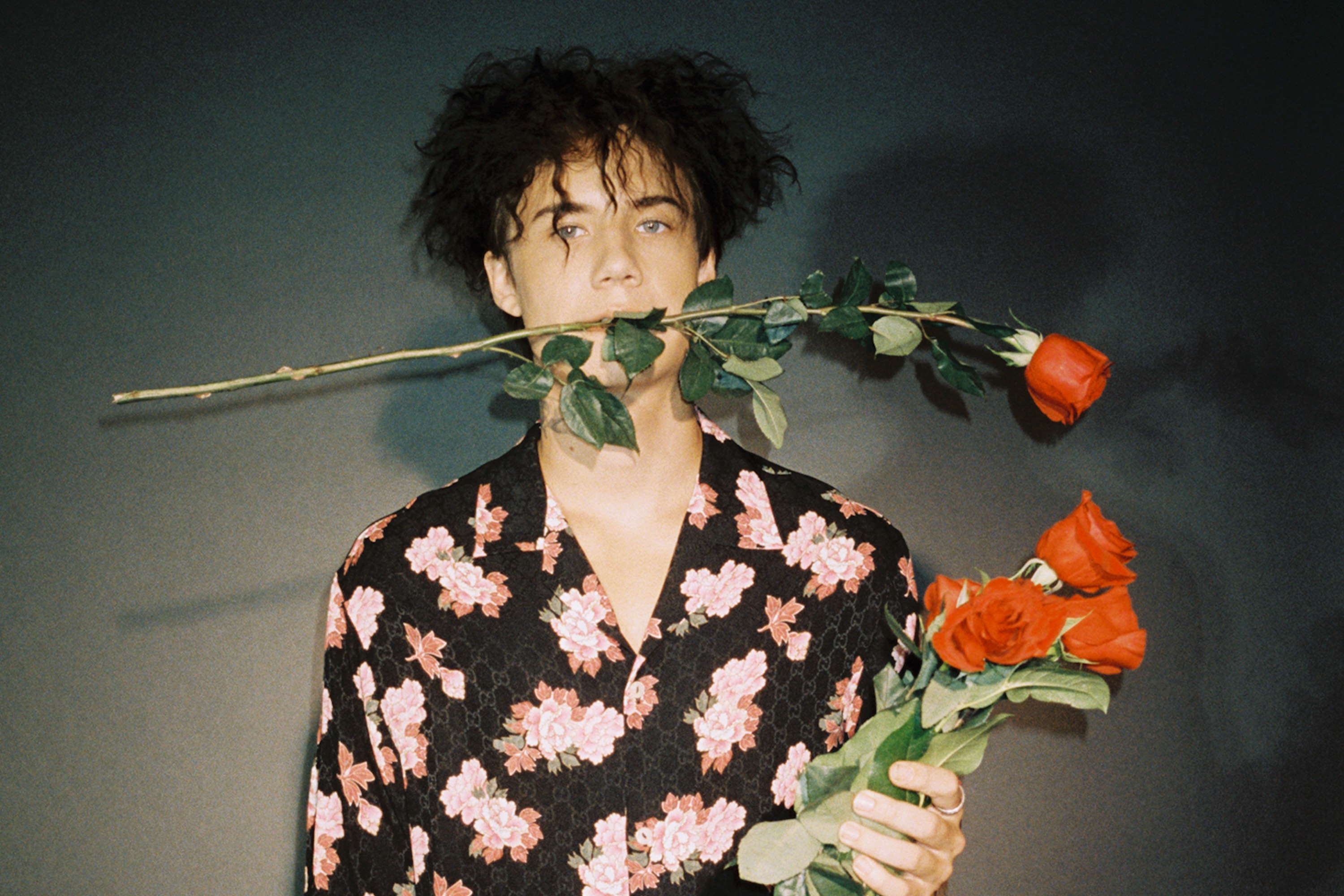 The album's apparent centerpiece is the two-part "ANGELS & DEMONS," a running motif throughout. Jxdn has given interviews where he stated he wanted to explore the duality of a rockstar lifestyle and how its euphoric moments can often lead to trouble, something that's associated with a genuinely clever lyrical flip in the chorus of part 1 – you'd just also think that he'd introduce the concept in a better way than droning through a series of basic opposites in the song's beginning. The track is in response to jxdn's real-life arrest, which only makes it all the more distasteful when the conclusion he reaches on the track's second part later on in the album is that everyone is seeking to tear him down simply for being successful, repeating "I'm still a f**king rockstar" and affirming that he'll continue to do whatever he wants. It seemed like he wanted to touch on something deep or learn something. Oh well. The project concludes with its title track, a lower-key acoustic song that sounded pleasant until jxdn layered on that grating upper register in the background.
It feels like there are so many people jumping on this pop-punk wave at the moment who simply shouldn't be. There's evidently more of a necessary skillset to pull it off convincingly than people realize, and you can tell when the genuine passion is there and when it's simply being done to capitalize off of a trend. Travis Barker, we beg of you, please slow down.
Favourite Tracks: A WASTED YEAR, BRAINDEAD, PILLS
Least Favourite Track: BETTER OFF DEAD
Score: 3/10