Experimental pop-rock titans Twenty One Pilots had made a career of blending together just about every sound under the sun in a way that came across as overblown and almost too experimental for its own good until 2018's incredible Trench album. A cohesive and heavy prog-rock piece that incorporated aspects of bright pop choruses, synth-funk, some of frontman Tyler Joseph's best rap performances yet and an eerie and cinematic sound, many heralded it as the band's lofty ambitions finally clicking together. Unfortunately, their latest project Scaled and Icy proves that their previous album was more of an anomaly. Dubbed by the band members as a "response" to Trench, the album is coloured by the band's poppiest material yet, tapping into some Killers-esque energy with some synthpop and retro sounds and a heavy dose of seemingly intentionally obnoxious positivity. While the band's hooks are still catchy for the most part, their bizarre musical decision-making, shoehorning in sounds from opposing genres just for the sake of it, Joseph's cringeworthy hip-hop verses, and surface-level lyrical approaches to today's political climate in the name of pushing a theme of everything working out okay in the end skew things quickly back to the highly inconsistent Twenty One Pilots median. After Trench, a lot of the concepts here are truly disappointing. The album's far from awful, but they could do so much more, skewing feelings more negative than might be warranted.
Opening track "Good Day" kicks things off with one of the more straightforward tracks here, as well as one where their overarching concept of positivity is applied in the most interesting way. Over a bright and bouncy piano riff reminiscent of some of Elton John's biggest hits, Tyler Joseph begins cheerily delivering a story about how everything in his life has gone wrong, and yet, he's still strolling down the streets with a smile and singing about how things are just fine. He's mentioned that he wanted the track to feel like the initial "denial" stage in the Five Stages of Grief, but then the rest of the album never delivers on that promise, just getting more and more genuinely happy. Still, the upbeat falsetto melodies here and commitment to a retro-pop sound without any typical outside interference make this one an early standout. Experimental Pilotsism immediately kicks in with the next track, "Choker." Beginning with a high-tempo breakbeat and video game-style synths, the skittering percussion continues behind the lower-key melody Joseph begins delivering, finally falling away completely with an abrupt tempo switch to an anthemic chorus. It's a complete mess from a musical standpoint, and returns the band to the worst areas of their past work I hoped I'd never hear again. Making a song with highly disparate sections and genre influences, of course, can be incredibly effective, but simply throwing them together without any semblance of transition or earned build-up just results in complete whiplash. Joseph's nasal and breezy rap verse puts things over the unlistenable edge, and by the time the original synth returns to close things out you forget that it's where the song started.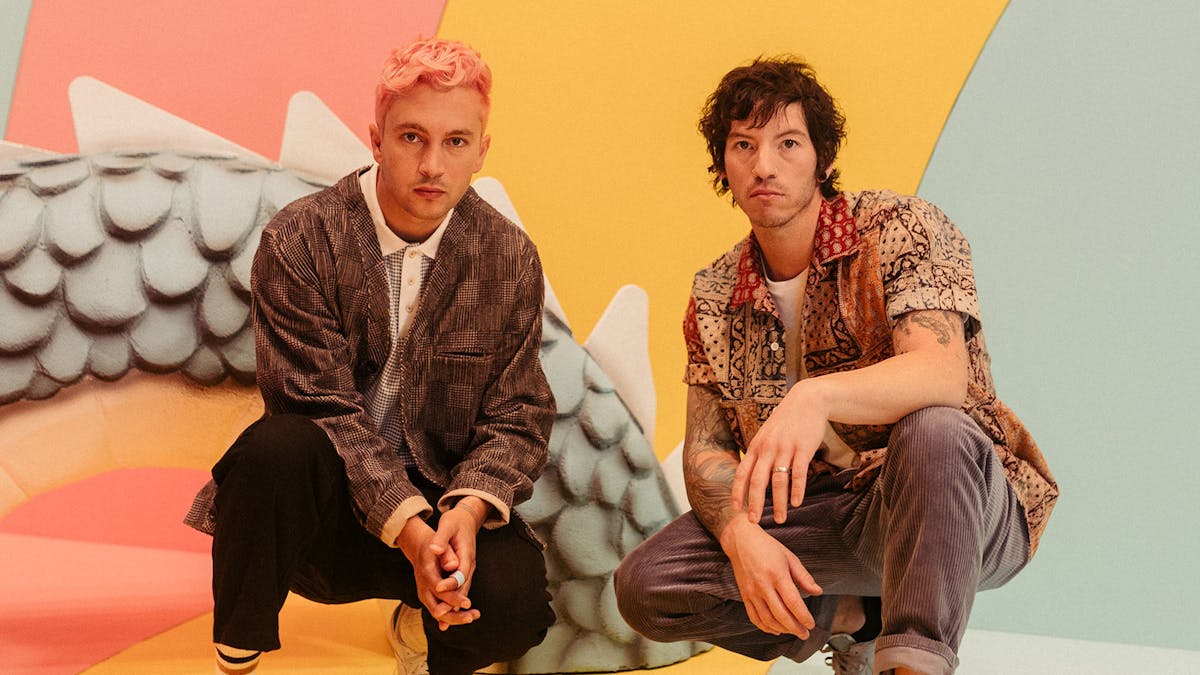 Lead single "Shy Away" is a serviceable pop tune that thankfully sees some of the edge creep back into Joseph's vocals, and it had me wondering if an album full of fun pop tracks might truly be enjoyable in response to their experimental peak. However, it ends up being one of the better tracks here. "The Outside" coasts on what begins as a promising glitchy and robotic synth pattern, but Joseph's song on top sees the 32-year-old shifting into the mould of an out-of-touch boomer. A criticism of the current state of the music industry, Joseph sends some lyrical shots at more traditional, mainstream artists that he paints as "tak[ing] his vibes" and their fans as mindlessly nodding along, claiming to be bored of it all and above the situation while singing one of the most derivative-sounding choruses on the album. With tracks like these, Joseph is part of the problem – he has coasted by most of his career because he's lucky enough to have legions of fans who will lap up whatever he does because of his looks. He follows it up with "Saturday," a party song about going crazy on the weekend. Joseph's boasts about artistry could absolutely be warranted if we got something more like Trench. It's somewhere within him. The upbeat dance-pop number we get is genuinely catchy and could fill a dance floor in seconds, minus a truly baffling moment near the end that sounds like the track skips, but it's so painfully generic compared to their greatest tracks, which is something I never thought I'd say about Twenty One Pilots music regardless of its quality.
The track "Never Take It" is the most explicitly political here, as the band take on the divisiveness that media stirs up and the profit margins generated by sensationalist headlines and clickbait. To accompany the protest vibes, the track is marked by some 90s punk rock energy, some defiant rock frontman yells and crunchy industrial synths – it sounds a little like a Green Day track, and even comes equipped with a guitar solo, which is unusual for Twenty One Pilots. It's clear they want to communicate a big message here, informing fans not to "take" what they are being given, but what they actually come across with is "educate yourself, but never too much." They're trying to say not to get caught up in the negativity of the news cycle, but it comes across as incredibly tone-deaf while such rampant misinformation is going around risking lives. "Mulberry Street" comes equipped with a strange message as well, as Joseph suddenly goes on another boomeresque tirade criticizing those who use pharmaceutical products to chase "synthetic highs," the majority of the track being about realizing life is generally fine and to find happiness on your own. It's essentially the equivalent of suggesting that a clinically depressed person should just "be happy," and comes equipped with the most obnoxious and repetitive chorus on the album to really hammer the point home. "Formidable," while still rather formulaic, at least injects the pop melodies with a bit of heart, as Joseph pens a dedication to the loyalty, friendship and commitment of his bandmate Josh Dun that comes across as genuine and evocative.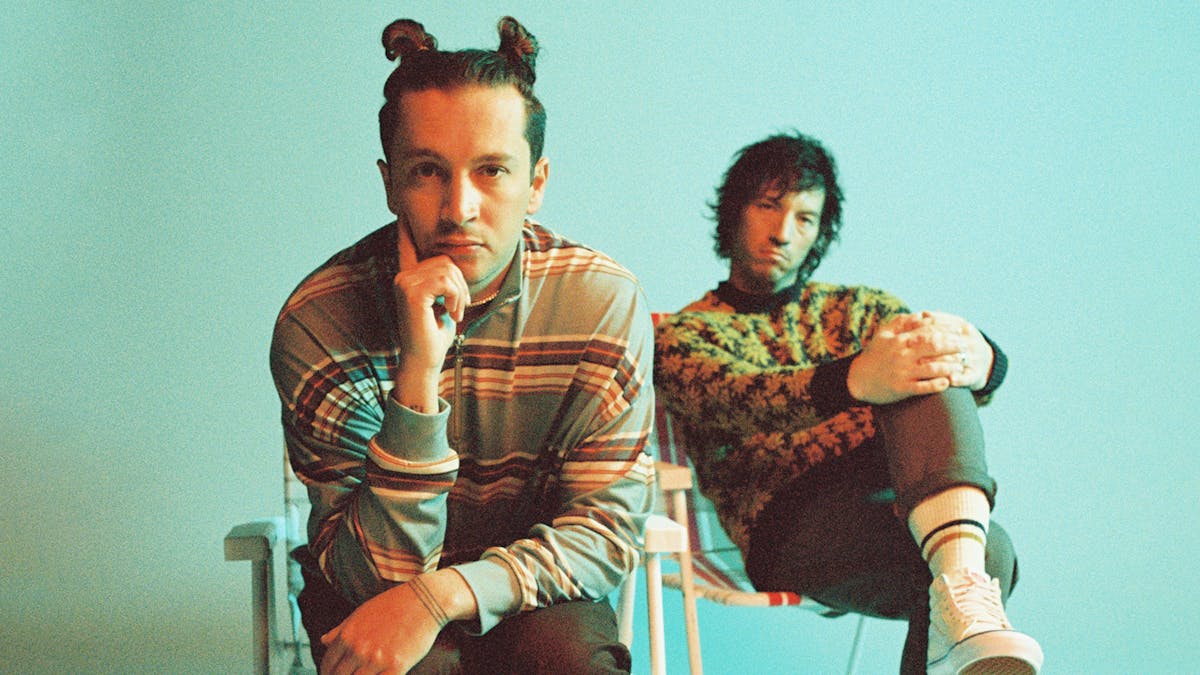 "Bounce Man" is a bit of a hidden gem in the tracklist, staying memorable as a result of being one of the more upbeat and goofy commitments to the bright, positive sound of the album and cementing it with a handclap beat and a jazzy flute hook. Seemingly speaking to a friend in trouble with the law, Joseph invites him to his house for one last celebration before he has to go on the run, a strange concept that stands out for the right reasons for once as gang vocals roar in on the chorus to join in on the last bit of fun. The track "No Chances" recaptures some of the ominous magic of Trench with a threatening chorus apparently inspired by arena-sized sports chants delivered by some bass-heavy voices. It's the most rap-oriented track here with a skittering beat, and while Joseph's rap verses aren't as effective as they have been in the past, it's much more effective than most of the tracks here. The album closes with "Redecorate," which brings back just about every Twenty One Pilots trope there is, from pitched vocals, a shimmering, echoey chorus, a nasal rap verse, and a mid-tempo groove that makes it all oddly reminiscent of "Stressed Out."
While it's seemingly rooted in truth due to the endless lore that surrounds Twenty One Pilots and the narratives to their projects, the fact that so many of their fans are quick to remind people that this album is all actually "propaganda" spread by the villainous empire of Dema that has appeared on their other albums shows that even they know this is one of the band's weaker efforts. The brighter sound doesn't fit as well with them, and it somehow has both overly experimental mistakes and some of their most generic tracks yet. The band continues to frustrate, because the creative talent is so obviously there.
Favourite Tracks: Shy Away, Bounce Man, No Chances
Least Favourite Track: Choker
Score: 4/10