Part of a new wave of young rappers from the Carolinas, DaBaby labelmate Toosii has been picking up attention through a series of high-profile features for a while, dropping off this mixtape with a couple big guests of his own a couple months after his breakthrough debut studio album. Delivering melodic trap through a nasal and childlike vocal tone, Toosii's approach and instrumentals don't do much to distinguish himself from the many artists following similar trends. With your standard-issue trap hi-hats, guitar loops, and lyricism that could have come from just about anyone, the highlights of the project end up being the feature verses and the brief moments where he switches it up and takes the melodies out. Toosii's NBA Youngboy-style torrid release pace isn't doing anything for his quality control, and this might be one of the most forgettable releases of the year.
The opening track "in my eyes" certainly shows some promise for the rest of the album, but it's essentially a downhill slope from then on. Primarily known more for his crooned melodic tracks and "love songs," as he puts it on the opener while suggesting he switch it up for once (a promise he follows through on exactly once), Toosii's rap flows over a nice soul sample immediately stand out. The wordplay and lyricism on display here is surprising as well once you get into the rest of the album and the bars on bars of romantic gestures that are questionable in more ways than one. "be cautious" introduces the style that Toosii keeps up for the majority of the album, a moody guitar loop ringing out as he warbles through some lines about missing his girl, learning to be himself, and the like. Drake really created an epidemic of these guys. Although the lower register he displays here is genuinely pleasant, somewhere he should remain more, the raspiness to his vocals which are clearly intended to hit at an angle of raw emotion is obnoxiously too much – it sounds like there's something wrong with his singing voice, and he's straining to make it work. The track "windows down" sounds on the surface like Toosii was aiming for his first massive crossover hit, and if you squint your eyes it sounds like a summer anthem – but the derivative nature of the track is too much to ignore, Toosii sounding a little bit like A Boogie wit da Hoodie but without the vocal talent.
The track "5'5" early on recruits Mulatto as the project's first feature, injecting some energy back into things over one of the better instrumentals on the project – a catchy sample from City High echoing throughout. Although the formula already begins to make itself clear even early on in the album, Toosii not making matters any better by reiterating what he and his partner are going to do a couple times too many in the chorus, even Mulatto's criminally short verse offers a relieving bit of variety, her massive personality always coming through. Labelmate DaBaby makes his appearance on "shop," Toosii clearly trying to emulate his nonstop, constantly rolling speedy flows on his verse before being washed by a low-effort verse from the man with 1000 features. The mere sense of confidence and presence in DaBaby's voice shows just how big of a gap there is between Toosii and superstar status. Even the deep-voiced growl of Key Glock, far from being an incredibly dynamic or engaging rapper himself, livens things up on "rich n***a" just because listening to the decidedly unambitious Toosii for too long gets draining on the senses.
The extremely derivative nature of the project reaches even greater heights as it progresses to its second half. The track "f**k marry kill" somehow puts an incredibly questionable and surprising spin on one of the most tired rap song tropes of all time – Toosii, wouldn't you know it, has a girl in every state and they all have different characteristics as a result. I do appreciate the dedication to including Alaska, but making the chorus "f**k marry kill, I'm trying to do all"? All with the same one? Why are we killing any of them? It's the kind of bar that wakes you up out of the stupor of the album for the entirely wrong reasons.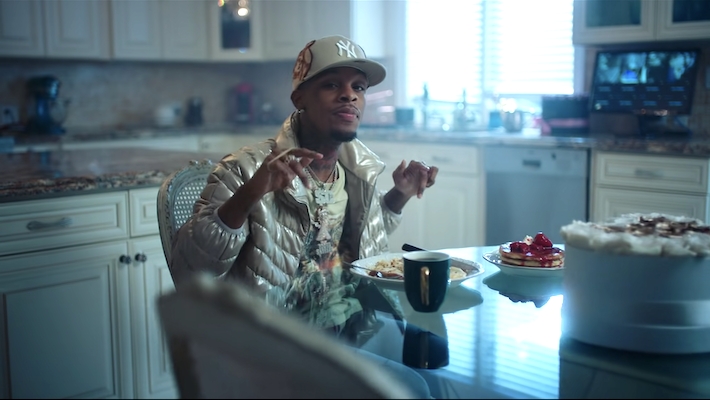 "what it cost" comes with a slightly quirky instrumental by Rvssian that perks up the ears in the very slightest just by forcing Toosii to switch up his flow a little bit, but the standard-issue "rags to riches" bars puts me right back to sleep. "tic tic," another Rvssian beat, certainly fares a little better with Toosii sounding a little more like he wants to make an impression on people, a surprising highlight later on in the tracklisting that comes a little too late. "greater storm" comes with a jazzy piano instrumental that feels like déjà vu from some old Zaytoven beat, which is interesting as he appears later on the project, hile "end of discussion" is an appropriately named track as I put the discussion on its merits to rest as soon as he conjures up the image of a snotty nose during a sex metaphor 20 seconds in. The project closes with "back together," the most egregiously self-indulgent singing performance on the album, and "red die," a surprisingly emotionally flat tribute to those he's lost.
It's always significantly more infuriating when someone drops a personality-devoid album free of anything original than when someone takes a big risk and falls flat. While we wait for some of rap's biggest innovators to return this summer, hopefully we'll be able to stop paying attention to stuff like this.
Favourite Tracks: in my eyes, windows down
Least Favourite Track: back together
Score: 2/10