Seven years removed from his OVO-assisted smash hit "Tuesday," ILOVEMAKONNEN's career has been turbulent to say the least. Ever since, he has been bouncing around between labels, telling a couple shady stories of their behind-the-scenes dealings and ultimately going independent for the first time with his latest project, My Parade – which is technically his first studio album after a long stream of mixtapes and EPs. Truly one of the first artists to ride a wave of memes and semi-ironic enjoyment to the top of the charts, ILOVEMAKONNEN's goofy, off-key delivery and tongue-in-cheek lyricism is still here in spades, combining with a genuinely fantastic ear for catchy hooks. When it comes together in the right way, that "so-bad-it's-incredible" quality can be downright hilarious and difficult to ignore, like when a word you start saying in a mocking fashion sneaks up on you and becomes a part of your daily vocabulary. For the other half of the project, his downright abysmal vocals make this a tough one to get through. It's clear that ILOVEMAKONNEN is fully aware of this, leaning into it hard. This is like if IceJJFish was a successful recording artist – that is, the kind of music that could easily gain a cult following, ironic or not.
The top comment on Genius for the album's first track, "2SEXY," reads "I hate how much this has been on repeat for me." That's the general vibe you can expect from the rest of the album. Set to a great beat featuring what sounds like someone slamming on a table as if the track were part of some kind of high-school cypher and a chopped-up sample of what might be a digitized choir "instrument" on a keyboard or arranging program, ILOVEMAKONNEN unleashes his hilariously flimsy falsetto and some outlandish flex bars. It's the kind of music that works BECAUSE the vocalist sounds so decidedly uncool, as if the confidence is even more powerful coming from an unexpected source. It's a perfect intro for what is to come. The track "If It's Cool" dials up the ridiculousness even further, with a Prince-style slow jam instrumental as Makonnen embraces the current 80s wave. Once again, the track is genuinely an intoxicating, funky vibe to get lost in despite the lack of a competent vocalist, Makonnen's trademark breathy cadence making up in conviction what it lacks in ability. When you get a little further into the tracklist and encounter something like "Whip It Harder," things start slowly becoming a little less excusable until it ultimately descends into total chaos. It's still easy to absentmindedly nod your head to the catchy melodies here, but an abrupt beat switch from a hard-hitting rap instrumental to something guitar-based, shamelessly ripping off Gucci Mane's flow and most hysterically, his half-hearted "skrts" that almost sound sad start moving the things away from the perverse enjoyability of the earlier tracks.
While most of this is a great time and an incredibly fun listen, it's hard to see me returning to many of these tracks in the future. However, at times Makonnen's ear for a hook elevates some of these tracks far past meme potential into something that could easily be a hit – especially during this time of TikTok promotion. The track "Whoopsy" sees him dropping the comedy of self-seriousness and fully commits to the all-out meme rap of a bbno$ or Yung Gravy. Juxtaposing a suave, breathy chorus with a rap delivered through some gritty, strained yelps in the verses, Makonnen essentially parodies today's eerie trap sound. Payday shows up for a sing-song and conversational feature verse that begins "whoopsy daisy, b*tch" and concludes with a reference to Tigger. It's all incredibly surreal. The track "So Saucy" has the best hook on the album, Makonnen capturing a kind of Post Malone-esque charm with his laid-back flexes and similarly flawed, strangely charismatic vocal delivery and some trap hi-hats that are mixed just right for maximum kick. The track "More B*tches Than The Mayor," if you couldn't tell from its title, is another one that perfectly balances being in on the joke and fantastic pop sensibilities. Recruiting a similar figure in the near-messianic Lil B, who seemingly confuses Makonnen with another openly gay hip-hop star in Lil Nas X on his verse, Makonnen's breezy hook and eccentric flexes fully commit to the bit.
Things start to get more and more questionable the further you venture into the album. The track "Bad B*tch With A Stutter" sees Makonnen once again sinking into the indulgent pleasures of a hook he knows is going to be stuck in everyone's heads, but its repetitiveness makes it feel like his endearing quirks were transferred out of the music and into the lyrics, which feel abundantly bizarre for no reason other than to draw attention. "All I Wanna See" has some decidedly hyperpop energy with an abrasive and bright synth pattern, though not the kind that eventually clicks upon repeated listens. One of the most decidedly IceJJFish-emulating tracks on the album as Makonnen attempt to flit through some trills and vocal runs that in no world he should be attempting. The track is obviously unfinished, right down to some vocal lines awkwardly cutting off or fading away in the middle of a sentence. "I Can See It In Your Eyes" continues the completely baffling and manic energy. Makonnen's Auto-Tuned vocals slide haphazardly up a full octave on the chorus, sounding like he was suddenly spooked by something in the studio, while the track itself decides it's going to adopt a quicker breakbeat halfway through – not to mention the somewhat creepy lyricism on display.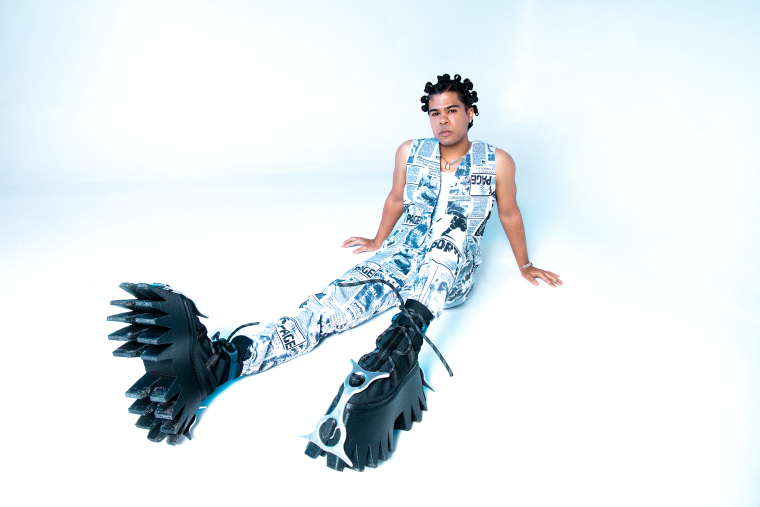 If that wasn't enough, Makonnen tries his hand at an acoustic country ballad on the track "What You Tryna Do." I'd be surprised if this wasn't his first take, completely missing a couple cues and rhythmic moments, but at the same time his emulation of a raw, emotional country baritone does provide a couple surprisingly heartwarming moments. It's not good, but it's certainly respectable. The acoustics continue onto title track "My Parade," which adds some percussion and a stronger hook as Makonnen endearingly sings about living his best life and wondering why some seem ready to pounce on him for every little thing. His joy in finding new artistic freedoms without label constraints comes through in abundance, even if he doesn't directly address it on the track. The project ends with "Makonnen's Beethoven," which if it had any other title would make you think it was his one attempt at a serious song here and falls flat over a somber piano loop, and "My Hustle Don't Stop," a final, gleeful big pop hook claiming he's just going to keep going.
It's honestly difficult to evaluate this on a point scale, because it's clear that Makonnen has being an entertaining figure on his mind more than being a musician. In that department, he passes with flying colours. There's a reason why this guy landed such an unconventional smash hit, and curiously enough, it wasn't because of a Drake feature. The man can't sing, but he can definitely make art that'll be memorable in one way or another. As music, however, it'll be tough to warrant repeated listens.
Favourite Tracks: Whoopsy, More B*tches Than The Mayor, So Saucy, 2SEXY
Least Favourite Track: All I Wanna See
Score: 5/10