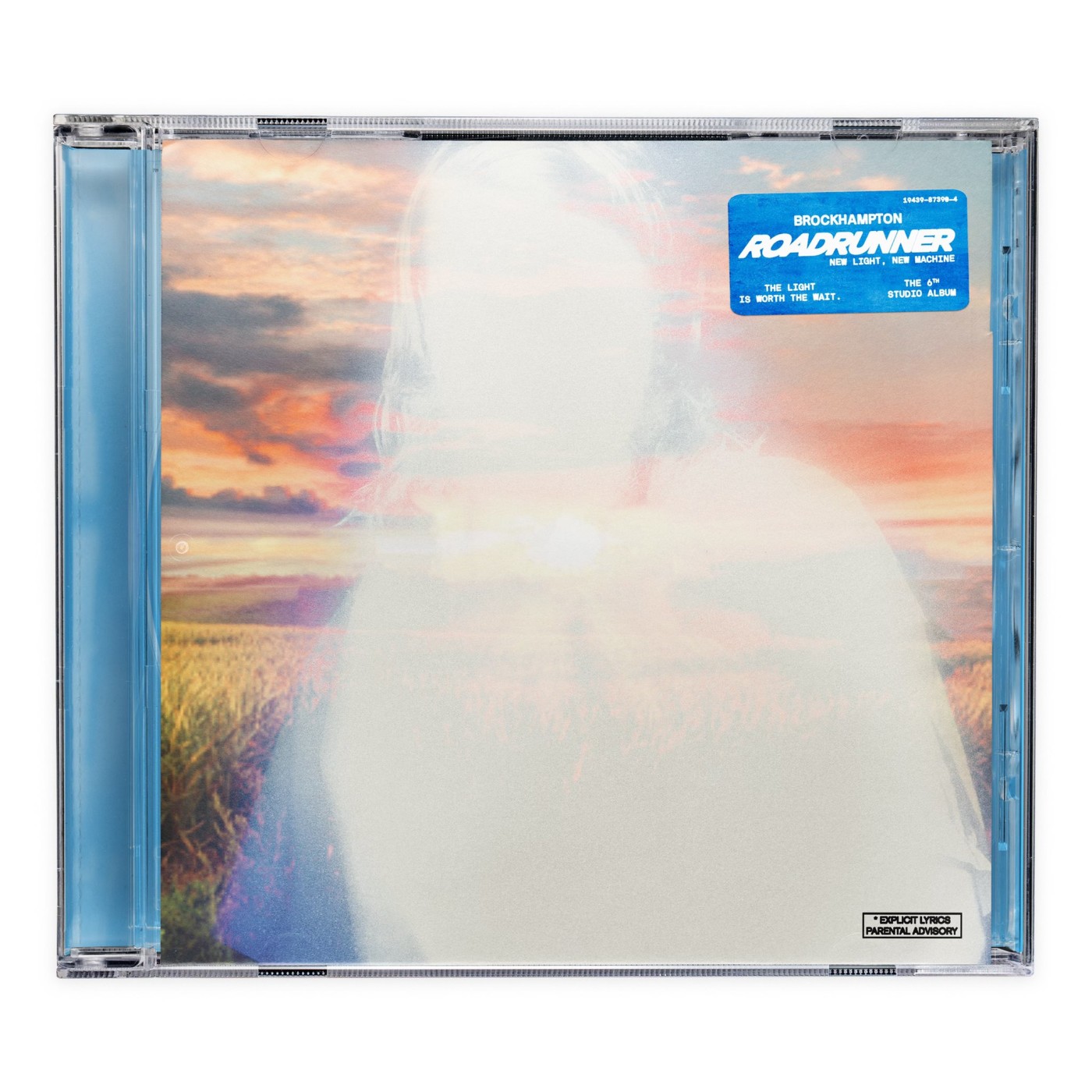 Prolific experimental hip-hop collective BROCKHAMPTON are back after their longest break yet – just over a year and a half. With a membership of thirteen, including vocalists, producers, designers and art directors, there's always bound to be tragedy striking a couple of them, and ROADRUNNER: NEW LIGHT, NEW MACHINE is certainly no exception. Of course, the group not shying away from these issues and tackling them head-on in their music has been one of the most magnetic things about them – the group's display of heartwarming support and brotherhood towards each other shows their unbreakable bond. Just as notable, other things that draw people to BROCKHAMPTON are their wildly creative instrumentals and intoxicating blend of hard-hitting hip-hop and guilty-pleasure pop music. Both of these aspects are fully on display on what just might be the collective's most well-structured and fully-realized project to date. Big-name features and scorching bangers are juxtaposed with social commentary and central, shocking narratives about the recent suicide of key member Joba's father. As always, there are some surprising sonic turns out of left field scattered along the way. The joy of BROCKHAMPTON is never knowing what you might hear next, but always knowing it's going to be fantastic.
Like many BROCKHAMPTON projects, things kick off with one of the most aggressive tracks the group have to offer in "BUZZCUT." Produced mainly by the group's leader Kevin Abstract, he displays a Kanye-esque ability to think outside the box and builds the track around a looped sample of group member Merlyn Wood's high-pitched "woo!" to sound like a siren before dropping one of his most impressive verses ever on top. With an added degree of urgency to his vocals, sounding like he's being chased by something right behind him, Abstract raps about the endless drama and danger coming for him and his family as a successful gay black man in America before a chorus where his shouted vocals reach an almost rap-metal fever pitch. Who else could counter his energy but Detroit savant Danny Brown, who matches him with the gleeful insanity and dizzying wordplay he is known for before the track suddenly shifts to an emotional and jazzy outro accompanied by the sounds of heavy breathing. It's an introduction both striking and catchy. The track "CHAIN ON" recruits another alt-rap titan in JPEGMAFIA, who takes up the first half with his fascinating and eccentric mind. The track briefly samples the Wu-Tang Clan's legendary "C.R.E.A.M.," and the simpler instrumental consisting of a short but ear-grabbing synth loop certainly brings to mind an old-school energy built for the group's lyrical flair. Dom McLennon takes the track's other verse and offers another passionate and racially charged verse apparently recorded only five days after the killing of George Floyd. The track "COUNT ON ME" keeps the star-studded tracklist going, as A$AP Rocky and Shawn Mendes – who Kevin Abstract memorably flirted with on a 2017 track – appear over a calmer and more pop-oriented instrumental built around a whistle loop. One of the best things about BROCKHAMPTON is that their large membership means they have artists who can master any vibe, keeping things fresh and exciting.
The mind-bending bangers keep coming with the track "BANKROLL," which wastes no time getting to the point opening with a frantic plucked guitar loop and an verse from one of hip-hop's most consistently animated vocalists in A$AP Ferg, who immediately adapts to the BROCKHAMPTON world and steps his game up a hundred-fold. One of the most technically impressive verses on the album to go with Ferg's typical adrenaline-fuelling bombast, he sets the scene for the calm and confident hook before Merlyn Wood, the group's wildest and weirdest member, matches the energy in another perfect pairing of BROCKHAMPTON and guest. "WINDOWS" is the obligatory longer, cypher-style track that allows each one of the group's vocalists to have their own moment to shine. I'll give the best verse to McLennon and his impressive lyricism, but hearing the interplay between the whole group is always a delight. "DON'T SHOOT UP THE PARTY," near the album's end, is the most powerful track of all. A fun-loving mid-2000s hip-hop dancefloor filler on the surface, complete with wailing West Coast synth lines, the track is anchored by Kevin Abstract's unsettlingly desperate plea of a hook repeating the track's title and verses condemning gun violence and discrimination.
Kevin Abstract has gone on the record recently saying he no longer wanted BROCKHAMPTON to be referred to as a "boy band," but the album's middle run sees the group shift closer to their unabashedly joyful pop instincts reminiscent of some of their older work. The track "I'LL TAKE YOU ON" especially brings back some of the disjointedness and unpredictable song structure that always either worked brilliantly or not at all on some of their past projects, letting the group's singers take center stage alongside none other than Charlie Wilson. The track features a breakbeat instrumental and one of the catchiest central hooks here from Joba, who continues to dominating the album's best moments and break out as a key member, and captures a similar energy to "SUGAR," their biggest hit. The middle run does feel slightly like it detracts from the energy and impeccable track progression leading up to this point, feeling the most sonically removed from the rest of the album, but BROCKHAMPTON's many talents still make for engaging material at all times. The line between the group's singers and rappers is more blurred than ever, and it makes for one of the only failed experiments here on slow jam "OLD NEWS" with Matt Champion's high-pitched, Auto-Tuned singing. Joba strikes again on the highly emotional "WHAT'S THE OCCASION," a pitched-up hook about feeling stuck emphasizing his vulnerability on a track that switches gears between somber rap verses and a strikingly gorgeous, "New Slaves"-style outro as the hook is repeated over a pounding live drumbeat and guitar solo. The group was created on a Kanye fan forum, after all.
For all the energy here, what's going to stick with me the longest is the more personal material. The track "WHEN I BALL" is set to a bright, classic-sounding instrumental aided by the Neptunes' Chad Hugo, but the members' reminiscing on childhood family struggles, especially McLennon's commentary on his incarcerated uncles, strikes a chord. The group even take a sudden left turn into a surprisingly impressive choral gospel territory on "DEAR LORD," their harmonies passionate and soul-stirring. The album's earth-shattering emotional core, however, is the one-two punch of "THE LIGHT" and "THE LIGHT PT. II," both tracks carried by verses from Joba and Kevin Abstract diving into some deeply personal narratives of trauma. "THE LIGHT" is placed prominently in the album's early goings. A paranoia-inducing sinister bassline, cinematic organ and fuzzy, downtrodden guitars build up a terrifying musical world that still captures the demented joys of mean-spirited gangsta rap before Joba delivers some absolutely sickening imagery of the moment he found his father dead. It's hard to get through, but the genuine anguish and terror in his voice is an unforgettable experience appropriately backed up by instrumental gravitas. Abstract counters Joba's verse with some tales of homophobia and rejection by his family in his younger days. "THE LIGHT PT. II" closes the album by reiterating its predecessor's themes through a more positive lens. Joba twists his messaging around into an anti-suicide anthem, reassuring listeners that the good things in life are worth the wait through a whispered hook, while Abstract reaffirms his persevering love for his boyfriend and disapproving mother. Still, their painfully detailed accounts of their struggles leave a lasting impression.
BROCKHAMPTON have often been a refreshing exercise of throwing just about everything at the wall and seeing what sticks, but their sixth studio album is what results when they've finally got the formula down to a science. Each member's strengths are used flawlessly, and the addition of the poignant subject matter makes this one their most impressive work yet.
Favourite Tracks: DON'T SHOOT UP THE PARTY, BANKROLL, BUZZCUT, THE LIGHT, WHAT'S THE OCCASION?
Least Favourite Track: OLD NEWS
Score: 9/10