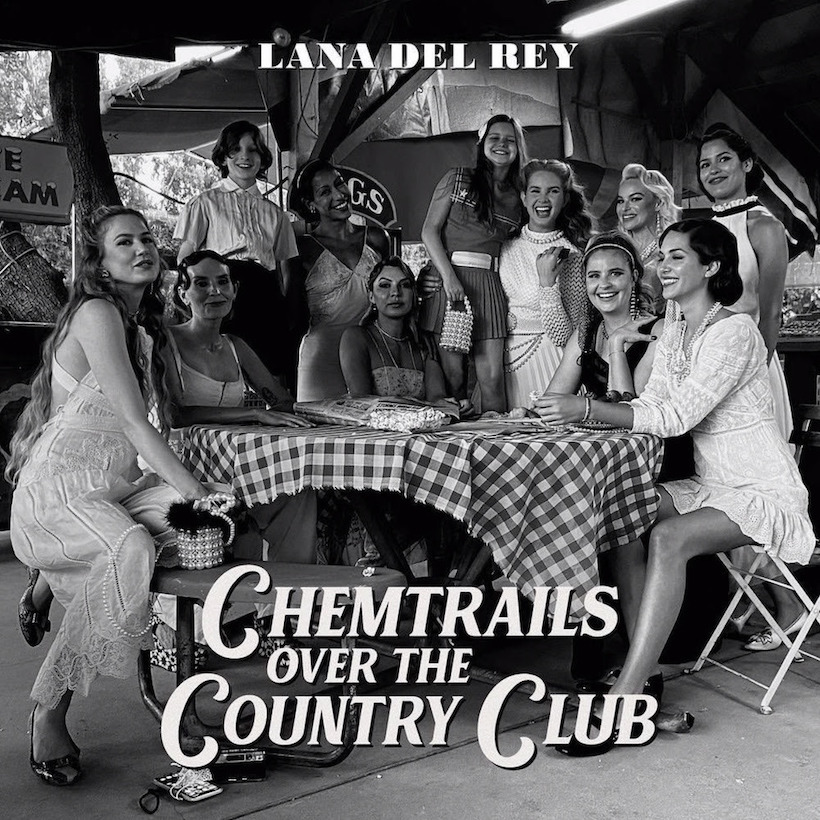 Lana Del Rey has been a polarizing figure, and one of the most consistently compelling and thought-provoking songwriters working today, for close to a decade now. But after dropping the borderline worship of all things classic Americana and releasing a raw and honest masterpiece responding to the troubling times we're living through, what could possibly be next? Chemtrails Over the Country Club, already Del Rey's seventh studio album, is not quite a return to the characters and drawled folk songs romanticizing the past that characterized her early career, but it is certainly still a contemplative look backwards of sorts. Toning down her instrumentals to perhaps her all-time most intimate and minimalistic, Del Rey offers quite a few ruminations on her simpler life before the fame, and her current search for spontaneity and freedom amidst the neverending press cycles. The low-key and quiet folk instrumentals certainly begin to wear a little thin by the album's end, but Del Rey's captivating lyricism and undeniable voice are always a treasure.
Del Rey has always been known for striking opening tracks, whether kicking things off with a shockingly blunt line or a cinematic and beautiful showcase for the soul of the mid-60s smiling suburb-dweller that she is possessed by every time she fires up her vocal cords. "White Dress" is no different, but it's still unlike anything she's done before. Set to a bittersweet, lively yet pensive piano melody that only could have come from the one and only Jack Antonoff, Del Rey spins a 5-minute slow burner of a story that sees her slowly uncovering layers of her past. The real magic, however, comes from the emotional power of the bizarre yet entrancing vocal approach she takes here, the chorus featuring a falsetto that melts into a strained whisper as if it's physically painful for her to force these words out. Cramming far too many syllables into her lines, Del Rey tumbles over herself as she recounts feeling validated by male music executives as a teenager while working as a waitress trying to make it big. In the present day, she reflects on how naïve she was, an introduction to the discussions of her disillusionment with fame. It's tough to really pick most of these tracks apart, because Del Rey essentially succeeds at putting the listener in a hypnotic trance from beginning to end. The title track sees her back in her lower register, delivering an intoxicating and undulating melody while lounging by the pool and relishing in "deep normality" spending time with family. The hi-hats and wistfully strummed acoustics creep in slowly, supporting her as she gets more and more emphatic about free-spirited escapism, another theme that continues to crop up throughout.
We're more than familiar with it now, but Del Rey's voice is still just as captivatingly individual and breathtakingly vulnerable as the first time. That's why it's all the more disorienting when she puts it through an Auto-Tune filter on the track "Tulsa Jesus Freak." I love some artistic Auto-Tune usage, but the robotic sound smooths out everything we've come to love about her voice, and it doesn't seem like there's a discernible reason why – still, the chanted "white hot forever" hook is a great moment as she adds another song to the line of starry-eyed dedications to a current muse and romantic partner. This leads into the single "Let Me Love You Like A Woman," where the two finally resist the shimmering allure of Los Angeles and flee together on what seemingly becomes a nomadic joyride over the next couple of tracks. With the most tried-and-true classic folk instrumental here, Del Rey lets her soothing vocals do all the work as she offers her love and makes a big leap forward, continuing to deny everything that she was so enamoured by for so long. His herculean work ethic has made Jack Antonoff's production style all the more evident, but his flair for the dramatic can always elevate pop music to something grandiose – and the most Antonoffian song here is easily "Wild at Heart." Beginning with falsetto sighs like "I love you lots like polka dots" and a sweetly strummed acoustic guitar, the chorus switches gears entirely as Del Rey's more assertive side comes out, strutting confidently in the direction of her new life and adopting a Sinatra-style degree of conviction as the instrumental fills out.
The track "Dark But Just A Game" is perhaps the album's thesis statement on fame, Del Rey offering some of her most striking lyricism just as the album's halfway point begins to yield a bit of fatigue with the production style. The title apparently taken from an offhand comment by Antonoff after Del Rey had an unpleasant experience with one of her creative idols, Del Rey – who has tattoos dedicated to tragic figures like Whitney Houston and Amy Winehouse – dejectedly pores through the list of legendary talents that fame tore to pieces and decides she'd like none of it. "I'm not gonna change," she sings over a more menacing, minor-key acoustic loop. So much of the power of Lana Del Rey's recent work comes from the emotional depth associated with the believable maturity and growth in her character – turning away from the dazzling lights and flashing cameras would have seemed preposterous on any of her first four projects, and she sounds like she really means it. The track "Breaking Up Slowly" recruits country singer Nikki Lane to sing from the perspective of another victim of Hollywood, Tammy Wynette. Lane's raspy, abrasive tone provides a great contrast to Del Rey's, making for a great duet. The tracks "Not All Who Wander Are Lost" and "Yosemite" tone things down even more, as Del Rey finds herself exploring the American countryside and the music shifts in an almost country-folk direction. They're somewhat repetitive, even mantra-like as she embraces a new lifestyle, and not as exciting as the fully-realized displays of songwriting earlier on, but still necessary to the compelling story being told as a whole.
The album ends with one of its most hopeful tracks, "Dance Till We Die," and the cover song that's quickly becoming a necessity on a Lana Del Rey project. With lyrics looking forward to a future of motherhood and travelling the nation, Del Rey invokes the names of the great singer-songwriters of history and subtly seeks to join their pantheon. Not for the fame and adulation, though – more for the sense of companionship, it would seem, as she marvels over her friendships with Joan Baez and Stevie Nicks, among others. The track has a more driving percussion section accompanied by fluttering saxophones as Del Rey lets loose and dances into the night, building up to a brief classic rock bridge where we hear a more forceful side to her voice than ever before. Finally recruiting two of her most obvious disciples in Zella Day and Weyes Blood, the three combine their voices in harmony to tackle Joni Mitchell's "For Free," ending things on a final, symbolic note as they retell the story of an unknown talent playing for the sake of it.
Such a low-key project might seem like a step downwards at first after such a career-defining project like Norman F**king Rockwell, but Lana Del Rey's beautiful simplicity and poetic lyricism as she embraces the "normal" things in life have a tendency to grow on you like all of her best tracks. Her continued reimaginings of herself and the context of the rest of her work are as powerful as ever.
Favourite Tracks: Wild At Heart, White Dress, Chemtrails Over The Country Club, Dance Till We Die, Dark But Just A Game
Least Favourite Track: Tulsa Jesus Freak
Score: 8/10