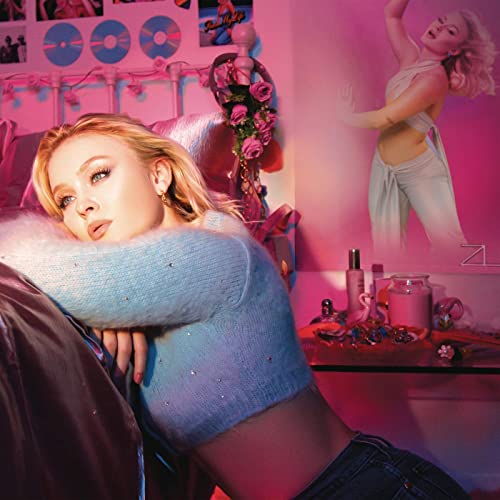 Though without the bevy of global smash hits attached this time, Swedish pop phenom Zara Larsson returns for the first time in four years with her third studio album. Still only 23 years of age, Larsson's last project, So Good, certainly came equipped with great pop tunes but suffered from an overall lack of identity as the ascendant teen strove to discover her sound. On Poster Girl, she demonstrates that she's been making big strides forward in that area and delivers her catchiest and most impressive project yet. Once again with some of the pop industry's most proven talents behind her in songwriting and production, including Julia Michaels, Ian Kirkpatrick, Tommy Brown, and yes, Max Martin, Larsson elevates her charisma to match her naturally soaring vocals and makes these tried-and-true pop frameworks her own. Although there's still a small bit of filler, Larsson leaning slightly into the recent disco and 80s-pop resurgence, in combination with some fantastic vocal moments, results in Poster Girl feeling like a diminished, but still highly capable, version of the pandemic pop escapism that Dua Lipa's Future Nostalgia provided last March.
The project opens with recent single "Love Me Land," the kind of track that brings to mind a dimly-lit, completely packed dance floor at a time when such a thing is even more idealized than usual. A great shot of energetic pop euphoria to kick things off, the track opens with a dramatic, harmonized overture before dropping down into a dark, sensual synth-bass groove adorned by 80s synth stabs and violin flourishes, Larsson surprised to once again be swept up into the rush of new love. Having people like Julia Michaels on board with the songwriting makes listening a more engaging experience than typical big-budget pop fare as well – "Lost in your vocabulary, got our own vernaculary" is hilarious. The track "Talk About Love" brings Young Thug on board for the album's only feature, his exuberant and quirky croon complementing Larsson's straightforward and confident approach on another immaculately produced track. The song's synths underlying the main chorus melody have a truly unique, jutting tone – like a toy piano being smacked too hard – setting the track apart as Larsson attacks the speedy chorus and enjoys a spontaneous romantic moment before the tough conversations start. The track "Need Someone," placed promisingly in the third position often reserved for anticipated big hits, falls the most squarely into the disco trends but might be the project's strongest track here. Opening with a contemplative piano loop throwing listeners off to the song's eventual tone, it is brilliantly worked into an intoxicating funk bassline for one of the most danceable instrumentals I've heard in a while. It botch matches today's zeitgeist sound and expands upon it. Larsson delivers some of her best vocal takes as well on the track, an added smoothness creeping into the breezy summer anthem as she simultaneously asserts her independence but bolsters her current happiness with a new partner. Some pitched-up gang vocals in the chorus only serve to further emphasize the anthemic nature of the track.  
The track "Right Here," despite a relatable message and a continuation of the album's persistent groove, is one of the least distinctive tracks here as Larsson falls back into the lingering feelings that she's more of a generic, conventionally attractive vessel for some of pop's brightest minds behind the scenes to get their work out into the world through the lens of their chosen star figure. Larsson sings about feeling underappreciated in a relationship, her partner distracted by his phone even when she's doing increasingly extravagant things to draw his attention. The chorus gets a bit repetitive, and a couple techniques like the vocal pitching feel a little bit like the dated EDM era, but it still fits in well with the album's overall vibe. "WOW," on the other hand, takes some old tricks and makes them stunningly new. Produced by Marshmello as he continues to move past his formulaic approach of old with some great work for other artists, he builds up the track masterfully to a mind-melting climax. Larsson's chorus melody jumps up an octave as the tension rises, before the real hook is revealed with a chopped-up vocal section and some syncopated digitized horn stabs set to gargantuan percussion hits. It feels like more of a Marshmello product with its dance twist, but it's a surprising and immediately memorable banger. The title track "Poster Girl" continues the strong run, another sharp and syncopated synth-funk instrumental serving as the backdrop for some breathy and lovestruck vocals in Larsson's upper range. Her repeated, dreamy "Holy smokes" in the chorus is in immediately infectious line.
Things get a little more heartfelt and personal with "I Need Love," a lower-key track backed up by computerized harmonies as Larsson offers a passionate dedication to her new partner, running through a list of metaphors as she emphasizes just how much she would be lost without him – the melody isn't as strong as other tracks here, and it's a bit of a perplexing contrast to Larsson's earlier independence anthems, but once again it's a showcase for that soaring vocal ability, especially when the track cuts out for a particularly impressive trill. "Look What You've Done" is a surprising but completely welcome turn into high-octane pop thrills from Ed Sheeran collaborator Steve Mac, the stilted rhythmic feel almost evoking the tropical-house boom in pop recently but adding a trap beat, a persistent, swung bassline and some cinematic synths on top makes it feel like Larsson and her producers have combined three of the most prevalent musical sounds of the last couple years into something completely new, Larsson once again offering an impossibly catchy tune on top as she mercilessly flexes on her ex and steps onto the dance floor glowing. The trap hi-hats continue onto single "Ruin My Life," which was actually released in 2018 and somehow made it onto the tracklisting here. The transition between the booming drum hits into the trap sound here is a shining moment on an otherwise middling pop track.
The Swedish mastermind himself, Max Martin, finally makes his only appearance near the album's conclusion on the track "Stick with You," showing a lot more restraint than usual as he continues, naturally, to flawlessly adapt to the tastes of the general public. Driven by a raw guitar loop and a trap beat reminiscent of some of the biggest modern rap hits, Larsson stays in a chilled-out lower range as she dismisses the skeptics of her newfound connection. It's Max Martin – he truly does have a superhuman ability to craft something that won't leave your brain for weeks, and that only continues here. Funnily enough, Larsson picks up Martin's usual disregard of grammatical rules in the name of catchy rhymes on the next track "FFF," or "Falling for a Friend," featuring a killer pre-chorus and another strong groove before things close out with "What Happens Here," a final female empowerment song that continues the comparisons to Future Nostalgia. Larsson stakes a decisive claim on her romantic decisions, anticipating the narrative will be twisted to the public and rolling her eyes at the inevitability.
A fun pop album was something I desperately needed right now, and Poster Girl is exactly that. With just about everyone who has produced a massive hit single recently behind the boards and a more-than-capable voice delivering their latest creations, this is a great collection of upbeat dance tracks. Except this time, we'll be dancing with visions of human contact closer than ever before.
Favourite Tracks: Need Someone, WOW, Poster Girl, Look What You've Done, Stick With You
Least Favourite Track: Right Here
Score: 8/10