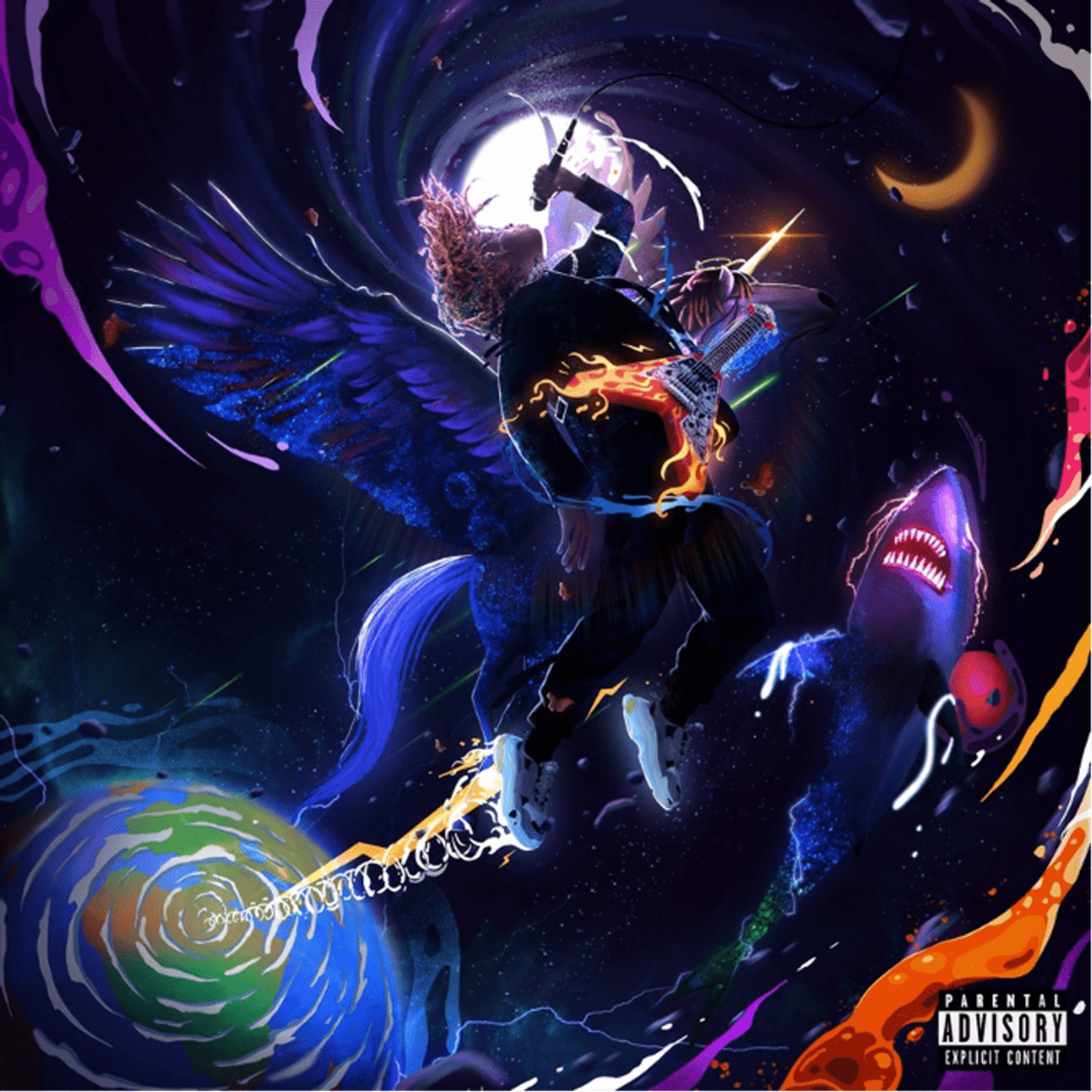 Continuing the streaming-fueled trend of adding essentially an entire album onto an existing project as the deluxe version, emo-trap star Trippie Redd extends his already overstuffed Pegasus album to a ridiculous 40 songs in length. The difference this time is that the new project is far from more of the same – Redd has completely switched genres and jumped from his tedious trap bangers to what is pretty much a full-on rock album. While Pegasus suffered greatly from a striking lack of focus and direction, this Neon Shark addition rights the ship in a huge way with some cohesive and surprisingly heavy production at times – assisted mostly by legendary drummer Travis Barker, who just aided another massively successful rap-rock crossover with Machine Gun Kelly's last album. The unfortunate part is that while Neon Shark is a massive step up from Pegasus, it still doesn't reach the realm of being an enjoyable project because of all the other questionable artistic choices that Trippie Redd has been making his entire career and continues to make here. Redd's underwritten tracks and grating, strained vocals are still here in full force, now with a more engaging backdrop.
The album's first track, "PILL BREAKER," actually barely features Trippie Redd at all. Latching onto the success of Machine Gun Kelly and blackbear's hit single "my ex's best friend," Redd invites the two onto the track and pretty much provides them with backing vocals, offering a single, repeated line in response to them on the chorus. Perhaps unsurprisingly if you can't stand Redd's vocal inflections at times, the track is easily one of the most enjoyable on this new edition despite being one of its pop-oriented. Despite a seriously concerning lyric from Machine Gun Kelly about being co-dependent and jealous to a murderous degree, something that's unfortunately a running theme in Redd's music as well, the combination of the light, pop-punk oriented guitars with a trap beat and blackbear's sentimental chorus is a great earworm to kick things off.
The next track "WITHOUT YOU" dives into a more jagged guitar riff and prominent drums from Barker as Redd hops on the mic for some repetitive and somewhat nonsensical lyrics that are almost certainly a freestyle about becoming self-destructive without his partner. He genuinely sounds pretty fantastic on the central chorus, his traditionally tear-streaked cadence capturing the melodramatic machismo of a rock frontman over a classic pop-punk sound and some engagingly complex drum patterns, but the rest of the song feels meandering and unfinished. "SWIMMING," on a similar note, feels almost as if it begins in medias res. Opening on the kind of blown-out guitars and extended drum rolls that you might reach after building to a climax, as well as shouted vocals from Redd, the track's energy feels unearned and sudden. Redd offers a stunning 33 unique words on the track (I counted!). That's less than the famous challenge issued to Dr. Seuss to write a bestseller, Green Eggs and Ham, with only 50 words. Most of the time, Redd seems to believe that simply emoting, moaning and freestyling what occurs to him in the moment, is a solid replacement for powerful lyrics. He delivers his most powerful emotional moment on "SAVE YOURSELF," an anthemic pop-punk track where he describes grappling with demons and instructs others to stay away.
A couple of these tracks almost verge into "so bad they're good" territory, but none more so than the track "FEMALE SHARK." Over a muted guitar riff directly out of a 90s alt-rock anthem and a driving, straightforward drumbeat from Barker, Redd tones down his voice a little to fit the mood of the track as he begins describing the girl of his dreams before the track's true hook is revealed – Redd suddenly yelling "FREA-KY GIRL!" at the top of his lungs in such a ridiculous yet completely sincere manner that it seems pre-destined for TikTok meme glory. It's a laughably misguided song at its core, but the conviction with which Redd throws himself into the performance and the lack of obnoxious strain makes it almost impossible to hate. Redd has apparently had some actual vocal damage in recent years as a result of pushing his vocal cords too hard with his strained screams, and "SEA WORLD" was apparently the track that finally pushed things over the edge. It's easy to see why. While Redd's normal strain usually just sounds like a bratty child not getting his way, he took things to another gear here with some distorted screams in the background ready for a death metal track. When Redd goes this hard, it's almost respectable. The track is one of the more structured here with some catchy chord progressions, but that's really not saying much. Redd's repetitive lyrics still drag things to the darkest depths of the sea that he sings about here. MGK appears once again on the track "RED SKY," where he once again displays some softer and more affecting vocals on the chorus and shows that there's some genuine potential for him in this style, but the juxtaposition with MGK's theatrics is jarring.
Elsewhere, the pile-up of Redd's usual bizarre choices becomes far too much to bear. The track "GERONIMO" sees him recruit a surprise collaborator in alternative metal frontman Chino Moreno of the band Deftones, who descends upon the track with the kind of understated, eerie delivery that is the complete antithesis of Redd's mentality of overwhelming the listener with raw emotion. Of course, Barker and the track's producers decided that the greatest way to bring these two diverse artists together would be to have them sing completely rhythmically dissonant lines overtop of each other in the chorus as the instrumental becomes a garbled, overblown hellscape of guitars crashing into each other. Redd essentially drowns Moreno out with his oafish bellow, the two sounding like they're in an argument over which vocal style is better, trying to claim the track as their own as the swirling, awfully mixed instrumental behind them does the song absolutely no favours. This is the kind of stuff I imagine they use when they use music as psychological warfare against criminals. The unfortunately misspelled track "MEGLADON" is apparently supposed to be romantic, which is hilarious because it's so aggressive that many people took it as a continuation of Redd's feud with 6ix9ine. Over some droning, industrial guitars, Redd describes himself as a shark hunting down and killing a potential love interest, juxtaposing his lyrics about "flesh and blood" and "terrorizing your soul" with a bar about Shark Week to once again prove that this is all likely made up on the spot. It's all a little – or a lot – creepy. It gets even worse on the track "FROZEN OCEAN," where Redd both threatens the song's subject with murder and notes that without her, he'd die.
The track "DREAMER" is the only one here without Barker's involvement, indicating that it's from earlier sessions. With a bit more of a bouncy, hip-hop influenced cadence and some rap flexes over the rock instrumental, this might have been a welcome switch-up if it were included on Pegasus, but instead just falls back into being one of the most unmemorable and formulaic tracks here. "ITS COMING" is another painfully repetitive track with what might be the most unlistenable vocal strain on the whole project and a shoehorned trap beat, Redd's whispered adlibs mixed incredibly loud just making things all the more inexplicable. "LEADERS" is the obligatory sad acoustic number, but it just places even more of a spotlight on Redd's completely nonsensical lyricism. The project closes with "DEAD DESERT," which brings rap-metal artists ZillaKami and Scarlxrd on board, and it's actually the greatest track here – though not because of Redd, who is relegated to yelling "drop dead" repeatedly on the chorus. Hearing Barker's work applied to a true-blue rap metal cut is invigorating, and the two guests deliver some spine-chilling verses and outmatch Redd in the crazed yelling department.
Redd's dedication to a cohesive and fully realized sound here is admirable, especially in comparison to his many previous projects of meandering, flavourless trap and more melodic emo-inspired material. Still, at the end of the day, this is Trippie Redd. Until the more distasteful eccentricities of his work are ironed out, there's always going to be a bit of a cap on how enjoyable his work is.
Favourite Tracks: DEAD DESERT, PILL BREAKER, WITHOUT YOU
Least Favourite Track: GERONIMO
Score: 4/10