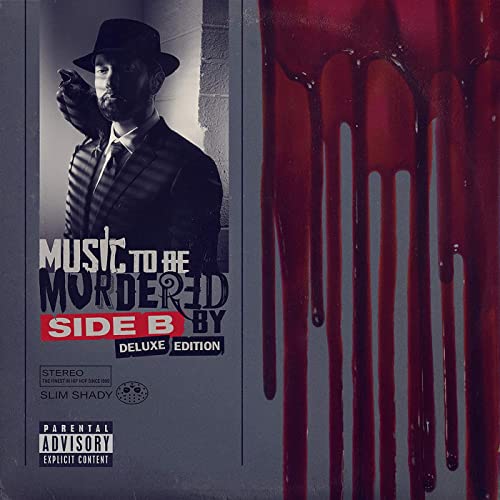 Joining so many other huge artists who released not one, but two (or more) full-length projects in 2020, Slim Shady himself has dropped his third surprise release in a row and a follow-up to last January's Music To Be Murdered By. The parent album was certainly a much better offering than most of his recent work, dialing down the constant whiny focus on critical reception to his work and bland pop features to put a spotlight on the dizzying flows and still frequently effective shock value he is known for. Side B provides most of the same thrills, with a little bit more on the side of the wordplay and irreverent goofiness and a little less on the engaging musicality, beat selection and flow patterns. It's been said so many times before – when Eminem is on his game, there's not another rapper in the world that is so spellbindingly hypnotic with the way he weaves words together. But this deep into his career, you know you also have to expect a boatload of COVID dad jokes, plus a couple grating hooks and cringeworthy gleeful indulgences in immaturity. Thankfully, he's still on his game more often than not on this one.
After once again being welcomed to the album by the voice of Alfred Hitchcock from his album of the same name, Eminem's favourite collaborator Skylar Grey is once again back on the track "Black Magic," which is Eminem violent revenge-fantasy track number infinity. There are still so many ways that Eminem's provocative material can still hit surprisingly hard after all these years of doing it, but his tired narratives about the grisly murder of someone who has done him wrong certainly isn't one of them. For someone who's known for being a walking dictionary, you'd think he'd find something else to say at this point. Grey's hook is actually one of her finest ever contributions to an Eminem track, but Shady's flow on top of the overdone material is strangely stilted. It's one of the least rhythmically inclined performances I've ever heard from him. In fact, all of the album's weakest tracks show up near the beginning. The track "Tone Deaf" features an incredibly tedious and straightforward looping beat that only serves to make Eminem's flow on top all the more monotonous, broken up by a whispered playground chant of a chorus that kills the energy even further despite some pretty hilarious bars. "Book of Rhymes" recruits the legendary DJ Premier, but Eminem's obnoxious shouted hook, pitched-down backing vocals and obligatory return to childish and insecure responses to the indulgences in the controversies and criticisms of him bring down the enjoyment factor. It's hilarious how much the supposedly unflappable and emotion-averse Eminem has unleashed the most basic "why would you waste time talking about something you don't like? Go outside, kid" narrative over the past decade. Wishing death upon Bon Iver for valid criticisms of Eminem's usage of a painfully outdated word without his knowledge on a track that he featured on isn't the best look either.
Many of the tracks that are immediately catching the public's attention are definitely some of the strongest. They latch onto the lightning-fast raps and celebrity disses, but there's even more substance to some of the tracks that are immediately racking up the streams as well. The track "Alfred's Theme" is 5 and a half straight minutes of pure, unadulterated classic Eminem wordplay set to DJ scratches and a looping sample from the theme song of an Alfred Hitchcock TV show – really, it sounds like circus music, and it's the perfect backdrop for Eminem's outlandish punchlines. There's a moment where he puts two passages with extended metaphors and triple entendres right beside each other (the dog/bark/tree and bowling ones) that completely solidifies him as the greatest to ever do it when it comes to dissecting the English language, if we didn't know that already. "They call me dog because I'm bar king"?? Indeed. The lack of a chorus putting a real spotlight on his technical skill and Eminem finally, FINALLY being willing to make fun of himself make this one a huge standout as well. Eminem can't let the MGK beef die on a central line of lead single "Gnat," but the track certainly contains some more highly impressive punchlines ("Mic, pencil, get killed/Mike Pence'll get killed" is an all-timer), and much like his last lead, ends with the speediest sequence on the album that millions of amateur rappers worldwide are going to be replaying for days on end trying to learn. This time, it's accompanied by a pretty fantastic beat switch as ringing trumpets back his flow up. The track "Zeus" will be the most incendiary for the right and wrong reasons, as Eminem unleashes some potent disses towards people as diverse as 6ix9ine and Snoop Dogg, predicts that Drake will similarly end up as the cool thing to hate as he ages, and spits an extended sequence of heartfelt bars in solidarity with the Black Lives Matter movement where he powerfully lists the names of just some of the many victims of police brutality in rhyme.
After you get past the rough opening, essentially every track here is worthwhile as Eminem leans into at least one of his many superhuman skills, even if others fall by the wayside. The track "Favourite B**tch" recruits perennial collaborative force Ty Dolla $ign to do what he does best, lending his elaborate harmonies and malleable voice to a soulful hook and even singing along with Eminem as he delivers his verse at one point. It's one of those Eminem beats that's made up of loud and blaring synths, allowing him to tone his voice down and delivers some introspective bars about his journey in the rap game so that when he flips back into the typical spastic flows it's incredibly climactic. Somehow, it still gives the same thrills as when you heard him do it the first time. "Guns Blazing" brings Dr. Dre out of hiding for a track where the two trade stories about their recently crumbling relationships, linked by a delightfully old-school vocoder hook from Aftermath signee Sly Pyper. "These Demons" is a mishmash of Eminem's favourite topics as his effectiveness in communicating them fluctuates over the years, his verses ranging from more talk about haters, some more surprisingly poignant political commentary about the BLM movement and COVID, and some bathroom humour-laced responses to drama. Without the lyrics, though, it's a constant onslaught of flows you can't help but nod your head to. "She Loves Me" comes equipped with a menacing brass instrumental and knocking boom-bap beat reminiscent of his classic work and one of the more coherent concepts of the album, Eminem slowing things a bit to tell the story of a girl who only wants him for his money.
The back half of the album hosts many of the true highlights. Eminem's flirtations with rock music in the past have often been the kind of trainwreck you can't avert your eyes from, but the heavier sound of "Higher" is a huge step in the right direction. With crunchy synths and ringing, eerie piano chords, Eminem puts on an almost operatic gravitas to his voice as he delivers a chorus about still finding ways to exceed his own expectations of himself. It all culminates in yet another moment where Eminem saves the hardest verse for last and zooms through some complex internal rhyme schemes with ease. "Killer" sees him run through some of his most novel flows, honestly sounding a bit like some of the more modern "mumble" rappers he is so ready to criticize. This is for the better as his more restrained and laid-back sound bounces off a murderous instrumental and makes him sound more believably menacing as a bass voice repeats "bum bum" like Jaws on the way to an unsuspecting swimmer. The album closes with another absolute treat in "Discombobulated," featuring a beat from Dr. Dre and Eminem leaning into the old-school vibes hard, becoming hilariously self-aware of people wanting his old style back and yelling "ACCENTS!" before immersing himself in the classic Slim Shady sound with the most fiery flow here and the boundary-pushing bars that you can't help crack a twisted smile at.
Eminem hates reviews of his music, and honestly, at this point we don't really need them anymore. You know what to expect, and you should go into it based on your personal affinity for it. For this reviewer, I know that the bad is going to come, and that knowledge makes me enjoy the good parts more. At least he's not only releasing albums like Revival.
Favourite Tracks: Alfred's Theme, Discombobulated, Higher, Zeus
Least Favourite Track: Tone Deaf
Score: 6/10