Genre-blending UK punk rocker and outspoken voice for acceptance YUNGBLUD has been making more and more forays into the mainstream through his progressive messaging and brief high-profile relationship with Halsey. A truly disruptive force in the music industry, elevating his mixtures of alt-rock, hip-hop and pop punk with an anarchic flair for the dramatic, a lot of his past work seemed like he was trying a little too hard to be the new edgiest guy in town. On his sophomore effort, weird!, however, it seems as though YUNGBLUD has begun to find many ways to refine his off-kilter powers and maximize their effectiveness. There's still a lot of derivative ideas and ridiculous concepts that go a little too far here, but with YUNGBLUD finding himself and coming publicly forward with his pansexuality and mental health struggles, there's a lot of powerful topics for him to touch on. Plus, it's hard not to love that chaotic and boyish tone as he rips through these heavier arrangements. weird! is a huge step forward.
The album opens with "teresa," which isn't even the only song here about a moving story YUNGBLUD heard from a fan. Taking up the character of his fan's boyfriend who passed away, he writes a letter from the afterlife promising to watch over her. Kicking off with some ghostly piano scoring YUNGBLUD's beautifully garbled vocal delivery as it bends and breaks under the pressure of reaching for some passionate high notes, the power chords storm in and turn the lead melody's quiet lullaby into a stadium-sized pop punk anthem. The My Chemical Romance influence is incredibly clear with the operatic backing vocals, regal piano chords, morbid lyrical themes and theatrical shifts in tempo, but honestly, it's a sound we're sorely missing and YUNGBLUD pulls it off extremely well. From there we immediately drop into "cotton candy," which YUNGBLUD says is about "sexual liberation" and his desire for polyamory with the entire spectrum of sexualities and genders. It's the poppiest song here by far with a Julia Michaels co-writing credit, a driving, bouncy bassline and sweet falsetto vocals, but there's still something powerful about using the typically rebellious framework of punk-rock that hangs around in the background to defiantly embrace one's own "rebellious" identity instead of the genre's typical macho energy. YUNGBLUD opens the next track, "strawberry lipstick," by screaming "this is a song about a person I love!" That someone, as it turns out, is himself. He takes the previous track's energy even further with a classic UK punk-rock sound complete with grinding industrial guitars and "hey hey heys" as well as some more overt lyrical nods to his sexuality, androgynous fashion choices, and ending oppression. Distorting his voice and backing himself up with some frantically shouted vocals, the central melody is one of the catchiest here as it fights to stay above the delightfully crunchy mix.
For all of the emotionally charged material on the album, the track "mars" comes with an absolutely incredible story. Written about a 17-year-old fan neglected by her parents for being transgender, the track's narrative finds her longing for an interplanetary escape from real life in an homage to David Bowie. What the track doesn't tell you is that the girl saved up money to bring her parents to a YUNGBLUD concert in hopes that they would see others like her just being themselves. It actually ended up working, as the parents gained more empathy and acceptance. Toning down his voice to tell the story, YUNGBLUD sounds devastated as he retells the specific details of her struggle, the rhythm of the drums hitting almost like a hip-hop track as he runs through the events with a speedier flow. The final chorus finally sees him bring back his strained, louder vocals, now with an added dimension of desperate yearning that hits hard. The tough topics don't let up there. "superdeadfriends" is a Beastie Boys-esque punk rap song about addiction complete with some EDM guitar wubs and a wild-eyed bellow of a chorus about losing friends and partaking responsibly. "lovesong" takes a deeper dive into YUNGBLUD's psyche and upbringing that made him so initially unwilling to become who he is today. The heart-wrenching acoustic ballad sees him describing his parents' abusive relationship in viscerally graphic detail and it turning him off from the entire idea of love as a child who didn't know any better, before gratefully attributing his eventual change of heart and self-discovery to Halsey. "god save me, but don't drown me out" almost crosses that uncomfortable threshold in sounding like a too-real desperate cry for help, YUNGBLUD audibly crying throughout his performance as he fights his mental illness.
As the album winds down, we get the title track "weird!," another song that immediately brings to mind another artist as YUNGBLUD taps into the upbeat pop-rock and topical lyrics reminiscent of The 1975. There's a lot of unoriginal ideas on this project, but YUNGBLUD honestly pulls them off with enough of an earnest and game attitude that it's not much more than a mild annoyance. It's hard not to want to sing along with him when he belts out "we're in a weird time of life" on the chorus after running through the many anxieties echoing around in his head. Stuck inconspicuously as the third-to-last song on the album, we get "acting like that," a collaboration with Machine Gun Kelly that the artists have actively admitted was meant to go on the rapper's pop-punk album earlier this year. Although the two have approached a similar sound, MGK's trap drums and more modern hip-hop tendencies feel out of place on an album with more traditional stylings, especially since YUNGBLUD feels like a feature on his own album. It's a great show of friendship between two unlikely partners, but it's easy to see why they cut it as well – it would have been one of the weaker tracks on Tickets To My Downfall. "it's quiet in beverly hills" is another somber acoustic number where YUNGBLUD addresses the neverending pressures of fame and their effect on his mental state, but it's the least poignant track on the quieter side, an area that never provides quite the same rush as his heavier material.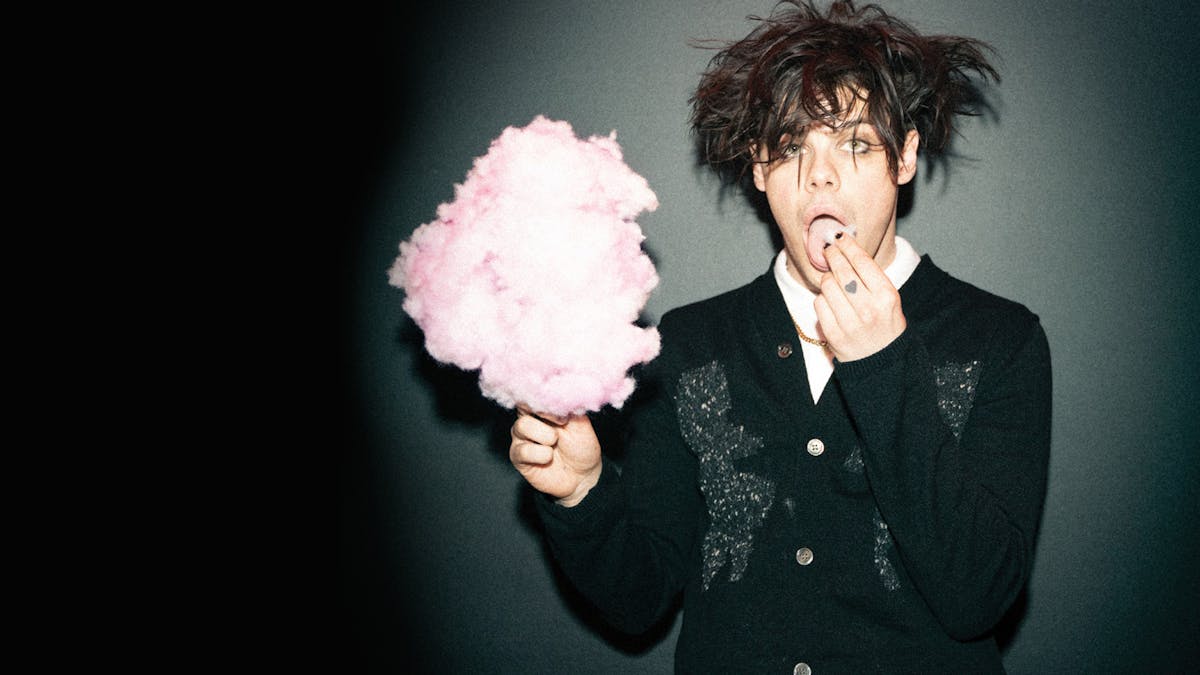 At times, YUNGBLUD's theatrical nature goes a little too far and things get, well, weird. I've been trying for a while to parse out the metaphor behind the track "ice cream man," a Ramones-style rip-roaring number with probably the heaviest arrangement on the album, but I'm not quite sure there is one. Backed up by what sounds like a taunting choir of children, YUNGBLUD dials up his British accent and unhinged vocal inflections as he sends shots at an "ice cream man" who wants to not stop him from being himself, but make sure the lower class remain in poverty – he concludes the track "I don't wanna be a part of it, man." When he taps into his operatic rock influences and plays around with song structure, however, YUNGBLUD can really put on a captivating show. Dropping into the first verse of "charity" with a cheeky and overexaggerated "one, two three," he begins talk-singing a rambling story with some hilarious lines about searching for his identity and embracing the freedom of not quite knowing set to some driving swung guitar chords and anchored by a central, sung chorus that's classic pop-punk. The MCR influence returns with a deranged yet joyful section of "la la las" and an increasingly hysterical performance as the track rushes to its end. Closing track "the freak show" had absolutely massive ambitions, and it comes pretty close to hitting them all. Drawing inspiration from rock operas by both Green Day and Queen and ending up sounding closer to the baroque rock of early Panic! at the Disco, YUNGBLUD plays ringmaster for the "freak show" that surrounds him. Shifting wildly between tempos and motifs, the driving beat and YUNGBLUD's fully committed performance manages to hold it all together. "Welcome to the freak show, I hope that you find yourself today," he sings. It's a fantastic central theme for the album as a whole.
weird! is the sound of someone absolutely revelling in finally being able to be their full, complete self, and it's an absolute delight to witness because you feel just as happy for him looking on from the outside. Although he hasn't quite discovered himself in a musical sense just yet, this huge personal breakthrough for the dynamic and progressive artist can only signal even greater things to come.
Favourite Tracks: mars, teresa, the freak show, charity, strawberry lipstick
Least Favourite Track: acting like that
Score: 7/10