Two of rap's biggest similarly-nicknamed superstars have elected to team up for what just might be the laziest big-name rap collab project yet. Ever since these collaboration albums became a rising trend a couple years ago, the most enjoyable ones have always been a result of two rappers with different styles playing off of their differences and offering an engaging and unexpected contrast. Instead, these two psychedelic Auto-crooners teaming up feels more like deluxe content for their respective wildly successful (and in each case, much better) albums earlier in 2020. Future's often surprisingly compelling lyricism and undeniable charisma and Lil Uzi Vert's zany and cartoonish energy are always highlights of their respective projects. Each are watered down here as they try to become a little more like their mic partner, which proves to be a difficult task. These two artists attracted so many fans for a reason – despite their similar styles, there's nobody else who could do what these two do quite like them. Ultimately, Pluto x Baby Pluto is 54 minutes of generic trap music where neither artist ends up playing to their strengths.
One of the biggest recurring problems with this project is that it somehow hits on both of the seemingly opposite usual problems with collaboration projects – the two rappers' melodic warbling style is similar enough that their trading lines ultimately has no effect, but their distinctive rap voices are different enough that when they try to play off of each other it jettisons them far out of their comfort zone. The opening track "Stripes Like Burberry" is one of the most obvious examples of this, sounding like a leftover from Eternal Atake with a neon 8-bit synth line and a chorus delivered in Lil Uzi Vert's impish tenor – something that Future tries to replicate later on and fails completely with some awkwardly strained notes. It's a strangely low-energy opener as well, the beat cutting out for extended periods of time on some longer verses here as Future and Uzi hit on the same topics they've been hitting on for their entire career. "Sleeping On The Floor" has the opposite effect – Future demolishes the darker trap cut here with his more technical verse and some trademark falsetto ad-libs, but Uzi's gleeful nature doesn't feel like it fits on the track at all. Still, Uzi comes with some great punchlines and it makes for a highlight of the earlier goings. "Marni On Me" is the only instance here where the two trade off individual lines back and forth, and the fact that it's this boring is truly mind-boggling. These two are at the top of their field, and this much interplay should have so much more fire behind it – or at least, generate excitement regardless from hearing two titans together. Instead, the extremely repetitive lines and eerily similar cadences kill the vibe. It's easy to see why people were instantly drawn to "Drankin N Smokin" with its catchy guitar loop, but the actual performances on top are some of the weakest here as each fall off the beat with some freestyle-tier melodic warbling. That "ocean/commotion" line from Future is pretty laughable.
The album's earlier goings definitely still impress from time to time, but it mostly gets lost in the shuffle of a 16-track album with no features and essentially all filler. Many of the best moments actually come when Uzi takes over the track and goes harder than usual on a couple of his verses. The track "Real Baby Pluto" sees him take the hook and offer some speedy triplets over a beat from Zaytoven that essentially sounds like a perfect combination of the instrumental styles that each rapper would typically select – a cartoonish minor-key synth and deep rumbling bass. Future's lyricism is seriously low-effort on the track, but the way he drops into the verse with a staccato "yea" is absolutely top-notch and one of the more electrifying moments on the whole album. The track "Million Dollar Play," as well, boasts another great flute beat from Zaytoven that's reminiscent of Future's hit "Mask Off" before the heavier percussion and infectious hook kick in. It's one of the only tracks here where it feels like the artists actually tailored their performance to the specificities of the beat, and it's rare that both bring the charisma and energy at the same time. Despite some subject material that's even more slimy than usual from the man they sometimes call the Father of Misogyny, "Bought A Bad B***h" is another one where the turn-your-brain-off quality these two are so good at tapping into comes out in full force.
Around the middle, the more interesting material here completely evaporates and the album turns into a never-ending procession of watered-down trap cuts that you could have heard from any rapper in the last five years. It's very strange how Future's repetitive hooks can vary so wildly in being effective, but the one on "Plastic" is seriously grating due to the more basic and straightforward rhythms. Future's melodies on the track "That's It" are a little more surprising than usual as he almost gets a little soulful for a second with that vibrato that sometimes pops up, but the verses on the remainder of the track once again feel like musical déjà vu – the repetition this time coming at the ends of the lines instead of the beginning. Lil Uzi barely makes an appearance on the track, and the unbalanced nature only makes the planning of the album feel all the more rushed. The two rappers actually do get one solo track each, but they're not much better and easily could have been leftovers from the recording sessions of their previous projects. Future once again goes a little too far with some candid and conversational lyrics on "Rockstar Chainz" and Lil Uzi's "Lullaby" is appropriately titled because it puts me to sleep with a more chilled-out beat.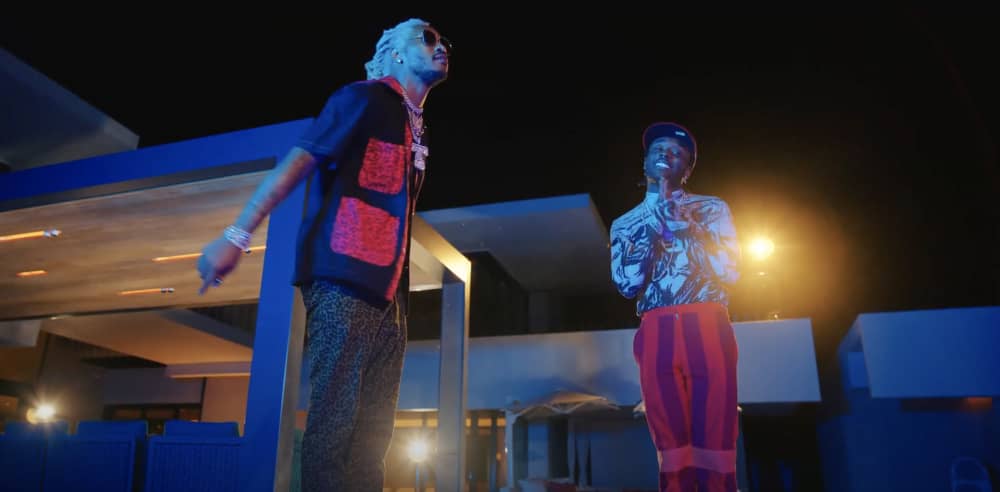 The ending run of five tracks doesn't have much more to report with some more filler tracks and Future and Uzi essentially sounding like they're trying their hardest to fill up a full album of tracks with some low-effort vocal performances and bars you can see coming from a mile away. Uzi seriously reiterates the "Balenci Balenci Balenci" meme from his last album on "She Never Been To Pluto," which once again suffers heavily from lapses in energy when the beat's percussion inexplicably cuts out. "Off Dat" and "Bankroll" are just about the most generic trap songs this side of the genre's commercial boom in 2017-18, while Uzi's singing on "I Don't Wanna Break Up" has to be heard to be believed. The album closes with "Moment of Clarity," where Future gives us the worst "Elvis/pelvis" rhyme in music history and some more disinterested performances over a plucked guitar beat.
Pluto x Baby Pluto essentially feels like it was made as a result of a quick joke between these two artists when they realized their nicknames were similar, and not with any regard for whether it would actually work as an enjoyable album. These two both made pretty decent solo albums this year, and coming together should have been an easy victory lap with just a little more effort put in.
Favourite Tracks: Million Dollar Play, Real Baby Pluto, Sleeping On The Floor
Least Favourite Track: Off Dat
Score: 3/10