Well, that "break" that she said she needed didn't last very long. One of pop music's most prolific and influential figures has returned once again with her third album in just over two years, following up a pair of highly personal albums that catapulted her into an entirely new level of superstardom and critical acclaim. Centered around her virtuosic vocal talent, each one of Grande's previous releases have come with a different approach as she matured and adapted to the shifting trends of pop music today. The similar sounds of Sweetener and thank u, next worked out just fine because they felt like necessary companion pieces to each other, one light and one dark. positions, on the other hand, often feels like we're verging dangerously close to Grande oversaturation as she once again sticks to her comfort zone without much evolution. Adhering to similar trap-pop formulas and blending in a little bit of the strings and lush arrangements of her debut, Grande's vocals still elevate quite a few of these tracks, but it feels like she doesn't have nearly as much to say. Of course, when you're dealing with one of the greatest working vocalists, an album that sounds like a bunch of B-sides is still pretty enjoyable – that break really could have been beneficial to iron out some of these concepts even further, though.
If you go into this album already having heard its lead single, "positions," you might be in for a bit of a surprise when the opening bars of its first track, "shut up," begin to play. While Grande has never truly been a ground-breaking creative force, she has at least always managed to craft albums with enough versatility to show the full range of that stellar singing voice. Here, we get quite a few tracks with that same backdrop of plucked staccato strings. The song kicks off an opening run of four that had me quite worried before things pick back up with some outstanding vocal moments and displays of personality in the back half. Backed up by a Disney-esque string section that flits in and out to keep things minimalist, Grande takes the first track to aim at her detractors who can't seem to keep her name out of their mouths with one of the more disjointed melodies of her career. The song transitions from a half-rapped verse to a chorus that essentially consists of one repeated massive vocal run that feels like Grande is overdoing it for the first time, especially when contrasted with such a bare-bones instrumental. The abrupt ending of the track, as well, is a problem that persists throughout as she caters to streaming with a couple shorter tracks.
The track "motive" comes with an underwritten hook that falls flat on arrival and an underwhelming verse from Doja Cat, while the overly bright and cheery "just like magic" feels like a return to her teen-pop days and lyrically treads incredibly similar ground to Sweetener track "successful." New single "34+35" partially stands out amongst the weaker tracks with a giggly and charismatic vocal performance and the hilarious contrast of Grande delivering some outlandish and raunchy punchlines in that angelic tone, but still sinks back into the same trap-orchestra instrumental area that we've heard already.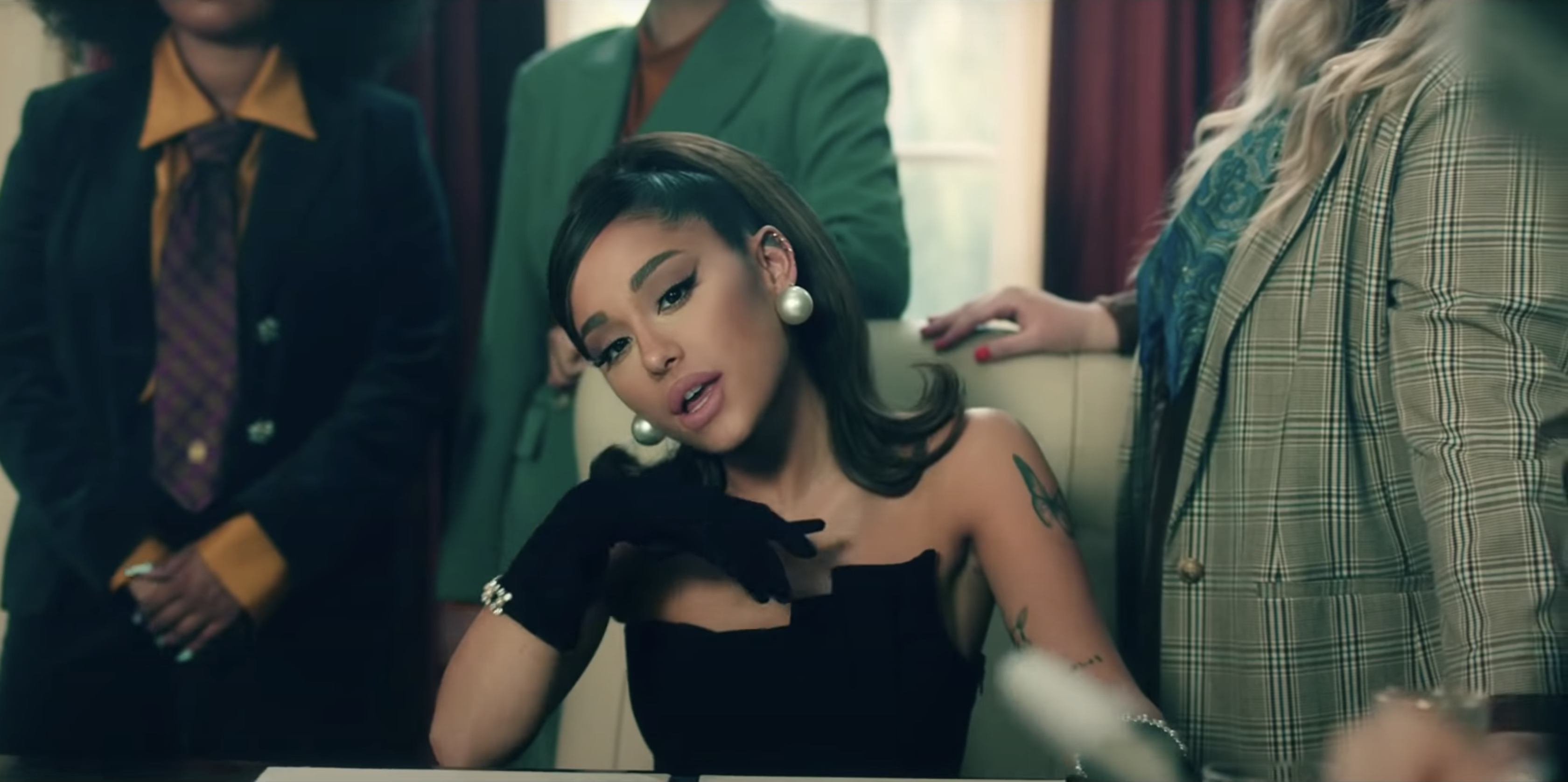 From the very beginning, I've always wanted Grande to do a full R&B album that draws from the 90s divas she takes great influence from, and there are quite a few tracks on this project that get closer than we ever have to that reality. The strings on the album give it a bit of a more mature Yours Truly vibe, and Grande takes the powerful vocal performances from that album and mixes it with the more adult scenarios she finds herself in now. The track "off the table" sees her reunite with The Weeknd for what ends up being one of the more personal tracks here, as Grande once again struggles with moving on from her traumatic romantic past, putting the prospect of love out in the open with someone new even if neither party is truly ready for it just yet. The two fully tap into the classic energy of the 90s R&B romantic power duet with some of the most impressive vocal acrobatics on the album, Abel's assured and confident passion counterbalancing Grande's vulnerable trepidation. Abel's embodiment of a new man partially feeling second to a partner she "can't hold anymore" but willing to support her regardless is a touching tribute to Mac Miller, and the dramatic strings serve as a great backdrop as the two take the second half of the song to one-up each other with a cavalcade of huge notes.
The track "my hair" is reminiscent of that era of music for a different reason, sinking into a shuffling, jazzy groove complete with vintage audio crackle that reminds me of some of Mariah Carey's early work. Grande's vocals are at their most pleading, breaking from her usual technical perfection to slide up to some notes and use her stunning abilities in a different way – not to mention the entire chorus she sings in her whistle register! "nasty," as well, sees Grande stepping into some more salacious subject matter with the ease that wasn't present in "34+35," sounding cool and confident as she breezes through that chorus.
The album's middle continues to see Grande clearly having fun with it, but as she continues to use the same formulas three albums running, they begin to wear thin and create some less memorable tracks. Thank u, next was such a stunning achievement because it had absolutely zero filler, and she couldn't quite replicate that here. "six thirty" sees her return to the triplet flows and hi-hats, diving into a percussion-heavy and adorably flippant hook that sounds like it's straight from the Pharrell-produced Sweetener sessions. Despite adding some more impressive trills and vocal runs into the background to fit the breezier R&B vibes of this particular album, at this point I either want to hear something new from Grande or a track that makes full use of her vocal talents – this hip-hop influenced B-side doesn't really hit on either. "west side," as well, feels almost like an unfinished reference track that was left on with its very short length and monotoned hook. The track "safety net" recruits Ty Dolla $ign and definitely fares a bit better, Grande using the often surprisingly moving trick of reaching down into her confident and powerful lower register, a more conversational and humanizing tone as she sings about being scared to romantically start over. Ty lays down a soulful verse as well as his raspier voice serves as a nice contrast to Grande's pristine nature, but the hook doesn't really elevate the energy and fails to connect as well as she has in the past.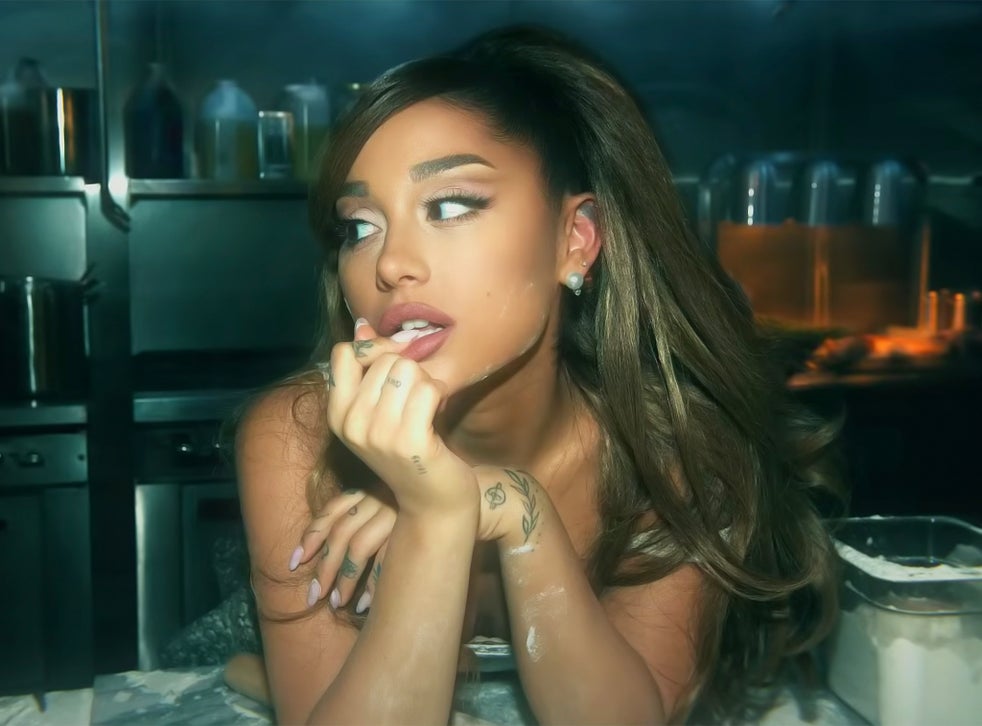 The album finishes strong with a run kicked off by "love language," which elevates the energy with some more upbeat cabaret-style strings, jazzy piano embellishments and a breathless chorus where Grande impressively loads her bars with syllables while still jumping up and down the scales. The track leads into a beat switch as Grande offers a beautifully harmonized and brief genuine dedication to her new "home," referring to her thankfully less-publicized new beau. The placement of the driving "positions" right after is great sequencing, the track standing out amidst the laid-back R&B cuts with its strong hook and hard-hitting percussion despite feeling like a bit of an imitation of some of her prior singles. After the sweetly-sung "obvious," where she dismisses a materialistic relationship with one of the stronger choruses here, the album closes with what might be its biggest vocal showcase in "pov." Once again playing into the image of the shattered, relatable, and most importantly, accessible global pop star that made her previous era such a moving breath of fresh air, Grande expresses issues with self-confidence and wishes that she could see the idealized image of herself that her partner clearly sees. The chord progression is classic, but stirring, soulful backing vocals supporting each of Grande's daring vocal leaps. The track hasn't ceased to raise goosebumps with every listen.
Truthfully, it would have been a lot to expect for Grande to continue releasing great albums at this pace. Coming down off of what just might be her magnum opus, hopefully positions will serve as a transitionary era into the next phase of Grande's career. That voice will still make anything she does more than enjoyable, but I'm ready for a new sound.
Favourite Tracks: off the table, pov, love language, my hair
Least Favourite Track: shut up
Score: 6/10