After fellow white rapper-turned-sadboi with a guitar G-Eazy's album Everything's Strange Here turned out even worse than anyone could have possibly imagined earlier this year, Machine Gun Kelly has arrived to prove that the idea doesn't necessarily always result in complete failure. Teaming up with legendary drummer Travis Barker on every track and taking a truly nostalgic classic pop-punk musical approach, Tickets to My Downfall is far from a masterpiece. However, MGK's surprising penchant for anthemic melodies and tapping into the specificities of what makes the genre tick make it a mostly enjoyable listen. Through a rugged vocal delivery, MGK runs through a list of familiar topics as he describes his self-destructive ways, landing on some laughably overdone cliches along the way and trying a little too hard to be a tough guy as usual – but honestly, the fact that he managed to find even a little bit of success at pulling this style off is truly admirable. There are more than a few strange discrepancies along the way, but this is a double shot of that delicious early-2000s energy straight to the veins.
The album opens with its title track, which is legitimately called … "title track." Sure, whatever works. Over some somber and raw acoustics, MGK lays out the theme of the album before Barker's hail of drumbeats suddenly roll in for one of the heavier instrumentals on the project. Kelly's gruff vocals fit surprisingly well with the frenetic guitars, though his melodramatic lyrics are a little much even for the genre here. Still, I could easily see the central chorus being chanted by thousands in a mosh pit, and those catchy yet abrasive melodies that made pop-punk connect with so many are MGK's biggest strength here. The ideas he introduces here are an interesting overarching concept as well – we only truly pay attention to the news, or a condition of a person, when there's some kind of negativity attached, never when it's business as usual. The opener leads into the song "kiss kiss," which is easily one of the most memorable melodies in an album full of them. Essentially a rambunctious drinking anthem with an appropriately fun-loving lead guitar riff that MGK woozily sings along to during the bridge and chants of "hey you" lining up with Barker's drum lines, it's a perfect follow-up to the intro. It's one of the only tracks here that doesn't dive deep into the negative after-effects of dangerous coping mechanisms, but the seed is planted in the listener's minds.
The tracks "bloody valentine" and "forget me too" early on in the album continue a strong opening run. The former of course being the track that generated the positive attention that convinced him to make a whole album in the style, MGK sounds completely natural singing a passionately delivered chorus, Barker's more complex drum patterns elevating the track as a guitar solo and a nicely contrasting bridge complete the most fully-realized song here. Halsey appears on "forget me too" to once again dabble in more alternative styles, and she's never sounded this good doing so. The two acting out a nasty breakup with some fiery and acerbic lyrics, Halsey's impressively belted notes make the track as she takes up another one of those catchy choruses.
Machine Gun Kelly is, of course, a rapper, so I suppose it shouldn't have come as too much of a surprise that a couple trap beats show up over the course of this project. It does seem a little strange that he relies on them when one of the world's greatest drummers is playing on the same track and could likely replicate them with the real instrument, but I digress, because sometimes it sounds surprisingly good. Of course, there are other times when it clashes heavily with a more boisterous pop-punk instrumental as well, like on the track "drunk face." Hi-hat rolls are played over one of Barker's more prominent placements in the mix as he smacks the drums hard in a traditional rock beat, and it honestly gives off the same kind of uneasy effect you get from the uncanny valley. Add on that MGK is 30 years old and making a song about being a rambunctious youth who needs to learn to grow up and you have a bit of a cringe-inducing track. The track "all I know" features Trippie Redd, one of the many rappers clearly inspired by the style MGK is bringing back here, but the trap instrumental and the incredibly underwritten lyrics place it much more in Redd's zone than Kelly's. It's one of the most forgettable tracks here, and just makes me wish he were committing as hard to the stylistic switch as he does elsewhere. Single "my ex's best friend," on the other hand, is a fantastic combination of the two styles. It's definitely the most overt shot at radio play here with more of a rap flow between MGK and featured artist blackbear, but something about way the mix shifts slightly to feature either the driving guitars or trap instrumental more prominently when their respective artist has control of the mic is a pretty inspired touch.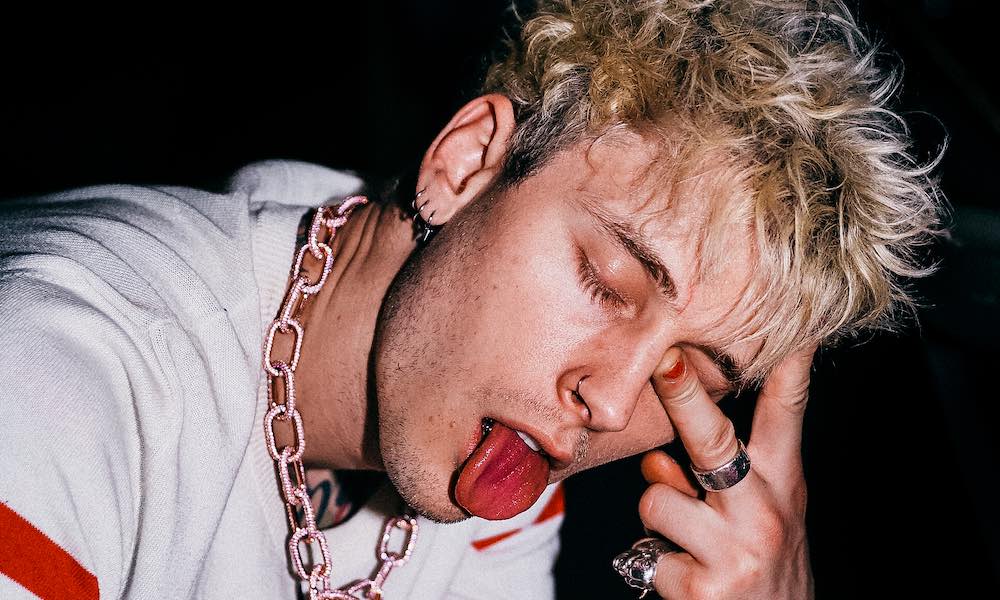 There are a couple times here where MGK's adherence to the dramatic and highly emotional lyrics of the genre go a little too far and come across as awkward, especially coming from him. The track "lonely," however, sees him really harnessing that aspect of pop-punk music to deliver something powerful. A tribute to his late father and aunt, he longs for the time spent with them that was taken away as he tells stories of how his troubled lifestyle had effects on each of them over some low-key acoustics before a heavier chorus where he pours out his emotions. MGK's narratives about wishing to make amends with his father and the loss of his supportive and understanding aunt are some of the most affecting moments here. On the other hand, we also get tracks like "WWIII," a minute-long track where the instrumental goes off the rails as MGK goes full on "society can't tell me what to do" and the closer "play this when I'm gone," a track written for his uber-famous girlfriend Megan Fox where he predicts his own death and asks her to reminisce on the good times. The surface-level lyrics almost make it sound like a cheap attempt to capture the power that comes with recent posthumous tracks with similar themes released by other artists like Juice WRLD.
The album winds down with a couple more decent tracks that see MGK making a surprisingly smooth transition and sinking convincingly into a completely different musical style. The music isn't mindblowing, but it's great to hear him doing what he clearly feels is right. It's certainly much better than most of his hip-hop tracks. The tracks "concert for aliens" and "jawbreaker" deliver some more pounding guitar-based instrumentals and stadium-sized choruses – the bridge on "concert" is a great moment where he sings the wrong lyric, shouts an expletive, and keeps going anyway. MGK's adherence to the raw and unhinged nature of the genre is on full display, and it makes me wonder how many of these tracks were sung through in longer takes like this. "nothing inside" is a highlight of the album winding down, a team-up with iann dior that sees him get a little moodier with his delivery, dropping the octave and singing about a lack of serotonin under his breath.
I'm not sure that Tickets to My Downfall quite deserves the scores of highly positive reviews it has been getting (save for a certain flannel-wearing YouTuber), but it honestly is a bit of a shock to the system to hear MGK pull this off as well as he does. If you've ever been into this kind of pop-punk energy at all, definitely give this one a shot.
Favourite Tracks: forget me too, bloody valentine, kiss kiss, my ex's best friend
Least Favourite Track: all i know
Score: 6/10