UK psychedelic pop-rock band Glass Animals have been steadily growing their profile with each subsequent release, even after needing to shrink back from the public eye for a while after a devastating car crash involving their drummer. It seems as though the band have reached the point in their careers where they offer a bit of a sonic switch-up, abandoning the atmospheric soundscapes in favour of something a little more aimed at glistening and sharp pop tracks with a lot of influence from modern hip-hop production. A concept album of sorts, frontman Dave Bayley offers quite a few stories and anecdotes from his childhood, interspersed with audio recordings of him as a baby and countless lyrical references to early 2000s pop culture. While Glass Animals' songwriting is frequently designed to be precisely the kind of semi-meaningless lists of catchy words and simple yet highly effective melodies that burrow deeply into your brain forever, almost all of this project just feels like Glass Animals overcompensating as they swing for the fences adapting their sound to the modern musical landscape. Ultimately, Dreamland is a highly inconsistent project alternating between driving and energetic synthpop bangers and moments of highly derivative millennial-pop and trite lyricism.
The album opens with its title track, which Bayley has called a "table of contents" for the album as it breaks the fourth wall a bit. In one of the only truly interesting lyrical moves here, the track actually references a couple words or concepts from every forthcoming song. Musically, however, the percussion-free and atmospheric song is far from the dynamic synthpop beats that often accompany their more engaging ideas. Bayley's falsetto melody and somewhat grating pitch-shifted vocals are clearly intended to be wispy and mysterious as he introduces us to the unusual world of memories inside his head, but the track just ends up feeling like it never lifts off the ground and would have functioned significantly better as a minute-long overture of an intro. It leads into "Tangerine," which is a much better representation of the sound the band were going for across this project. If you can put aside how much the beat sounds exactly like Drake's smash hit "Hotline Bling," the track is one of the more intoxicating melodies here as the layering and harmonies enhance the delightfully syncopated verses.
In trying to adapt current pop trends so heavily into their music, Glass Animals actually place back-to-back ripoffs of the man in control of the cultural zeitgeist at the outset of their album. The track "Hot Sugar" piggybacks off of Drake's recent foray into New Orleans bounce music, and the associated melody, like many here, isn't quite as good as the preceding song in order to forgive its more derivative aspects. The main problem with most of these tracks isn't really the musical aspects of them, but that it feels like the band is trying obnoxiously hard to hit a millennial pop focus group checklist, applying an unconnected list of cryptic and ever-so-slightly risqué lyrical phrases and easy-to-remember, safe and boring melodies to a genreless sludge of a sonic palate. It's a mix of sounds that was once exciting and new, but have since been co-opted by all of today's most overplayed artists. These tracks are designed for car ads and Spotify "endless summer" playlists. Which isn't to say that they sound bad at all, but for an active listener, there's not much to find here.
When the band tries to do something a little more out-there on three adjacent tracks in the album's middle, it's either a massive success or falls completely flat. The track "Space Ghost Coast To Coast" is easily the album's crown jewel, Bayley's breathy vocals and mysterious sound combining with a dark and bass-heavy instrumental and trip-hop beat as he tells one of the better stories here. Bayley's lists of pop culture references attempting to capture youthful nostalgia are often incredibly annoying, but when he suddenly intersperses tales of innocence playing Pokemon and GTA with a real-life story of how his childhood friend was caught attempting to stage a school shooting, the dramatics of the song are elevated to their maximum potential. The track "Tokyo Drifting" is the most overtly hip-hop influenced track here with a bombastic trap beat and horns, but that same breathy vocals don't sound anywhere nearly as good as Bayley tries his hand rapping, playing into what he calls "an ironic internal flex" and an alter ego opposite to the self-proclaimed "awkward skinny dweeb," eye-rollingly dubbed "Wavey Davey." Meaning of course, Bayley knew he'd likely sound strange doing this, and he did it anyway. The track actually features a criminally brief feature from none other than Denzel Curry, who expectedly demolishes the track and makes Bayley sound even more ridiculous. The track "Melon and the Coconut," however, might be the most ill-advised idea of all. The track was apparently written in an hour after waking up from a nap, and it really sounds like it. Over some droningly hypnotic psychedelic synths and a couple haphazard and truly awful guitar solos, Bayley tells the bafflingly odd story of two foods going through a breakup.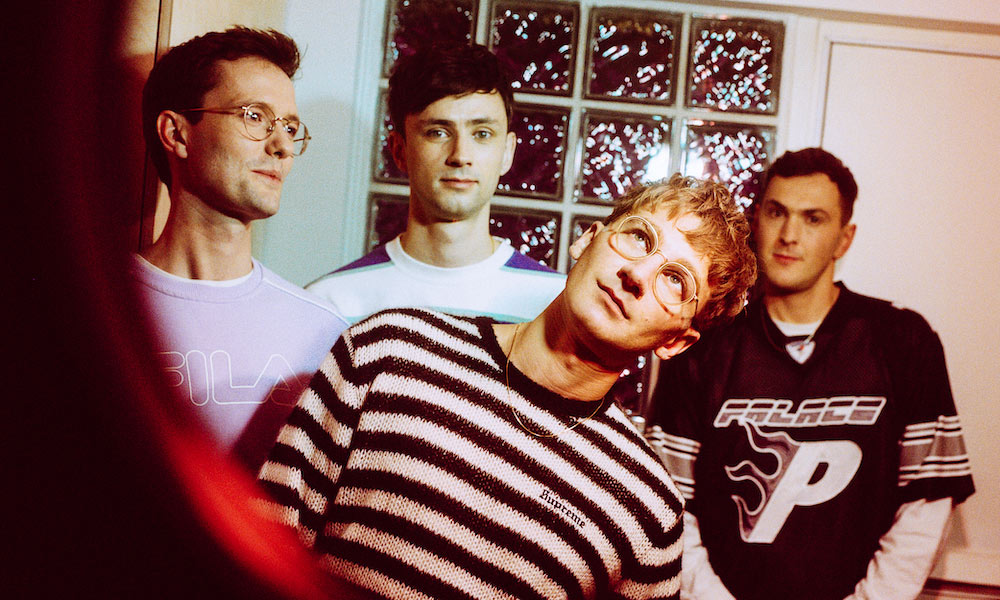 The song "It's All So Incredibly Loud" later on in the tracklisting feels like another attempt at an off-kilter experiment that comes across a little more admirable as a sound collage, but doesn't really represent a great song that I'd want to return to. The song's instrumental palate of blaring synths gets progressively louder as it goes on, until it's ultimately completely unbearable by its end. It certainly communicates the subject matter well, but makes for an unlistenable song in the end. The second half of the album contains some of the more facelessly derivative tracks and ultimately ends up being rather forgettable, but there are a couple more great hooks interspersed amongst them. The tracks "Waterfalls Coming Out Your Mouth," despite some of the most obnoxious lyrical passages here, has a killer central melody that once again is an appropriately slightly eerie fit to the lists of childhood TV shows and discontinued snacks, while "Heat Waves" is the most radio-ready track here with an undeniably sticky pitched-down syncopated hook. On the other hand, tracks like "Your Love (Deja Vu)," "Domestic Bliss," a story about witnessing domestic violence as a child without a hint of subtlety, and the closer "Helium" have nearly no qualities that immediately jump out as something notable to comment on, simply sinking into the background.
Sometimes, it's harder to review albums that are middling and forgettable than ones that are truly bad. If Glass Animals' style is your thing, there's going to be a lot to enjoy here as they genuinely do have some razor-sharp instincts as pop songwriters. However, all too often on Dreamland they opt for playing it as safe as possible.
Favourite Tracks: Space Ghost Coast To Coast, Tangerine, Waterfalls Coming Out Your Mouth, Heat Waves
Least Favourite Track: Melon and the Coconut
Score: 5/10