How strange is it that we're getting back-to-back number one albums from rappers who have left us far, far too soon? Juice WRLD's death at the age of only 21 last December was, once again, a tragic loss of an artist who was only getting started and well on his way to being one of the most influential musicians in the world. His blend of the boisterous melodies and introspective, moody lyrics of pop-punk with the modern-day hip-hop culture was one of the most fascinating musical developments of the decade, and while many attempted it, nobody truly captured it as successfully as Juice on his better tracks. With Legends Never Die, it's clear that the tracks he was working on in his final days were more somber than ever, taking a serious deep dive into his psyche and his tortured mental state. Eerily, nearly every song here contains a prediction of the events that would lead to his demise, as if Juice knew that his fans would need an album that carried a tone more similar to a memorial service than a collection of tracks. As far as posthumous albums go, it doesn't get more depressing and uncomfortable than this. Juice knew exactly where he was going, and this is the sound of him admitting that he wasn't going to fight against it anymore. These aren't Juice's best tracks, without much variety in sound or subject matter across a long album, but there are a couple sparks that remind us of the genre-hopping savant he once was.
The album opens with the track "Conversations," which features a standout beat from Ronny J and should have functioned as the scorching banger that kicked the party off, but I can't quite tell if it's the context hanging over everything that dims the fun or if Juice genuinely sounds more burnt out than usual. Juice was known for his magical, impossibly catchy melodies that captured an eccentric spirit of fun even when they were about the most heartwrenching things. As he goes on about anxiety and names the drugs that ultimately got the best of him, it's hard to enjoy yourself quite as much when it sounds like his heart isn't in it anymore – especially knowing the end of the story. I get the same vibe with "Hate The Other Side," another more upbeat track getting a lot of attention. Not only that, it's clear that it was hastily assembled as Juice doesn't have a verse. With Juice being so viscerally sad and broken across the majority of the album, some of the strongest tracks actually come when he begins to fully embrace and commit to some of the harder edges of the pop-punk genre he was so inspired by. The next two tracks, "Titanic" and "Bad Energy" see him taking this approach. Comparing himself to the famous sinking ship, Juice navigates around a grungy soundscape with some of his more overtly emo vocal inflections, still playing around with the rhythm of the trap beat that accentuates it. "Bad Energy," on the other hand, sees him layering a more strained vocal for a much more abrasive sound akin to collaborator Trippie Redd. The approach powerfully captures his pain, even if it doesn't always result in a memorable song. The track "Come & Go," with Marshmello, is the perfect balance. As Marshmello alternates between booming 808s and surprisingly harsh guitars in the chorus, Juice's experimentation pays off as he becomes a rock star before our eyes.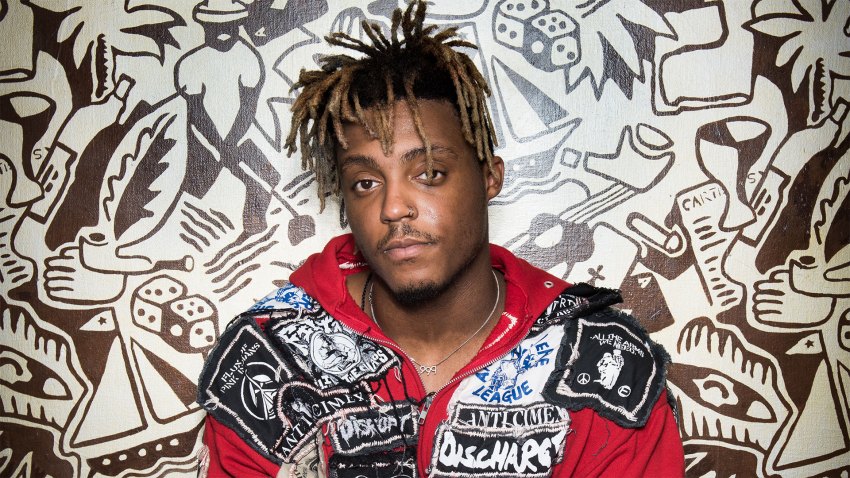 The other strong aspect of this album is actually its singles. Lead single "Righteous" really hits the same kind of closure and summation of an entire life story that something like Mac Miller's "Good News" did, on top of having one of the more striking melodies on the project. Over a prominent trap beat and raw acoustic guitars, Juice's voice is softer, as if speaking with the knowledge of the tragedy. The track contains some of the more instantly upsetting lyrics as Juice takes a look at the downward spiral of his mental health struggles and reliance on drugs, but the specificity of his words here make it stand out much more. It's a hard listen, but even when the words fade away, it's still perfection of Juice's signature style. For all the melodic tracks Juice got famous for, you can leave it to the celebrities speaking on his influence on an interlude here to tell you just how incredible of a rapper and freestyler he was as well, and he shows it on the track "Tell Me U Luv Me," breezing through the track in a near-unrecognizable deep voice and quicker flow that really brings out the chaos of his words in a new way. "Life's A Mess" is another standout, one of the only bright moments here as he thanks his partner for bringing him out of his darker moments with some truly adorable lyrics and passionate vocals from close friend Halsey.
Past these tracks, however, most of these tracks sadly represent a clearly distressed shell of Juice's former artistic self. The back half of the album mostly sees him reiterating the messages of the prior songs in less specific or meaningful terms, essentially beating the listener over the head with the reminder of his tragic end as he meanders through moodier, gloomy instrumental palates that don't highlight his true strengths. It's clear that on tracks like "I Want It" Juice is aiming for a showcase of his raw pain and unfiltered emotions as he draws out notes and makes less effort to provide a solid vocal performance, but in retrospect it just serves as an uncomfortable listen. Juice looking around at his life, ideal to many, and desperately asking why he isn't happy on the piano-backed "Fighting Demons" functions in a similar way. As well, hearing his paranoia during the only time he actually predicts his demise inaccurately on the track "Blood On My Jeans" just makes you ignore what is ultimately a middling Juice track to focus more on how unfortunate it was that he was in this place.
The ultimate gut punch comes on the unfortunately named track "Can't Die," however, as he offers a rather unmusical stream of consciousness while explaining that he believes he can't die, as he had never felt alive. It makes it tough to want to return to these tracks. If there's any highlight of the back half, it's "Wishing Well," which contains one of the better choruses here over a beautiful piano beat, but in the verses Juice dives back into his skittish mindstate, seemingly freestyling, and offers some of his more worrying and prophetic lines. Ending tracks like "Screw Juice," "Up Up And Away" and "Stay High" don't break any new ground with the music or lyrics, as the more ghoulish side of posthumous albums starts to creep in and I wonder just how many of these tracks were throwaways selected by the label because Juice makes a reference to codeine.
It's hard to say just how much more enjoyable this album would be if Juice were still here with us today. But much like most of XXXTENTACION's posthumous work, it's going to be hard to return back to these tracks without being struck with a wave of unfathomable sadness. Luckily, most of these tracks feel much more like Juice's intentions were behind them, and a couple great new tracks to remember him by is much better than nothing.
Favourite Tracks: Come & Go, Righteous, Titanic, Tell Me U Luv Me
Least Favourite Track: I Want It
Score: 5/10