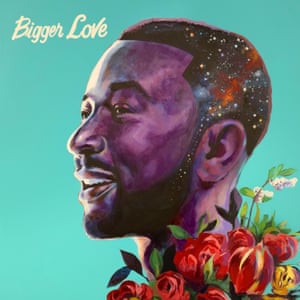 Passionate veteran R&B vocalist, former GOOD Music signee and EGOT winner John Legend is now seven studio albums and nearly two decades deep and still doing numbers. After taking a bit of a darker turn than usual on 2016's inconsistent Darkness and Light, which examined some of the more distressing and negative thoughts associated with a relationship, Legend is right back to the typical overwhelming positivity and unending devotion that colours most of his work. He even makes a couple jokes about how it's a little much over the course of the album. Even so, Legend hasn't sounded quite as soulful as he does over the course of most of Bigger Love for a very long time. After the album's derivative lead single, I was expecting an album full of cheesy and upbeat pop-soul tracks, but Legend certainly surprised me. Bigger Love is full of funk and doo-wop influence, powerhouse vocal performances, intoxicating sensuality and excellent collaborators. Even if it does get a little over-the-top, it's all part of that endearing personality. Legend has dropped one of his best albums although he has nothing at all to prove anymore.
The opening track "Ooh Laa" kicks off an absolute jam session of 5 songs that come very close to being the 5 strongest tracks on the entire album. Legend stated in the album notes that, much like many artists making great stuff right now, one of his main goals was to bring together the classic and the contemporary. With this brilliantly blended piece of doo-wop trap, he certainly took that concept a lot more "classic" than the rest. Legend's smooth falsetto dominates the slow-jam groove as the 50s backing harmonies ring out, singing about crossing the Atlantic if necessary for a little time with his supermodel wife. The hip-hop influence continues onto the next track "Actions," although Legend proves his unending versatility by drawing from a completely different era and sampling Dr. Dre's unmistakable "The Next Episode" beat, throwing a winking nod to Snoop's "la-da-da-da-da" before reimagining the beat and flowing over a completely different rhythmic pocket, once again backed up by some stank-face-worthy harmonies on the chorus. The tracks "I Do" and "One Life" see Legend linking up with a couple of the most naturally gifted complete-package musicians in the game on the production side of things in Charlie Puth and Anderson .Paak, respectively. Puth throws a killer funk bassline and syncopated guitar rhythm onto "I Do," a track that is seemingly impossible not to move to as the melody of the chorus gives off a bit of a Latin flavour, while you can instantly feel the chilled-out groove of .Paak on the latter as he leans back and mans the drum set, Legend offering some of his most soaring vocal runs. The thrilling track "Wild" closes out the opening run, beginning deceptively quieter as Legend passionately sings over some acoustics before a booming live drumbeat and chillingly huge backing harmonies kick in, the intensity of the track building to match Legend's dedication as he takes his love on a joyride in his new car and culminating in a guitar solo from none other than Gary Clark Jr.
As far as the excellent collaborators all over this project go, there might not have been a better match for Legend than Jhene Aiko, who appears on the track "U Move, I Move." The track starts slowly with a bit of an awkward transition in tempo to the chorus, but as soon as Aiko comes in backed up by the drumbeat and their voices suddenly intertwine, it's an absolutely perfect match as the two believably tell a love story. Hearing Legend ascend as Aiko descends with a vocal run in the chorus is an absolutely heavenly moment. If anyone gives Aiko a run for her money on the features front, it's Rapsody, who takes over the later track "Remember Us" with a great extended rap verse paying tribute to some fallen legends over an orchestral backbeat. The track "Favourite Place" closes out the album's first half with a co-writer credit to Julia Michaels, whose songs Legend says always "have a certain sensuality to them." The description is certainly lived up to here as he gets a little more explicit, then does away with words on the chorus and slinks around a driving trap beat.
For all of the delightful surprises on this project, there are a couple brief moments where some of Legend's well-known worst tendencies reappear. The title track "Bigger Love" takes the overused tropical pop rhythm of a couple years ago as the soul in Legend's vocals is relegated to the confines of an obnoxiously safe pop track that sounds destined for use in TV commercials. Legend has also always had a couple strange moments on his albums where he relies entirely on his vocals to carry a song that instrumentally doesn't really match up to the levels of groove he can typically reach. This comes in the middle of the album on the tracks "Slow Cooker," which is full of decidedly weird food metaphors as its pacing slows down to a snail's pace and Legend's drawn-out falsetto notes get a little indulgent, and "Focused," which Legend has said is a much older track and doesn't really fit the vibe of the rest of the project with an acoustic angle and shoehorned everyman lyrics that feel a little like they're out of Justin Timberlake's "Man Of The Woods."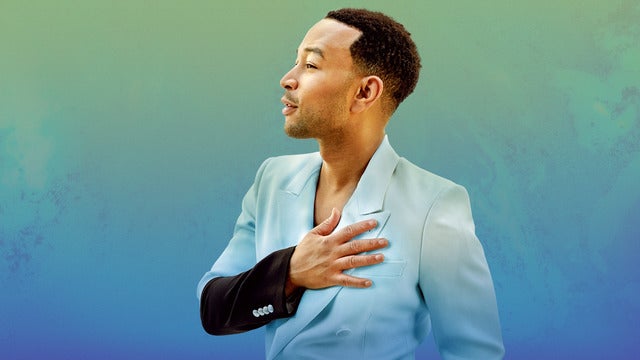 The latter parts of the album mostly keep up the great work. Many people have dubbed early single "Conversations In The Dark" as a clone of his biggest hit, "All Of Me," but it essentially takes that formula and makes it a bit more of an interesting song by varying the instrumentation and adding harmonies for an even bigger emotional punch in the chorus. The track "Don't Walk Away" recruits Jamaican trailblazer Koffee to legitimize Legend's forays into the Caribbean sound as he attacks that trademark rhythm a little harder, while "Never Break" closes out the album on an inspirational note as Legend advocates for resilience in the face of the darkest times, a message that resonates even harder at the moment.
Bigger Love is the sound of an artist who has been at it a long time and received every accolade there is to receive understanding what exactly it is that he does best and giving it to the people. While there might have been a case to be made for more experimentation, so much of what makes Legend an enduring force is just how genuine he comes off, and he combines that with some excellent musicality here.
Favourite Tracks: I Do, Wild, Ooh Laa, Actions, Remember Us
Least Favourite Track: Bigger Love
Score: 8/10