The prolific rapper who quickly shot his way to the top has once again returned with his third album in a little over a year, still winning people over with his infectious personality and top-tier rap voice but veering dangerously close to Migos oversaturation territory as jokes about his slapdash instrumentals and never switching his flow reach critical mass. Essentially, at this point DaBaby isn't trying to win anyone new over, perfectly content to drop one hard-hitting triplet after another, and with this project it almost proves that might even be the best way for him to move forward despite what it might say about his longevity. Although this is mostly DaBaby doing what he does best, he begins to introduce some more melodic material and a couple new flows to highly mixed results, though his approach to tirelessly attacking the track with a barrage of words remains. For the most part, you already knew what this album sounded like before you pressed play, and if you're in the mood for some irreverent and fun – if not fully original – trap bangers while locked up in your house, there are certainly a couple to choose from here. But please, please watch out for any of those tracks where he tries to sing.
The first four tracks on BLAME IT ON BABY are just about as standard of DaBaby fare as you can possibly get, but I'd be lying if I said I didn't enjoy it. There's something about him that really reminds me of a modern-day Ludacris, a smiling court jester with a deep and booming voice not taking his craft too seriously but an intimidating force on the mic all the same. It's truly a position in rap that we were sorely missing, and that's why it might take another album or two for me to get tired of what he does. As soon as he drops a line about taking his girl to Wendy's and sarcastically drawls "oh no, b*tch" as an ad-lib on intro "CAN'T STOP," voice dripping with fake concern as he flexes his achievements and rap supremacy throughout the rest of the song, I'm completely sold regardless of the repetitive triplet flow. DaBaby is a hilarious guy, and relegating the first couple songs featuring the tricks we're familiar with to some short bursts of energy – two of them even fitting under two minutes – is just a couple quick reminders of why it's hard not to smile every time you hear his voice when he hops on a feature. These tracks all come equipped with the most booming of rumbling bass and a quiet, basic synth hook buried in the mix, but you knew that already. His short bursts breaking away from his typical flow and chemistry with Future make "LIGHTSKIN SH*T" another standout, though Quavo drops an uncharacteristically involved and enjoyable feature on "PICK UP" as well.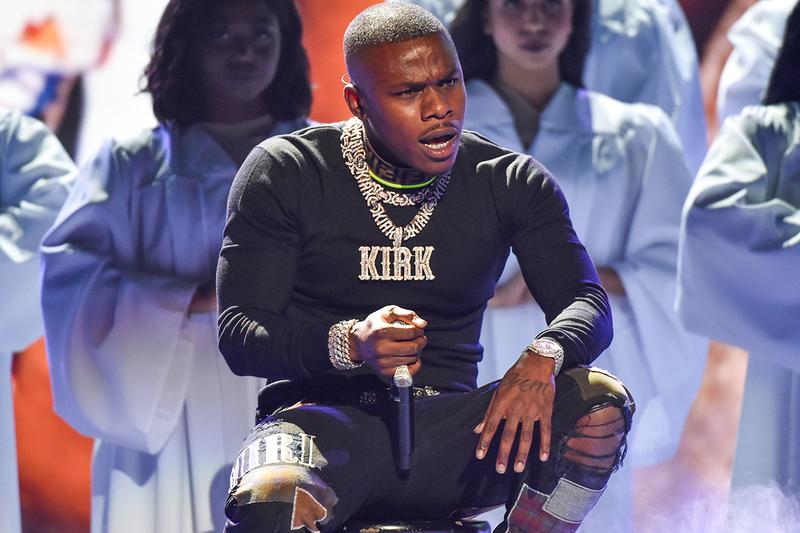 After the opening run, things get much more mixed as DaBaby really tries to switch things up on a couple of songs and prove he's not just a one-trick pony. While I would have loved for DaBaby to finally start proving that he has some versatility … he really doesn't. It's admirable that he's finally opening up with a couple more emotional tracks than we're used to, but his singing voice is such a detraction from their enjoyment that it completely overshadows what he's saying, especially on the stunningly misguided "SAD SH*T." Taking out the hi-hats and bigger percussion hits in favour of an empty woozy alt-r&b type beat, DaBaby somehow loses his sense of rhythm and how to attack a beat completely when he starts singing through an obnoxiously heavy Auto-Tune machine on the chorus, not making things any better when he switches to a raspy falsetto that honestly might be one of the worst instances of singing I've heard on a major release – it sounds like one of the behind the scenes videos of rappers joking around and freestyling in the booth. DaBaby's percussive cadence when he raps sounds just as awkward without the beats behind him to further accentuate things as well.
The tracks "FIND MY WAY" and "CHAMPION" see DaBaby going a more melodic route as well, faring slightly better due to their more upbeat nature but not packing the same punch we know he possesses when he takes the fire out of his voice and loses a bit of his trademark dismissive and confident southern drawl. In terms of experiments that blew up spectacularly in DaBaby's face, the title track "BLAME IT ON BABY" was another disappointment where I truly couldn't believe what I was hearing. Alternating back and forth between two completely different beats during the verse and the chorus, the fact that neither of them are heavy on the percussion side makes the entire track feel like building anticipation for the first powerful beat drop that never actually comes, leaving me feeling extremely annoyed and unsatisfied despite his blazing flows.
The track "DROP" with A Boogie Wit Da Hoodie is what happens when DaBaby doesn't put as much effort as usual into his formula and might be the most boring track here, but what I didn't understand I really wanted to hear from DaBaby for the first time manifests on the track "JUMP," one of the longest here that sees him drop 3 verses, trading back and forth with NBA Youngboy, and keeping his energy going for much longer than I thought he could. I never thought DaBaby could keep me engaged for that long with what is essentially a single trick, but he demonstrates here that he truly has enough charisma to sell almost anything when he wants to. Two more huge highlights on the tracklist come mostly as a product of great feature selection, the impossibly infectious vocals of Roddy Ricch once again guaranteeing a hit song on the track "ROCKSTAR" that features one of the most memorable hooks here and none other than the legendary Ashanti dropping a hook on the downright scandalous track "NASTY" that also features a traditionally X-rated verse from Megan Thee Stallion, who seems like she can't miss on features.
There are a lot of completely valid criticisms about what DaBaby does, but until he puts out an album as repetitive and bloated as Migos' Culture 2, there's always going to be part of me that appreciates his unique niche in the rap game. Though if he doesn't get better at doing anything else, we just might be headed that way.
Favourite Tracks: JUMP, CAN'T STOP, ROCKSTAR, NASTY
Least Favourite Track: SAD SH*T
Score: 6/10