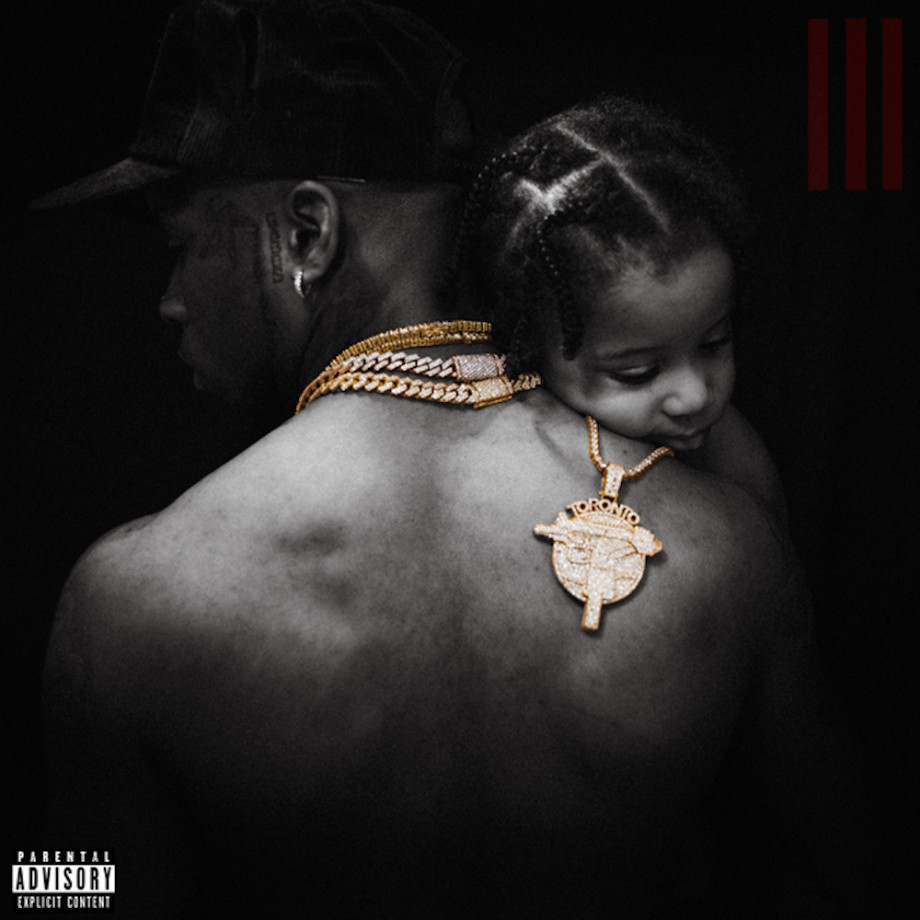 Toronto-area rapper and singer Tory Lanez continues to rep his city with the third installment in this series of mixtapes, once again demonstrating quite a bit of versatility in his sound but failing to do much in terms of originality and sticking mostly to less charismatic versions of styles that others from his highly influential musical city have already put forth. Lanez's songs do certainly improve from his last couple projects mostly due to their length, as he delivers short and aggressive bursts of energy in a project that's more aimed towards straight-up rap and hard-hitting beats than his usual R&B influenced material that often verged on overly self-indulgent. While I must admit that there are more than a couple songs here that would easily get anyone fired up with some energetic instrumentals and braggadocious bars, too often Lanez is either playing it safe or losing me with endless verses featuring lyricism that's been done to death or is needlessly mean-spirited – and not in the fun way that someone like a Pusha T can back up with clever wordplay. For someone who often asserts they're the greatest alive, Lanez still has quite a bit of work to do.
The project opens with a couple of highly cinematic and orchestral tracks which could have been a dramatic and gripping intro to the boastfulness that is to come if Lanez didn't opt to tone down his smooth R&B singing voice into a heavily Auto-Tuned and abundantly annoying strained bleat, the one pitch that he remains on for most of the track as he speeds through triplet flows tonally clashing with the operatic textures and strings behind him on the track "Pricey & Spicy" which doesn't even hide the fact that it's an attempt at capturing the gravitas of a traditional Meek Mill intro. "The Coldest Playboy" doesn't fare much better and really serves as the first introduction to some of the awful and downright offensive lyrical content that Lanez puts forward here, though his standard rap voice when he abandons the melodies is one of his only cadences across the project that doesn't make me want to throw my laptop through the window and is punchy and percussive enough to contribute well to some of the better tracks later on.
Two of these come immediately after the opening tracks, with the bombastic "Stupid Again" opening with wrestler Conor McGregor uttering some boasts before an expensive-sounding trap beat drops, a single synth blaring over some fizzy video-game sounds and twinkling keys as Lanez goes full Migos by himself with some great ad-libs and a staggered triplet flow that hits at all the right moments. It transitions well into the track "10 F*CKS" which is actually one that most resembles his old sound, but with a much tighter structure and highly catchy hook that sells his cool confidence without taking it too far – despite the feature from Lanez's signee Mansa that essentially sounds like a Drake with a worse singing voice.
The only other real highlights come closer to the end with the tracks "Who Needs Love" and "Do The Most," which both stand out as energetic rap bangers but would be much better if they didn't essentially have the exact same beat, an ascending Spanish guitar-sounding riff that shows up, astonishingly, THREE TRACKS IN A ROW with the slightest of variations from "Who Needs Love" to "Penthouse Red." It's a great beat that really elevates these tracks and accentuates Lanez's flow, to be clear, but hearing it three times in a row had me pretty incredulous. Of course, the wilder beats on this thing stand out for all the wrong reasons – who in the world thought the slightly arrhythmic and fluttery saxophone loop on the track "Broke In A Minute" would be a good idea? It's like a slightly more palatable version of that accordion loop on Earl Sweatshirt's "EAST" that's been memed to oblivion. The annoyingly strained singing voice returns on the track "P.A.I.N." which features one of the most awkward flows on the whole project as he tries to cram far too many syllables into some of his lines and rambles on about the "concrete jungle" of his city and his come-up for over 4 minutes.
There are a surprising number of tracks on this project that have no hooks and are essentially one lengthy rap verse that are meant to function as Lanez's notes on the state of affairs, but all have me falling asleep by the end because Lanez simply doesn't have the level of charisma and mic presence needed to sell these kinds of tracks like the Drakes and Meek Mills he so strives to emulate do – he certainly has the energy elsewhere, but lays back here to deliver a calmer address from his throne that never quite connects because he also doesn't have any kind of memorable lyrics, telling the same street stories we've heard told much more compellingly by others on tracks like "Dope Boy's Diary" – where we finally get the first coronavirus bar by a major rapper – "Adidas," and the hilariously derivative "MSG 4 GOD'S CHILDREN" where he does his absolute best nasal-voiced Drake impression. When he does say something unique on the track "Letter To The City 2," it just ends up leaving a bad taste in my mouth as he directly criticizes producer Benny Blanco and his label for correctly identifying that he was one of their lesser artists and not putting as much work into promoting him, expressing his excitement to go independent and take over the world with some self-aggrandizing bars that have absolutely nothing to back them up.
Lanez seems to demonstrate for the first time on this project that he really does possess quite a few of the tools he needs to make engaging music, showing off a whole new level of energy and flowing over a couple of these beats better than he ever has, but his lack of originality and overly negative attitude hold most of these tracks back to an overwhelming degree and prevent them from being anything I want to revisit.
Favourite Tracks: Stupid Again, Who Needs Love, 10 F*CKS
Least Favourite Track: P.A.I.N.
Score: 3/10