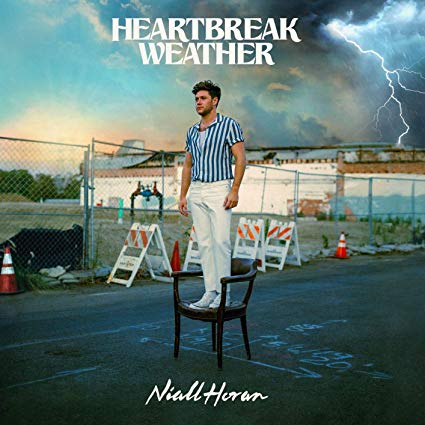 Could it be that contrary to everyone's expectations, the quiet and unassuming Niall Horan just might be the most consistent former member of monolithic boyband OneDirection? His sophomore project Heartbreak Weather has arrived, taking similar aspects of what made his debut work so well and getting a little more adventurous with them to mostly successful results. Horan has firmly settled into the role of an Ed Sheeran-style lovelorn pop singer-songwriter, and although there are quite a few rather formulaic aspects of what he does, it works for a reason and a litany of excellent pop music producers are behind him to vary up the instrumental content just enough to the point that Horan can carve out his own recognizable lane with his descriptive lyricism and subdued yet highly emotional vocal delivery. A believable and impactful breakup album, even if there aren't many explosively brilliant tracks or completely novel ideas here, these are 14 very good pop songs and at least one of them will likely connect deeply.
The opening triumphant and celebratory guitar chords of the title track, which kickstarts the album, might honestly remind listeners of some of OneDirection's stadium-sized pop anthems. Horan said in an interview he wanted listeners to feel happy as soon as it started – but make no mistake, he takes these familiar sounds and instead twists them with the opposite lyrical content, dealing with his trepidation towards a newfound love due to previous negative experiences. The drums crash heavily and the guitar riff that closes the track is directly out the most dancefloor-ready 80s pop tracks, so it's all but guaranteed to be a successful single at some point regardless, and it definitely sets up the overall mood and tonal contrast of the rest of the album well. A loose concept album of the story of the rise and fall of various relationships and all the awkward periods of self-searching in between, the way some of these tracks are placed together often makes Horan's stories hit so much harder. The next two tracks, "Black and White" and "Dear Patience" see him quickly getting invested, mind racing to visions of a wedding, before he desperately reminds himself on the next song to take things slowly, as coming on too strong hasn't worked out well in the past. The latter is especially powerful, the first verse and chorus set to nothing but a tentatively plucked acoustic melody before a rhythmic string section rolls in to support the electric higher notes Horan surprises us with – sometimes a single diversion from the expected melody is enough to make some of these guilty pleasure-type songs exciting enough to warrant repeated listens, especially when Horan sounds so genuine.
Airy and heartfelt with little breaks in all of the right places, Horan's voice would sound heartbroken even if he were singing about anything else – which really helps with tracks that deal with touchier subjects like "Bend the Rules," where he addresses all the little things his partner does to lose his trust, never going as far to the point where he can bring up a genuine accusation. The synth-bass swells into an explosive chorus where Horan simply repeats a catchy yet forlorn wordless melody. The first and second halves of the album both conclude with excellent ballads where he can really show off his vocals. "Put A Little Love on Me" is an emotional gut-punch as Horan sits down behind the piano keys and wonders if his ex-partner is feeling just as lonely as he is, but "Still" is Horan at his rawest, the frets on his acoustic guitar squeaking as he reaches up into a falsetto, continuing to declare his love for a certain Ms. Steinfeld as the string section swells halfway through and the tears start flowing.
Some of the best songs here actually come in the latter half of the album, mostly thanks to Grammy-winning superproducer Greg Kurstin, who has one of the best ears for a standout pop track and is most famously known for crafting some of Adele's biggest hits. "Arms of a Stranger" sees some anger and a raspy tone creep into Horan's vocals as he tries and fails to get over a broken relationship, repeatedly singing "you left me with nothing." The drop into the chorus is one of the most incredible musical moments of the year, a perfectly timed moment of silence after Horan builds up the energy with a steadily ascending pre-chorus melody before everything hits at once, Horan's fiery syllables accentuated with powerful drum hits in triplets for some unexpected rhythmic variation. "New Angel" is Kurstin's other track, another uptempo track with some seriously dark lyrics, a bouncy syncopated bassline making it impossible not to move listening to it as Horan sings about needing a rebound to prevent himself from engaging in self-destructive tendencies.
There are certainly a couple occasions here where you can't help feel like you've heard some of this before, Horan following successful pop formulas a little too close and verging dangerously on outright replicating some famous tracks. The rollicking acoustics and pounding percussion of "Black and White" certainly brings to mind clear inspiration Ed Sheeran's "Castle on the Hill," although its vividly descriptive lyricism is some of the best on the whole project, while "Cross Your Mind" essentially lifts the now-iconic bassline directly from Post Malone's abundantly chill pop smash "Circles," a song that Horan has covered. For all the ways that Horan varies his sound and branches out from his acoustic roots on this project that work spectacularly, the back-to-back tracks "Small Talk" and lead single "Nice To Meet Ya" get a little heavier in their instrumental composition, adding some crunchy guitar leads, and some of the power of the little nuances in Horan's vocal delivery get slightly lost in all of the chaos – though "Small Talk" definitely fares much better with some seriously funky riffs and a knockout of a chorus.
While his other ex-bandmates certainly might have higher highs and lower lows, Horan's work has always been the picture of consistency, and every so often he touches on something great. As he gets a little more adventurous on this one, hopefully he continues to come into his own as an artist even more in the future.
Favourite Tracks: Arms of a Stranger, Dear Patience, New Angel, Bend the Rules, Still
Least Favourite Track: Nice To Meet Ya
Score: 7/10