I considered letting an AI write this one – it's what Grimes would want – but here we go: Ms. Elon Musk herself has returned with her first full-length album since 2015, and in true Grimes fashion, it's certainly a very strange one – although in terms of what the music actually sounds like, it just might be her most accessible yet. Miss_Anthrop0cene is built loosely around the perspective of some kind of malevolent climate change demon who simply wants to watch the world burn, and features quite a few songs where Grimes assumes the position of the character in order to relish in the end times. While it wouldn't be a Grimes album if we didn't rapidly flit around from drum n' bass to country to metal to a song that's almost entirely in Chinese, she's actually gone on record saying that she felt a couple of these songs were too basic for her liking, keeping them around because so many others reacted positively to them. Grimes' voice is an incredible instrument, an unsettling soprano that teeters precariously between cutesy and monstrous, and hearing it applied to some more traditional contexts is just as much of a welcome surprise as the wild and ambitious ideas she throws out here. The "revelations" she reaches can be a little ridiculous at times, but what else are we listening to a Grimes project for?
After an extended and atmospheric intro, Grimes wastes no time diving into the absolutely bizarre and terrifying with the track "Darkseid," a collaboration with Chinese performance artist 潘PAN that sees her half-rapping some frantically delivered lyrics in Chinese over a lurching, all-encompassing bassline as Grimes menacingly whispers "unrest is in the soul" repeatedly. The translated lyrics see 潘PAN describing some disgustingly twisted and grotesque body horror-type stuff relating to her friend's real life suicide and its effect on her, her comments on the inevitability of death playing into the overall theme of the album as annihilation from climate change looms. Grimes as a producer is one of the most underrated parts of her work, twisting sounds so that they evoke the most primal sense of fear, or whatever emotion she's trying to evoke, and making even the most terrifying of song concepts appealing to return to by making them sound like a natural part of life and applying these steady, driving beats to them that you can't help but nod along to.
I don't know what I expected from the track following this one, but it wasn't a strummed banjo. "Delete Forever," apparently written on the night Lil Peep died of a fentanyl overdose, sees her apply a slight twang to her voice as she reflects on society's recent desensitization to and romanticizing of tragedies like his. Hearing Grimes' vocals applied to a track with an instrumental so normal – though characteristically completely out of character for her – actually makes her message all the more powerful, not hiding it behind beat switches and production trickery and letting her pure vocals deliver something she really believes in. The track "You'll miss me when I'm not around" works in a similar way, though the concept is much more insane, revolving around an angel's suicide in an attempt to escape heaven that fails, to her disappointment. The most straightforward pop track here, hearing Grimes' beautiful vocal tone applied to a comprehensible song structure finally highlights some parts of her voice we don't often get to hear.
The tracks "Violence" and "My Name Is Dark" see her most obviously take up the mantle of some kind of divine figure watching over the earth and itching to destroy it. "Violence" is an upbeat techno banger that relies heavily on Grimes' distorted vocal samples in the back as the pounding synths rage on, Grimes adopting her most sarcastic and cutesy voice as she compares the relationship between humanity and the Earth to an abusive relationship they just can't leave, continuing to hurt each other back and forth. "My Name Is Dark" might be the most memorable melody of all here, bringing to mind the sing-songy terror of her acclaimed track "Oblivion" as she quickly alternates from innocent-sounding vocals to a brutal metal scream, the strummed guitar sounding like a ticking clock as she sings about being unable to sleep when she knows the angel of death is watching. One of the absolute wildest ideas on the entire project that really shows how much Grimes is on an entirely separate platform of creativity than most artists is the track "4ÆM," which essentially sounds like Grimes tried to make a drum n' bass Bollywood song, her vocal runs bringing to mind a distinctly Indian singing style before a high-tempo beat kicks in and she starts delivering syllables on a single note at breakneck speed.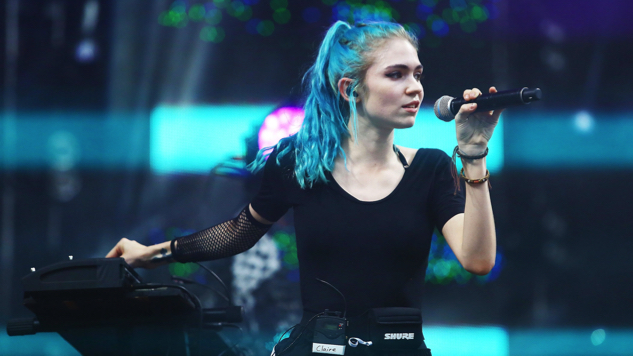 While most of the project is full of doom and gloom, it's bookended by two tracks that each reach over six minutes in length that seem to be romantic dedications to her multibillionaire boyfriend as a solace from all the terrifying news about our impending demise that we're bombarded with. "So Heavy I Fell Through The Earth" opens the project with an atmospheric, lyrically sparse track that's taken up by Grimes' pristine high-pitched vocalizations and the slightest of technological bleeps and bloops lurking around in the mix. Grimes has said the "heaviness" refers to a peaceful acceptance of a loss of power that comes with pregnancy, and the track definitely sounds like hurtling through space and time with a smile on your face. The closing track "IDORU" is really the only truly "happy" track here, a track that sees her accepting the fate of the world and choosing to enjoy the little moments she has in the now instead of stressing out about the future, Grimes actually singing in a major key for once as she reaffirms the strength of the strangest couple out there.
It's difficult for me to fully know if I actually enjoy Grimes' music or if I simply praise it as high art because there's so much about it that I don't fully understand, but listening to Miss_Anthrop0cene was an experience that I'll never forget, from the visceral terror to the moments of fleeting beauty she presents in musical form here. With an overarching and important concept attached to it, this is an early year-end list contender.
Favourite Tracks: 4ÆM, My Name Is Dark, You'll miss me when I'm not around, Delete Forever, Darkseid
Least Favourite Track: New Gods
Score: 9/10