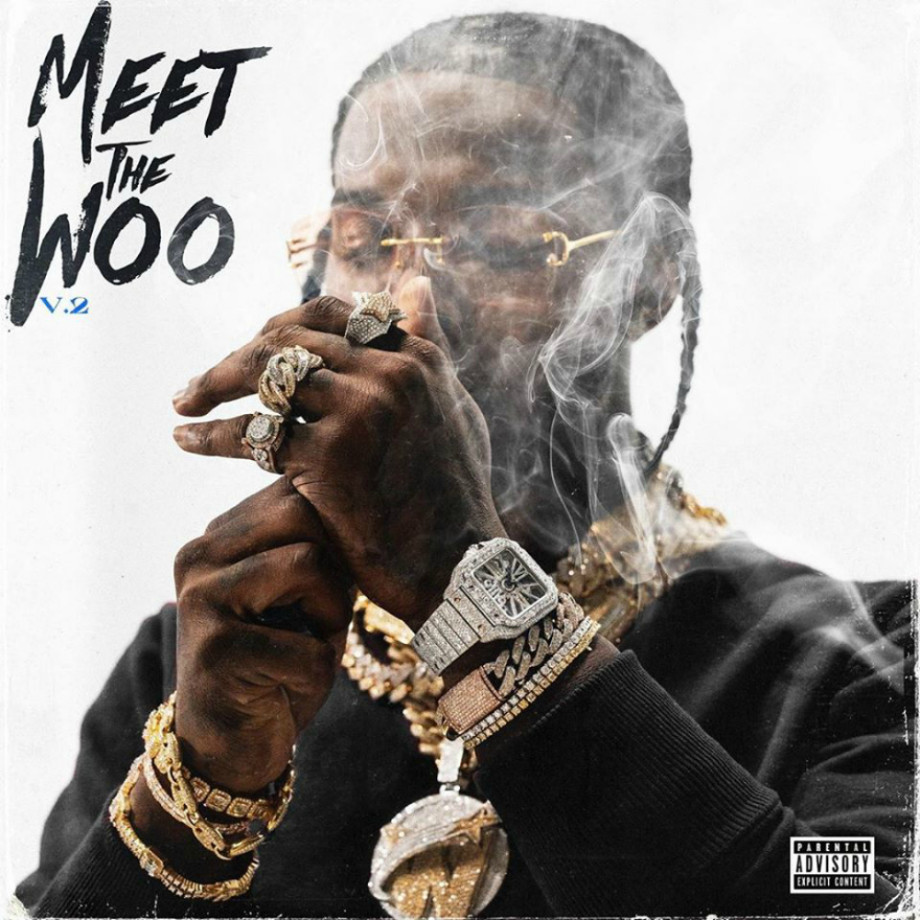 The internet would have me believe that at the moment it's impossible to walk the streets of New York City without hearing a car driving past blaring the music of 20-year-old drill rapper Pop Smoke. After a high-profile collaboration with Travis Scott and some genre-bending remixes of his track "Welcome To The Party," he already has quite a few eyes on him as he releases what is only his second mixtape. Meet The Woo 2 is a brief collection of dark and grimy trap cuts, but for the most part I fail to see what distinguishes him from so many of his contemporaries. Of course, I shouldn't be expecting new musical trends to suddenly appear out of thin air as the decade switches over, but there isn't a single moment on this project where my eyebrows raise in surprise. It's the sound that you hear everywhere you go, except that Pop Smoke's approach to creating it comes from such a place of nonchalance that there are a couple moments where it's clear he doesn't care if he falls off the beat, or leaves too much dead air filled with only ad-libs. That attitude certainly works for a lot of people, but this is far from an engaging listen.
The main thing that Pop Smoke has going for him is his vocal delivery. With a dark and husky tone resembling some kind of combination of Desiigner and Rick Ross, there's something visceral about a heavy trap beat punctuating his menacing flow that would be sure to get people moving in a live setting. It's always essentially flat and monotone, but there's something personality-driven about having a lack of personality with the kind of drill stylings he taps into here, elevating his threats and braggadocio and making them absolutely believable. I wish there were more interesting musical elements supporting a refreshing mic presence like this one. Or at least, any at all.
Almost all of the enjoyment this project has the potential to deliver is sucked out of the room by these run-of-the-mill trap beats. They're aggressive and hard-hitting, yes, but they put me to sleep all the same because it's the soundtrack that echoes around in my brain at all times simply by virtue of going out in the world. When a Quavo feature is one of the best parts of your entire project, it's never a good sign. The trap maestro appears on "Shake The Room," a track built on a completely empty chorus of "swerves" "skrts" and "woos" – the rumbling bass and vocal sample on this track deserve so much more of a lyrical attack.
Quite a few of these tracks have a pseudo-Blueface quality of not paying all too much attention to what the beat sounds like and letting your charismatic vocal presence do all the work. Tracks like "Get Back" and "Christopher Walking" have these rapid-fire looping beats that always feel like Pop Smoke's phrases overshoot the most percussive kicks by the tiniest bit and making for a rather chaotic sound of the beat and his words hitting their peaks at scattershot times that I assume plays into the kind of riotous response he's aiming to produce but ultimately just annoys this listener. Pop Smoke is far from a lyrical mastermind as well, blatantly using the exact same bars and punchlines on more than a few occasions even across such a brief project – it only makes it all the worse that one of his absolute favourite punchlines, used in exactly the same way on three different tracks, including being the opening line of the entire project and having the beat cut out to emphasize it more on the track "Foreigner" – contains a pretty outdated and offensive word.
"Foreigner" is one of the biggest messes of a track on this project, complete with a completely misplaced feature from the smooth melodic rapper A Boogie Wit Da Hoodie who sounds ridiculous on these grimy beats and a hook where the title is repeated ad nauseam and nothing else, Pop Smoke content to cut off his verse in the most rhythmically awkward place and simply let out a growl. He tries to sing on the next track, "Sweetheart," which has the exact same hook problem except repeated in the background throughout the entire track in a grating high-pitched voice this time.
Most of the tracks on the remainder of the project are brief snippets that all blend into each other, Pop Smoke almost never switching up his flow and leaning into the energy rush that his unique voice genuinely does provide on these ominous looping beats. It makes me think that there's definitely a possibility that as Pop Smoke continues to grow his profile and probably gain access to better producers, there's a decent chance that he could come out with a great project eventually and become a kind of 21 Savage figure. But for now, this can remain in the streets of New York.
Favourite Tracks: Invincible, Get Back
Least Favourite Track: Foreigner
Score: 2/10