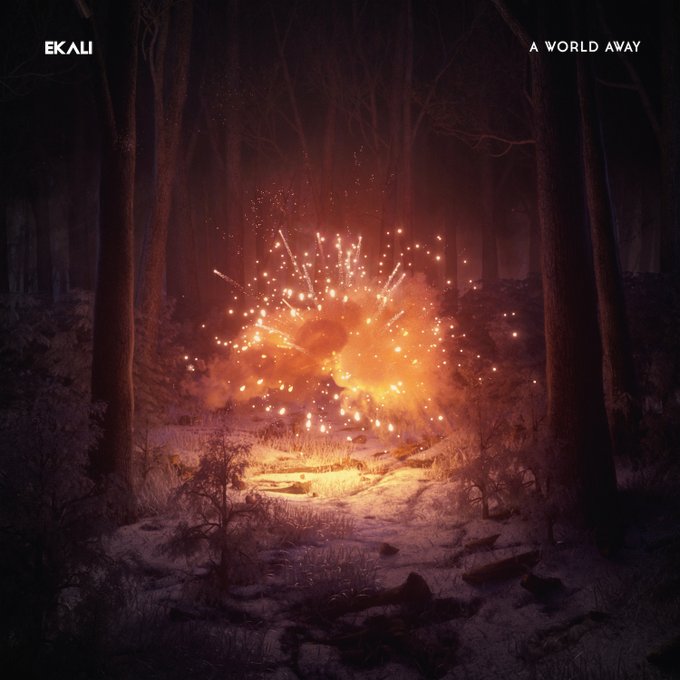 Canadian electronic artist Ekali has released his first full-length project after tearing it up on the festival circuit for the last couple years with a blend of hard-hitting future-bass and trap-inspired tracks and the ethereal and atmospheric sound of many of his contemporaries. He certainly exhibits both sides working at their full potential on A World Away. A short and consistently surprising project, Ekali's sonic diversity and excellent placement of guest vocalists across this album's runtime makes it one of the best electronic works I've heard in a while.
The album opens with one of its longest and most overwhelming tracks in "Fairy Tale," opening with a sparkling wall of sound that builds up to an undulating future-bass pulsating synth rhythm phasing in and out. For an album that's frequently quite nuanced and understands exactly when to bring out the big guns, it's honestly a strange choice for an opener – the album's title suggests a unfamiliar and unique world to explore, and there's absolutely no time to walk with trepidation and admire the surroundings, you're thrown into the midst of the madness immediately. Featured artist Elohim repeats "life is a fairy tale" in an angelic and high-pitched voice, and signifies the fantastical world of sounds to come. The next track "Runaway" encompasses in one track what the rest of the project does over a couple of cycles of two or three – the only rap song here, it mostly restrains itself with some creeping synths but keeps up the energy just enough with a charismatic mic presence in Reo Cragun until the exhilarating and off-kilter future-bass rhythms storm in for the chorus.
The most interesting thing about nearly all of these tracks is that you come away from them with a sense of calm relaxation, even though they're quite loud and aggressive – one of his favourite techniques is to drop a fully blaring, extended single synth note to elevate the energy of a chorus, but there's something about the chord progression and slower rhythms that makes even the roaring in your ears feel like laying in a field staring up at the sky. A track like "Drown" is built on one of the poppiest melodies here from Au/Ra and synth stab triplets that build up to what should be an overpowering synth-heavy drop, but the soft-toned and earnest vocals ground the track and make it seem primarily introspective – though the nature sounds interspersed certainly help as well, as the bird calls fall away to the flowing water that opens the more traditional techno track "Cage" – the chopped up vocal sample that emerges halfway through the track is one of many brief moments of sonic trickery that sell the whole project.
Ekali has always been mostly known for being someone who can fire up a festival audience with percussion-heavy trap bangers, but we don't really get one that goes as punishingly hard as usual until the outstanding track "Power" halfway through, which comes immediately after what's probably the most overtly calming track here in the synth piano and violin slow burn "Faithless" for a great contrast. Ekali has dropped a couple of Halloween-inspired tracks over the years and "Power" would definitely fit right in as the track kicks off with about a minute of unsettling minor key notes that steadily get progressively faster and faster – the track doesn't fully begin until about halfway through, but the build-up is fully worth it as the distorted wobble bass notes finally show themselves – it's a style that's fallen out of favour in the EDM world recently due to lack of creativity, but when it's placed as a contrast to a lush and complex sonic palette like this one it works fresh as new once again.
The album's most famous guest in Kiiara appears on the track "Back To You," which takes a break from the experimentation for a pretty standard pop track that brings back the synth triplets – if there's a chance for one of these to become one of the traditionally overplayed EDM tracks on Canadian radio, it's this one – but the final stretch that comes contains some of the greatest tracks on the whole project. "Be Fine" reminds me of some Flume's early work with its ability to translate the offbeat rhythms of future bass to incredibly catchy pop music – featured vocalist Wafia of course sings about a relationship that "got a little offbeat" before the chorus drops and the electronic flourishes play off of her descending melodies, and the final track "Hard To Say Goodbye" sees him team up with Illenium, who has a pretty similar style, for a track that plays off of the strengths of vocalist Chloe Angelides with some vocoder harmonies and more of a singer-songwriter angle with some plucked acoustic guitar notes thrown into the mix.
One of the main reasons that you don't see a lot of albums like this from electronic artists is that it's tough to keep a listener engaged with the style when they're just sitting at home instead of a live music setting – but Ekali has managed to reverse that dynamic here. The structure of the album is set up so that the surprises come at the perfect time and you can't wait to hear what the next track brings. Definitely got a bit of Vancouver pride with this one for a local act blowing up.
Favourite Tracks: Be Fine, Power, Hard To Say Goodbye, Drown, Runaway
Least Favourite Track: Back To You
Score: 8/10