Last night, Billie Eilish became only the 2nd person in history to sweep the Grammys' "Big 4" categories and the third to even win all four of the awards over a career. Do you think it might be possible that music labels are trying desperately to find the next off-kilter teenage success story? Tate McRae is a 16-year-old from Alberta who attracted quite a bit of attention on YouTube with her covers – largely, of Eilish songs – and has now received the fast track to working with some of the best producers in the game, including Eilish's superstar brother FINNEAS, who co-wrote one of the songs here with Billie herself. I hate to so overtly measure someone's work up against someone else's, but McRae's vocal delivery and lyrical content clearly draw heavy inspiration from someone who is rapidly becoming the voice of a generation. However, while her music isn't as groundbreakingly unique as Eilish's, McRae proves that with an injection of her own personality the style is going to stick around for a while. With more traditional pop sensibilities applied to the dark bedroom-pop framework that's running rampant in the industry, McRae delivers 5 pretty great pop tracks here to appeal to those who are just a little creeped out by Eilish's horror imagery.
All you have to know about how attitudes towards pop culture are changing as the generations shift is represented in how the 2nd song on this project, "all my friends are fake," came to be. Featuring some rather poetic lyrics in the verses about how certain people are a perfect match for handling someone else's pain, the chorus immediately throws the flowery language out the window and bluntly repeats its title. McRae called this "title clickbait," throwing something that everyone has felt at one point or another – that, by the way, wasn't born from any of McRae's actual experiences – in the middle of her personal diary. And it really does hurt when most of the music drops back and she blurts out "fake" in a pained whisper.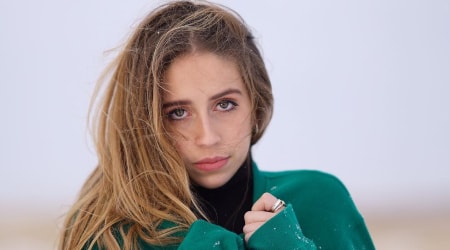 Most of this project functions in the same way, dropping relatable lines in the middle of highly personal content. You'd think that hearing the ramblings of a 16-year-old would strongly appeal to that demographic, but wouldn't be able to cross many boundaries, but the direct, confessional way McRae writes about her own experiences and what goes on in the deepest recesses of the mind of someone born to an anxiety-riddled generation in a terrifying world is endlessly fascinating. The title, after all, is all the things I never said.
The project opens with the track "stupid," which is built around a somber acoustic guitar loop and builds up to a trap-beat drop in the chorus – pretty standard radio fare at the moment, but we haven't heard a voice quite like McRae's used with these traditional formulas yet. Just as lilting and vulnerable as Eilish's, but with a bit more of a powerful punch behind it when she needs to articulate something, McRae tells the story of how she recognizes that her IQ drops a few points when she's around a less-than-spectacular guy, but she just can't stay away. It'll be a tall order getting any of these choruses out of my head for weeks, but this is one of the better ones here, her syncopated vocals and the persistent guitar melody linking up to create a sneakily hidden dancehall rhythm. It's the sound that's been making the entire world move for years now and has become embedded in the pop consciousness. Eilish lends her pen to the track "tear myself apart," and the rattling bass and densely layered harmonies certainly recall the dramatics and hip-hop balladry of a track like "when the party's over."
The best tracks here might actually be the only two that weren't already released beforehand, "that way" and "happy face." "happy face" sees her reaching new heights in her vocal range with one of the most immediately memorable melodies, but "that way" is easily one of the most emotional tracks here. McRae uses her heartbreakingly specific lyrics to describe a friendship that always comes tantalizingly close to taking the next step but never does, the friendship itself on life support as it hangs around in an awkward limbo. There's not much supporting McRae's sorrowful vocals here than some muted percussion hits and slowly moving piano chords, but she doesn't need it – she has enough conviction and genuine heartfelt emotion behind what she's saying to make the listener hang onto her every word. Each chorus subtly adds a new musical element, building tension as McRae becomes increasingly exasperated, then finally drops back as she delivers the final line a cappella, her voice crumbling into a strained croak.
It's true that McRae does draw a lot from what makes Eilish's music so successful, but it's successful for a reason: we all needed someone to bluntly outline was actually going on in the twisted minds of the youngest occupants of our planet, those belonging to that demographic especially. McRae tells her own stories here, and has the catchy pop instincts and sharp songwriting ability to make her fully stand out on her own. I can't wait for a full project.
Favourite Tracks: that way, stupid, happy face
Least Favourite Track: all my friends are fake
Score: 8/10