Always one to play into the power of a good surprise, whether it be unleashing a dizzying string of syllables or a provocative bar that will get Twitter talking for months, Eminem's 11th studio album Music To Be Murdered By came with absolutely no warning. Most people seem to agree that the majority of Eminem's output for the last decade hasn't quite been able to match up to the thrilling novelty of his earlier days – but Kamikaze was certainly a step up from the dismal Revival, and this one is yet another step in the right direction. Of course, there is still no shortage of corny dad jokes and subpar hooks, but in addition to his technical toolkit and wordplay – which is still nearly unmatched even as he nears 50 – quite a bit of what has been going wrong for Eminem lately is mended here, including his beat selection as he links back up with the increasingly prolific Dr. Dre, tossing aside lacklustre pop features, and finally finding a way to say something powerful about the social issues he has recently begun addressing in song. Inspired by the works of Alfred Hitchcock, whose voice appears throughout, even standing at over an hour in length its hard to say that this project isn't, at least, highly entertaining.
After an intro where Eminem is still, for whatever reason, defending Revival despite essentially making an entire album doing so already, the track "Unaccommodating" is an excellent reminder of the full extent of what he is capable of to kick off the album. One of the most fun aspects of Kamikaze was hearing Eminem try his hand at modern-day flows, and this track essentially runs through every flow he knows and then some after an intro verse from Young M.A. You'd think it would get boring to hear Eminem essentially trying to turn nearly all of these songs into another "Rap God" for an hour, but it's been said many times over – it's almost hypnotic how well he does this stuff, switching things up at ease and running through complex rhyme schemes at warp speed. Speaking of M.A., it's also refreshing to hear Eminem bring back so many rap features here, as legends like Q-Tip and Black Thought, classic collaborators like the Slaughterhouse gang, and new upstarts like Don Toliver and Anderson .Paak all appear. Of course, even with so much external firepower on these tracks, Eminem always saves his own show-stealing verse for last. Some say his legacy has waned, but it's impossible to not keep him in the all-time great conversation after hearing him outmatch nearly everyone on this project.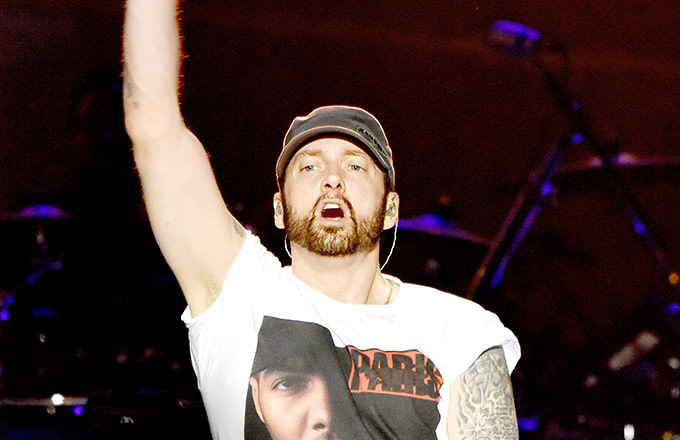 "This beat's taking me back to my D12 days," Eminem opens "Those Kinda Nights," which sees him dial back the quicker flows for the return of the unapologetically provocative Slim Shady persona. There's already been quite a lot of negative reaction to some of Eminem's less politically correct bars across the project, but I'm happy he's tapped back into what made him so interesting in the first place – if you're separating Eminem from his characters as you should, it's what you should come to expect, and it only makes for some disgustingly hilarious punchlines that make it feel like the old Eminem never left. Most of the beats here aren't flashy – noticing the beat on an Eminem album isn't usually a good thing – and give him enough space to show off his many tricks. It's all very old-school hip-hop, and it's a welcome return. My favourite beat on the project might be "Godzilla," a simple but bombastic looping synth-bass melody that ultimately builds up to one of his speediest sequences ever (7.46 words/second!) to close it out. And then there's the wordplay and puns, which always toe the line between brilliant and awful – but nobody else's brain even works this way to come up with these lines. My favourite: "I get dough like Ed Sheeran, so call me the gingerbread man" from "Marsh."
There's certainly a lot of irreverent goofiness here, but lead single "Darkness" is one of the most emotionally affecting tracks he's put out in a very long time. Told from the perspective of the Las Vegas shooter over a brilliantly repurposed Simon & Garfunkel sample, hearing Eminem return to telling a coherent and detailed story that examines all the grimy details of how something so horrible was created – especially as he calls for gun-control reform as news reports of shootings overlap and become incomprehensible due to the sheer volume – is an absolutely harrowing listen.
If a little more quality control were exercised on this project, it honestly had the potential to be Eminem's best album since the mid-2000s, but as it stretches into its final half some of Eminem's worst tendencies start to become all the more evident and prevent it from being an engaging listen all the way through. Tracks like "Marsh," "Never Love Again" and "No Regrets" continue his tradition of sung hooks that are awkward and ill-fitting, where it feels like he's essentially waiting for them to end so he can start doing what he does best again. They really have the ability to destroy any replay potential no matter how strong the bars he's spitting are. It's also rather baffling that Eminem is still spinning the same tired revenge-fantasy narratives and fiery salvoes against his various parental figures at age 47 on tracks like "Leaving Heaven" and the laughable "Stepdad."
There's been a lot of discourse that Eminem's brand and style doesn't quite fit in the pop culture scene anymore, but at this point it's part of the charm. It's clear that he put a lot more effort into this one and returned to his roots in a lot of fantastic ways. Eminem's an excessively strange guy, and he's always going to be a bit rough around the edges. But 20 years in, we know what we're getting at this point, and what we're getting is one of the most spellbindingly impressive rappers of all time.
Favourite Tracks: Godzilla, Darkness, Unaccommodating, Yah Yah, In Too Deep
Least Favourite Track: Stepdad
Score: 7/10