In yet another of the recent long line of surprise hip-hop collaboration projects, prolific Atlanta superstar Future teams up with the 19-year old upstart emo-rap artist Juice WRLD, who recently has a huge hit on his hands with "Lucid Dreams". I often say that the best hip-hop collab projects are the ones that are the most unexpected, the two diverse styles complementing each other and adding some surprising twists and turns to the tracklisting, and this is certainly a pairing that I never could have anticipated – but this one might just be the slightest bit too weird to work out perfectly. WRLD On Drugs is a lot better than I expected and contains more than a few excellent tracks, mixed in with a fair share of blander trap filler. Produced mostly by fellow Atlantan Wheezy, the beats are frequently what makes the project more memorable than its counterparts. The tape sounds more like the straightforward Future trying to fit into Juice's moodier WRLD more often than not, but Future's lyrics have always been able to get surprisingly dark and reflective when he wants them to.
The project opens with two of its best songs, "Jet Lag" and "Astronauts", some of the most immediately catchy and memorable tracks here that see Juice WRLD apply his softer, more malleable voice to some pretty intense trap instrumentals pretty well – his ear for melodies has him sounding like a more hip-hop oriented Post Malone here. "Jet Lag" is built around a watery synth bassline that bridges the gap between the two rapper's worlds pretty perfectly, both menacing and melodic as the more traditional percussion crunches mixed in with the trap hi-hats line up for maximum energetic impact. "Astronauts" is another high-octane track with a high-pitched piano loop and rumbling bassline that sees Future take over hook duty and deliver a melody just as good – "Me and Juice astronauts".
The second half is considerably better than the first as the quality takes a steep drop after the initial two tracks – we pick up again on the melodic track "Shorty", which has a lot more of an R&B vibe. This is a Juice song through and through, built on a shimmering, swung synth pattern that breaks up the standard rhythm of a trap beat a little bit, as Juice does what he does best and delivers a catchy melody with emotionally tinged vocals, Future adapting well in a supporting role. "Realer N Realer" sees the two find more synergy than usual, interlocking different vocal lines layered on top of each other. The beat here reminds me of a modern update of something like an early 2010s Lil Wayne track, very uptempo with some old-school elements thrown in like a reversed beat and a certain kind of synth tone that doesn't exist anymore in the chorus. The melodic tracks and experiments here usually pay off, Juice often taking the reins. "No Issue" is another fun track with more of a unique approach to trap, Wheezy throwing in some Neptunes-style breakbeats on top.
After Nicki Minaj knocks her extended feature on "Transformer" out of the park with the zany energy we know and love from her, closing track "Hard Work Pays Off" might be the best of all, and it might be its poppiest. With some layered vocals and harmonies from Juice WRLD over a dreamy, ethereal background of major synth chords that makes for a warm, full sound, it's the catchiest melody of all here. Those bouncy embellishments and Juice's harmonized 'whoa's make this an excellent closer that just brings a smile to your face.
Single "Fine China" doesn't resonate with me as much as everyone else, judging by its immediate success – it's here where the lyricism of the two really falls apart most evidently. I'm not expecting anything profound from either of these two, but Juice's chorus here raises a few eyebrows for a few reasons and seems pretty tone deaf in the current social climate. Yeah, this is trap music – but it's so prominent in the chorus that it stands out as awkward. The lyrics here sound improvised more than a few times across the board here, and while these two have mic presence and charisma in spades these collab projects are sounding more and more like they were thrown together in a short amount of time – I really believe that the title for "7 AM Freestyle" is actually the circumstances for the track, the two barely sound like they're awake and lose the personality they had, especially when they have nothing that isn't generic to say on the track.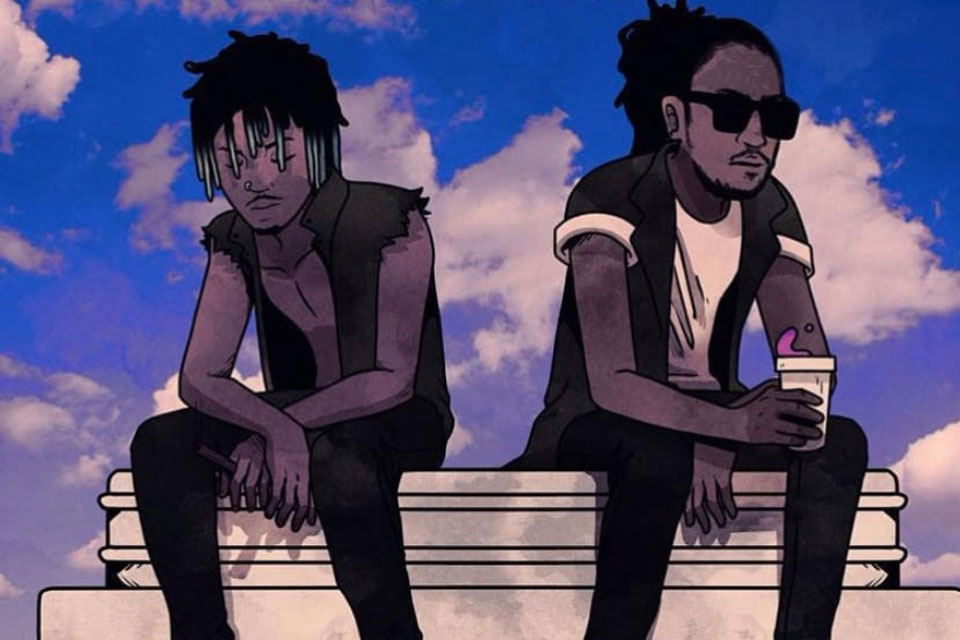 There are more than a few unquestionably strange decisions thrown into the mix here, and one of them is the unlistenable solo Future track "Oxy", where he uses the high-pitched, squeaking, inhaled voice that was memed to death on Black Panther track "King's Dead" for the entire song – it's a shame, because the beat is honestly one of the best here, but who is telling him this is a good idea? I learned to love it on "King's Dead" because it was a brief, funny diversion, but I can't handle it here. The clashes in tone between the two is made evident quite a bit as well, sections of certain tracks like "Different" sounding empty when the wrong rapper for the instrumental style is present, this lurching, minimal bassline here doesn't fit Juice's more vibrant voice at all.
WRLD On Drugs' highlights are so memorable because of how unlikely they were to work on paper – even the age disparity between the two is huge at 15 years. Juice WRLD is definitely an exciting new artist to watch, and his collabs with a steady veteran here show that he can just as easily adapt himself to any area of hip-hop. Sure, there's some filler here, but when isn't there anymore in the streaming era?
Favourite Tracks: Hard Work Pays Off, Jet Lag, Realer N Realer, Transformer
Least Favourite Track: Different
Score: 6/10