The year is 2018. Lil Baby and Gunna have narrowly eked out a sales victory over Beyonce and Jay-Z. And the tide of average yet wildly successful trap albums keep on coming. Drip Harder is a collaboration project between two of the bigger names on Young Thug's YSL label, as well as a sequel of sorts to last year's high-profile Atlanta collab project SUPER SLIMEY, featuring Thug and Future. Unfortunately, there's almost nothing across the entire project that gets me excited in any way, and that's pretty difficult to do – usually there's at least a couple tracks that's are at least a lot of mindless fun. The best rap collabs are usually rather unexpected, their differences playing off of each other well – here, I can barely tell which is which, each doing their greatest impression of their label boss. The incredibly uninspired trap production doesn't do much to help either, running through the same moody trap-piano instrumentals we've heard ad nauseam since the genre was popularized.
Both Baby and Gunna adopt a kind of woozy, muffled cadence, seemingly trying to use their voices as another form of instrument like Young Thug does but lacking the charisma and off-the-wall lyricism to make it work. I knew there was a Young Thug feature somewhere on the project on my first listen, and without looking at the tracklist I wondered on more than one occasion if a standard Baby verse was the aforementioned feature – that's how little of their own identity each of these two carve out here.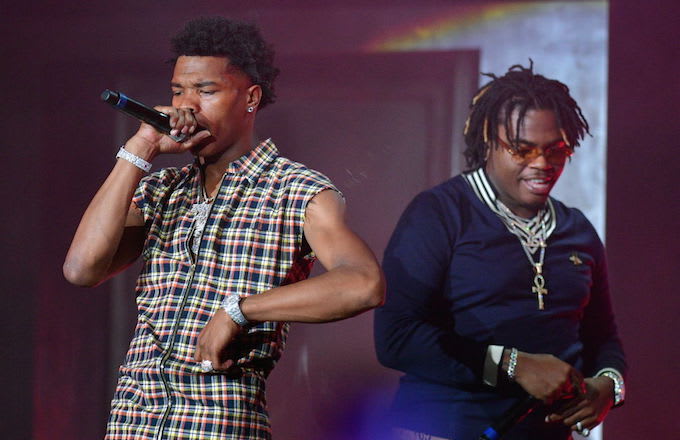 This kind of delivery doesn't complement such standard trap fare on these beats either, the point of Thug's popularization of it was that it works on some more experimental instrumentals. Before we get to the top 5 single "Drip Too Hard" and the Drake-featuring "Never Recover", back-to-back at the very end of the project, we have to suffer through 11 of the exact same, copy-and-pasted song of these two disinterestedly slurring their way through a midtempo hi-hat beat and either the same kind of keys or off-kilter synths in each track. I accidentally left the project on shuffle when writing this review and didn't notice until 4 songs in because the songs are that indistinguishable from each other.
There are a few tracks like "Deep End" where they end up going completely off beat at times – what is that flow on "he can't even swim he off the deep end?" Baby honestly sounds like he's reading his lyrics off of a teleprompter and got surprised by a sudden change in what he had to say. On "World Is Yours", one of the Gunna solo tracks here, the prominent hi-hat roll that had me at least nodding my head drops out right as the chorus starts, a repetitive and off-key melody that's delivered at a lower energy level for some reason. Not even Thug himself can save the day on "My Jeans", these two seemingly bringing out his worst tendencies as he dumbs down his personality and delivers some pretty standard bars about money and the like.
Gunna honestly has a solo track here called "Style Stealer", where he accuses people of stealing his. Gunna wouldn't be here if he didn't hop on a giant wave of style stealers – he has nothing distinguishable about himself for others to steal. As previously mentioned, the last two tracks are easily the most enjoyable here. Drake steals the show with his opening verse over a Tay Keith beat on the closer before the talent disparity is made evident as the other two return, while the accelerated energy and faster flows of "Drip Too Hard" are very welcome after all the sleepy trap cuts here.
It's been difficult to write something that's the same length as my other pieces because there's been nothing released this year that's such absolute sonic wallpaper there's almost nothing that even stands out to write about. Every time I think we've reached the peak of the robotic trap music assembly line, these artists putting out multiple projects of very similar, formula-adherent material each year, something like this comes out and surprises me. Remembering that I have to review a 19-track Quavo album in the near future is not helping matters much. Yeah … yeah this is my first 1/10 of the year.
Favourite Tracks: Drip Too Hard, Never Recover
Least Favourite Track: Style Stealer
Score: 1/10