Rap superstar Nicki Minaj continues to adapt and thrive, dropping her most rap-heavy album yet, Queen. Her fourth full-length project, we see Minaj raising her defenses a bit and reverting back to her classic hip-hop tactics of biting lyricism and an always surprisingly technically proficient flow. In a world quickly becoming more accommodating to the presence of more than one wildly successful female rapper (there are 4 of them in the Billboard Top 5 at the time of this posting), Minaj reminds us why she was regarded as such a powerful force to begin with. Despite the messy rollout that accompanied the project, the best tracks here are equal parts infectiously energetic and unflinchingly tough, the two sides that have always made up her appealing persona. At 19 tracks, not everything comes together and there's certainly some filler and material that sounds slightly dated, but the highs are fantastic.
The album opens with "Ganja Burns", a fantastic track that places the listener in the world of the album immediately. Drawing slightly from the dancehall wave that Drake kicked off, Minaj drops a deep-voiced speedy flow that navigates through the prominent, clicking percussion perfectly and immediately sends a shot at Cardi B 30 seconds in. Her dramatic singing on the chorus adapts to the hazy acoustic guitar loop, reminding us that pop Nicki isn't gone either – just before she starts completely annihilating her foes, as she hits us with the one-two punch of "Majesty" and "Barbie Dreams". The former features none other than Eminem, who delivers his greatest feature verse in years, Minaj keeping up with him over the menacing siren of a low, buzzing synth – an upbeat piano chorus from Labrinth tries to interject before she cuts him off midway with more vitriol. This doesn't compare to her coming for THE ENTIRE INDUSTRY on the next track, set to the classic instrumental of Biggie's "Dreams" as she sends some comical, absolutely savage shots at almost every relevant rapper, outlining the reasons why none of them will see her in the bedroom – it really establishes herself as more of a classic hip-hop figure than we anticipate, and her lyricism and delivery is top notch here.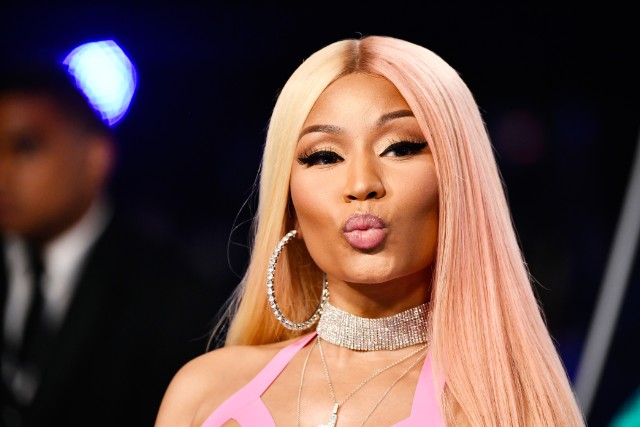 "Chun-Li" still holds up as well, a track that perfectly plays into her over-the-top, cartoonish nature – Minaj embraces the cheese to full extent, and it works. Minaj succeeds at some of her rarer forays into pop territory here as well – the Ariana Grande-featuring "Bed" is a serviceably catchy, chill tropical pop song featuring production from Actual Reggae/Dancehall Artist Supa Dups, but "Come See About Me" really stands out. A legitimately heartfelt piano ballad, I've never heard Minaj's singing this passionate, her vibrato hitting in just the right places before building up to a powerful, harmonized chorus.
The album definitely sags in the middle, quite a few of these tracks lacking the direction and energy that Minaj needs to excel – at the end of the day, most of her appeal really does come down to that expressive delivery. "Thought I Knew You", a track with The Weeknd, doesn't seem to know what exactly it wants to be, Minaj and Abel trading brief sections of awkwardly varying lengths, his sing-rap style not fitting at all with the poppier instrumental here – and Minaj's stuttered chorus sounds pretty low-effort as well. "Chun Swae" extends to 6 minutes in length, Swae Lee's lilting high-pitched delivery getting grating – though there really are some great elements of the track – that first verse is seriously technically impressive, Minaj extending a rhyme scheme to ridiculous length and then dropping into her fastest flow on the project. The features do let her down on more than one occasion here, Future delivering what might just be his worst verse of all time on paint by numbers trap cut "Sir".
It's a shame that Minaj herself seems to be playing into the idea that there can only be one female rapper at the top of the game here with some of her lyrical references, since it makes a few of these tracks feel like she's going through the motions to reassert herself in a variety of areas, and the last thing she can afford to lose is the amount of fun it always seems like she's having. Her last-minute addition of 6ix9ine hit "FEFE" to the end of the tracklist is a move of an artist undoubtedly more interested in her numbers than her music – it shouldn't matter if she gets this #1, and she really might not – this rap-centric album was an opportunity to prove herself through her talent more than her brand, and the segments where she does this more than she has in years are the parts that stand out. Tracks like "LLC" and "Good Form" stand out in the middle for being upbeat, characteristically quirky and off-kilter, dynamic and technically proficient.
Ultimately, Queen is a mixed bag that might possess both some of Minaj's best and worst tracks of her career, with slightly more of the former. After seeing her take more of the pop direction over the last few years, her reminder to us all that she's much more of a rapper than many give her credit for was certainly very welcome, but she might have lost a bit of the spark trying to do too much here.
Favourite Tracks: Come See About Me, Majesty, Barbie Dreams, Chun-Li, LLC
Least Favourite Track: Sir
Score: 6/10