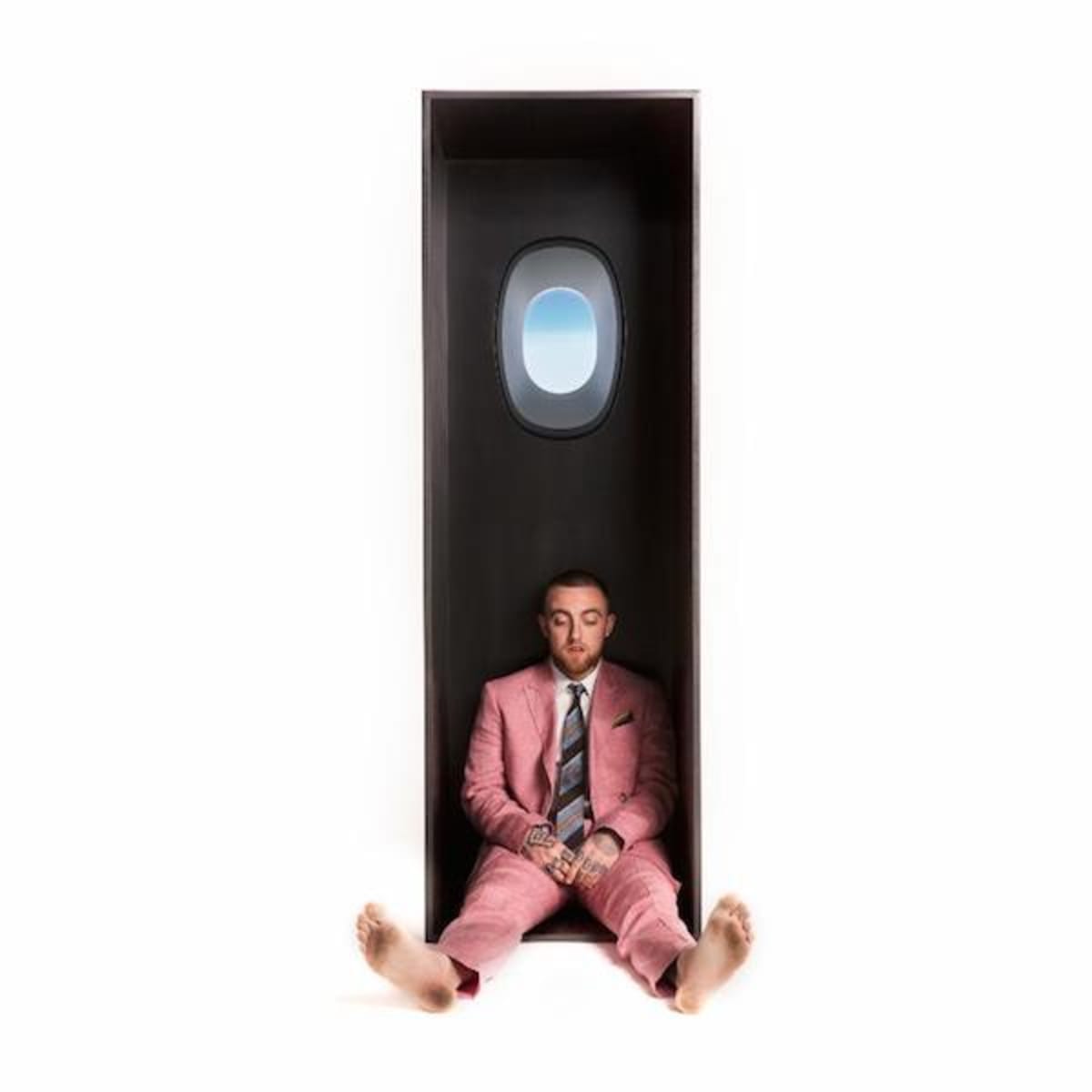 After taking a complete stylistic left turn on his previous album The Divine Feminine, Mac Miller returns two years later with a similar jazz-rap and funk sound that sees him singing more and taking the style even further into neo-soul territory. Dedicated to then-girlfriend Ariana Grande, Miller's sudden metamorphosis from the goofy frat-rap persona into the soulful romantic on Divine produced his most enjoyable music yet. His fifth album, Swimming, finds Miller in recovery after having lost the inspiration for the sound that coloured his previous work in the wake of his public split from Grande. While the lyrical content of the project is very compelling – Miller trying to learn to rely on himself, rather than someone else, to mend the personal issues that contributed to the split, the music itself can often feel like a more subdued, less fun version of his previous album.
We're introduced to the album with "Come Back To Earth", a completely sung track over some orchestral strings and a funk bassline as Miller brings listeners into the emotional state of the album, still clearly affected and looking for a way to get out of his own head, but looking ahead to an optimistic future. This transitions into "Hurt Feelings", produced by the unusual team-up of J. Cole and Dev Hynes, who I wish brought a little bit more to the table than the extended, moody synths and standard hip-hop beat that frame Miller's return to more of a rap angle. It's not the most exciting track, but hearing him describe his active attempts to prevent himself from getting stuck in a rut of depression and move forward continues the theme of the album and gives it more of a hopeful spin than I expected going into the project. Swimming truly picks up on the third track, "What's The Use?", which reminds me of Divine Feminine standout "Dang!" with Anderson Paak. Thundercat provides his always incredible contribution to the bassline as Miller picks up a faster flow and one of the catchiest sung choruses here that features backing vocals from Syd and Snoop Dogg. The ease of Miller's nonchalant flow over a smooth funk instrumental was one of the biggest pleasant surprises in his career progression, and it's similarly danceable and fun here.
"Ladders" is another great funk-influenced track here, Miller's flow at his brightest and most forward, sounding his happiest as the synths pulse in and out and accentuate his flow. The guitar on this track almost reminds me of some old-school Justin Timberlake material, and when the brass section roars in for an instrumental bridge it puts it over the top. It's the most complex and involved instrumental here. "Small Worlds" reminds me of the shimmering dreamscape of The Divine Feminine more than anything here, as he makes his most obvious lyrical references to Grande as he sheepishly owns up to his faults over some pretty beautiful harmonized vocals, immersing himself briefly in that perfect fantasy world for just another second. DJ Dahi and Steve Lacy team up for another upbeat standout on "Jet Fuel", where Miller acknowledges the damage he does to himself and his interpersonal relationships due to his drug and alcohol use.
Miller's singing has never been the best, and it gets more of a focus than ever here to detract from the experience. I understand that he was trying to be emotionally vulnerable with it, but when the instrumentals are emptier than before, driven by some simpler funk loops and giving Miller more space to shine, it exposes that he doesn't have to voice to carry the style all on his own. It's fine as a contrast to another part of the song, but trying to carry whole songs with his lower, flimsy vocals can tend to lose the message of the tracks here. I see a lot of people gravitating to single "Self Care", but Miller's falsetto chorus and sliding vocal transitions in the interludes are simply not delivered well enough to make the longer track length worth it, despite the pretty decent verses.
Quite a few of these tracks just never really catch my attention and end unceremoniously, Miller keeping the sound that I enjoyed so much earlier but staying in the murkier lower ends of things and not reaching the euphoric heights of his other tracks in the same style, not latching onto a meaningful motif or melody. The emotion behind it is obviously different, but for all of Miller's talk of getting out of the stage where he's "Swimming" in his overwhelming sea of feelings, you'd think the music would reflect this hopeful angle more often. Tracks like "Perfecto" and "Wings" don't pick themselves up off the ground musically, the instrumentals getting stuck in the watery, creeping synths and sparse percussion, Miller's off-key choruses not doing much to help the situation despite the strength of his rapping.
Getting lost in Miller's inner thoughts over the course of this album is a very engaging experience, especially after we saw the aftermath of what he sings about here plastered all over the internet, but if he was going to try to recapture the sound that made his last project work so well, more alterations other than an attempt to make this the sad version could have been made to improve it overall.
Favourite Tracks: Ladders, Small Worlds, What's The Use?, Jet Fuel
Least Favourite Track: Conversation Pt. 1
Score: 6/10