Australian indie-pop singer Amy Shark, after rising to prominence with her contributions to the Love, Simon soundtrack, releases her debut album Love Monster. Shark takes some clear inspiration from other rising pop artists in her home country and neighbouring New Zealand, as well as some other megastars of the day, but manages to deliver a very strong debut due to her unique vocals and specific and personal lyrical content. A few superproducers hop on board for a single song each, but for the most part, this is one of the strongest debut projects of the year based solely on Shark's own captivatingly refreshing presence as a newcomer to the music industry.
The album opens with a minimal, acoustic chord progression on the song "I Got You", immediately introducing us to the perfect storm of what a star on the rise should harness on their debut album as the trap beat and catchy pop melody quickly cascade in. It's a combination of sounds that's been done before, of course, but something about the brightness of the acoustics, the way the beat doesn't dominate the track, and Shark's cheery lyrics delivered by a voice with the inflections to make her sound emotional even when completely casual creates a wonderful welcome to a surefire star in the making who uses trends sparingly to display her own personal artistry on top. The most obvious parallel you can draw to Shark's work is Taylor Swift, especially the better half of her recent reputation. The way she throws her entire emotional being into her vocal performance, as well as the smartly written pop melodies and very slight hip-hop edge to charming pop tracks mirror the megastar in the best way.
"All Loved Up", produced by Swift and Shark's common collaborator Jack Antonoff, is one of the most pop radio-ready tracks here – the verses feature Shark in a kind of hurried, out-of-breath delivery of faster-paced lyrics, as if she's barely succeeding at fitting all of the many emotions running through her mind as she takes the exciting leap of faith into a committed relationship into her verse. The chorus is just as catchy as any here, but what sells it is Shark's likability and relatability as she lays all of her emotions out. The next track, "I Said Hi", is pop euphoria – and Shark has said she wrote the lyrics and melodies in an impassioned 10-minute burst of creativity, hurriedly recording it after the realization it was "Grammy Award-winning". The trap-acoustic theme is played up to its maximum power here, with an absolutely monstrous drop into one of the most pristine pop melodies I've heard all year and hilariously passive-aggressive lyrics aimed at her doubters – I'm excited for her future if she can assuredly make something this excellent so quickly. New Zealand pop mastermind Joel Little assists on "Never Coming Back", a lighter track where Shark plays up the sweet, breathier side of her vocals over some shimmering synth lines that remind me of Little's excellent work with Broods. The track features some great harmonies leading up to an explosive conclusion.
Shark's emotional songwriting reaches its heartbreaking peak on a song like "Leave Us Alone", describing the best memories and feelings of a past relationship in vivid detail, repeating the titular "alone" in a much quieter voice that contradicts the stronger front she tries to put up. This continues on "Don't Turn Around", another complete knockout of a track where Shark fantasizes about reconnecting with an ex upon seeing them at an event, internally criticizing herself for it – "You're two rows behind me and it's hard not to turn around", she says, as a distorted, higher-pitched voice sends the track into pop overdrive with some quicker, rhythmic vocals that complete the sonic picture the bright trap-pop instrumental paints. Shark's versatility across this project is quite impressive, harnessing the appropriate volume and emotional delivery of tracks with more of a louder rock edge on the Mark Hoppus (Blink-182) featuring "Psycho", to the EDM-leaning "Middle of the Night" to the quiet indie-pop variety that makes up the majority of the tracklisting here.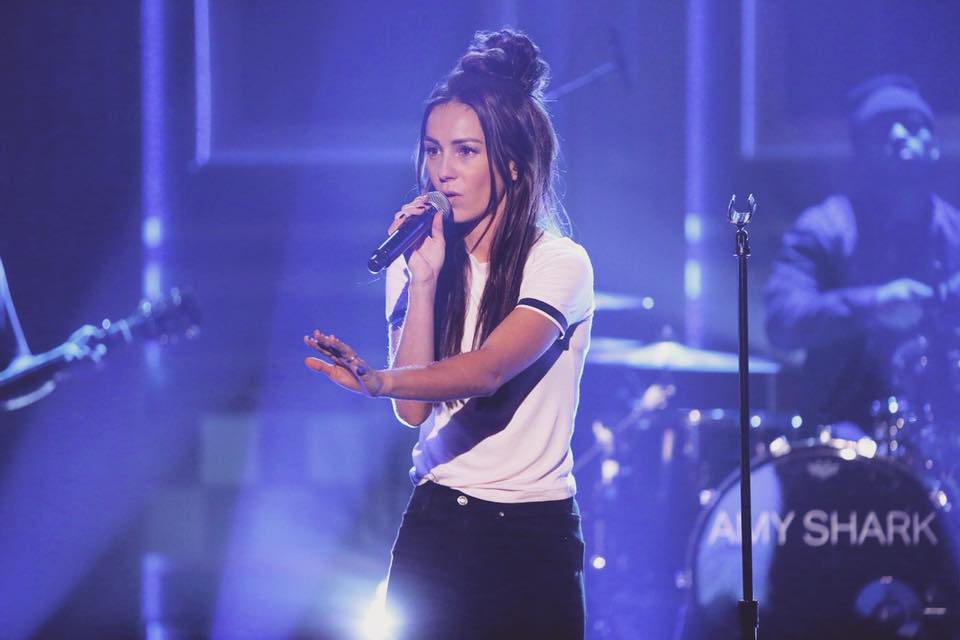 If anything, 14 tracks feels just slightly long, a few of these tracks standing as slightly less effective versions of counterparts earlier on in the tracklisting. Placing a song like "The Idiot" after the stellar "I Said Hi", the song possessing similarly dominant guitar stabs and a knocking hip-hop beat, makes it slightly redundant despite being pretty great in its own right. Shark does wear her influences on her sleeve as well, constantly bringing to mind the lyricism of Lorde, instrumentals and harmonies of Broods or the emotion of Swift. Her own personality does shine through though, and the added variation of any future material will likely confirm this.
Love Monster is the most confident and self-assured pop debut since Billie Eilish's don't smile at me EP, Shark quickly establishing herself as an artist to watch by endearing herself to the audience with her honest emotional delivery and specific, smart lyricism. Meanwhile, she capitalizes on the sound of the moment to a small enough degree that it doesn't feel like trend-hopping. I'm very excited to hear more from her.
Favourite Tracks: I Said Hi, Don't Turn Around, All Loved Up, I Got You, Mess Her Up
Least Favourite Track: Adore
Score: 9/10