Cyhi The Prynce – No Dope On Sundays
GOOD Music rapper Cyhi the Prynce's debut project has been delayed for years amongst label disputes, dropping a few promising verses on label boss Kanye West's tracks along the way. No Dope On Sundays is the sound of an artist who has been waiting to express himself in the cohesive album format for a long time, stretching long past an hour in length as Cyhi exercises his old-school style on extensive verse after verse. Cyhi is not the most dynamic or engaging rapper in the world, his delivery is very laid back – his skills are clearly there, but such a long project without much variation causes me to lose interest quickly. There are certainly highlights here, however.
Some of Cyhi's best moments come when he is able to play off of his guests – the title track "No Dope On Sundays" has a great choral sample from a late-60s psychedelic rock track, which transitions into a second half featuring producer Lex Luger's trademark aggressive hi-hats and pianos and a verse from Pusha T, whose style most closely mirrors Cyhi's. At its best, No Dope On Sundays is a reminder of the style of rap Kanye West popularized in the mid-2000s, heavily based on samples and focusing on gimmick-free, straight lyricism. "Murda" is the standout here, breaking up the monotony with a reggae sample from Ini Kamoze, Cyhi capitalizing on the laidback vibes perfectly. And of course, Kanye himself shows up on "Dat Side", delivering a perfectly … well, Kanye verse. The quotable hook has Cyhi showing more personality than the rest of the project combined. Cyhi's storytelling excels when you're engaged enough to pay attention, even dropping a few clever one-liners and punchlines. A few spoken-word transitions reference Biblical passages, as Cyhi describes the juxtaposition of his life in the church and on the streets of Atlanta growing up.
Many of these tracks run far too long, quite a few extending past the 5-minute mark. Listening to the same instrumental, calmer than most rap beats of today, for so long without much variation in the vocal delivery can get tedious, especially on such a lengthy album. There are quite a few beat switches mid-track to keep things interesting, but these could have been organized better, often changing the energy completely. The hooks here could have been improved as well, too frequently delivered awkwardly by an auto-tuned Cyhi in the same cadence as his raps and failing to excite. Pitchfork's review stated perfectly that Cyhi does "too much and too little at the same time".
Favourite Tracks: Murda, Looking For Love, Dat Side, Nu Africa
Least Favourite Track: Don't Know Why
Score: 6/10
blackbear – cybersex
Singer, rapper and producer blackbear's second project this year is another solid collection of energetic and electronic spins on the current alt-R&B sound, as blackbear himself takes a step back on the production and invites a slew of guests, demonstrating his solidification of a place for himself in the music industry. While there is a lot less here of blackbear focusing on his greatest strengths, the project failing to reach the heights of digital druglord, cybersex is carried by blackbear's quotable lyrics, still ruthless and overconfident, and innovative instrumentals.
blackbear only produces two tracks here, and while the others he invites on this project succeed at emulating his style most of the time, the instrumentals on some of these tracks can tend to divert back to generic trap territory at times, especially when blackbear opts to rap instead of sing on tracks such as "bright pink tims". You should be able to tell a song is blackbear's – nobody else is really in his lane of blending together EDM-style instrumentals and alt-R&B vocal sensibilities, and when his producer's ear for melodies is lost these tracks become too derivative.
blackbear makes songs you want to sing along to – the braggadocio he imbued his first hit, Justin Bieber's "Boyfriend", with likely played a huge part at transitioning him into the superstar he is today, and when you combine these confident and carefree declarations with something like the underlying guitar riff and catchy melody on a track like "playboy s**t", blackbear's personality sells it easily. He almost sounds like he's laughing while delivering these lines – "woke up rich", "shout out to my wrist". For the most part, the guests on this project deliver, blackbear found some kindred souls here – 2 Chainz and T-Pain don't take themselves too seriously either, while Machine Gun Kelly delivers a feature verse much more engaging than his recent pop exploits. Some older rappers like Cam'ron and Rick Ross don't connect as well, but this is still clearly blackbear's project despite a guest appearing on every song, his unique spin on things rising above.
The project shines at its brightest when the production veers its closest to EDM, as the combination of genres is still a breath of fresh air. Blackbear's glitchy vocals on tracks like "anxiety" and "down 4 u" as the digitized synths bleep, bloop and swell behind him is a unique listening experience that I'd be surprised if the larger world of alt-r&b didn't catch onto sooner. "anxiety" in particular invites close collaborator and fellow producer FRND, and his final beat switch-up is euphoric. Blackbear is all about juxtapositions – "everybody dies and love is fake as f**k", he sings over the most cheerful acoustic instrumental he could find on the hilarious "Thursday/froze over (interlude)". This is a rising star in the industry.
Favourite Tracks: anxiety, playboy s**t, down 4 u, e.z., i hope your whole life sux
Least Favourite Track: glo_up
Score: 7/10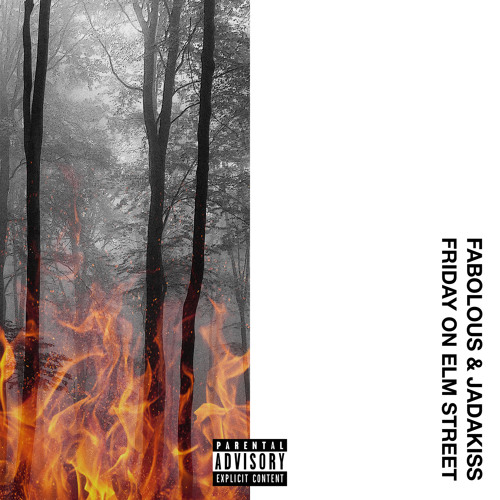 Fabolous/Jadakiss – Friday On Elm Street
This collaborative album between two hip-hop veterans has its share of impressive instrumentals and interplay between the two rappers, but certainly contains a lot of filler and more dated ideas. In addition, the horror movie-inspired project (Fabolous corresponding to Freddie, and Jadakiss, Jason) featuring one jovial and one sinister rapper correlates a little too much to Offset and 21 Savage's "Without Warning" earlier this year, not executing the concept quite as well.
"F vs. J Intro" is an impressive track, the two rappers embodying their chosen horror-movie villain and delivering a verse structured like a battle-rap, the two comparing their body count and throwing in some nice punchlines over some eerie chimes and a hard-hitting beat. The theme continues more loosely for the rest of the project, the instrumentals frequently tinged with a haunting quality that someone like the gravelly-voiced Jadakiss is right at home stalking through. Some classic producers like Swizz Beatz, C-Sick and The Weeknd's go-to man in Ben Billions appear here. These two embody the East Coast sound, and they match each other bar for bar over these energetic instrumentals. We've been seeing quite a few rap collaboration projects this year, and they've all been choosing their sparring partners well. "Soul Food" is just as its title suggests, flipping a sample nicely as the two reminisce on their longevity in the game.
A few tracks see the two stuck in the past, especially on something like the Swizz Beatz produced "Theme Music". With the rise of trap, Swizz's style has never seemed further from the cultural zeitgeist, basing the track over a few loose, skittering hi-hats and a repetitive, but calm Marvin Gaye sample – the rappers never really settle into a constant flow for this reason, the song having so much more empty space than we typically hear anymore. The ideas run out closer to the album's end – French Montana collaboration "All About It" isn't much more than a repetitive hook and an attempt to throw a trap beat on a synth instrumental that sounds like something T.I. would use in 2008. Friday On Elm Street is a pretty great listen for fans of the two older rappers, as they certainly prove they've still got it, but it might have been better at EP length.
Favourite Tracks: Soul Food, F vs. J Intro, Principles, Stand Up
Least Favourite Track: Theme Music
Score: 6/10