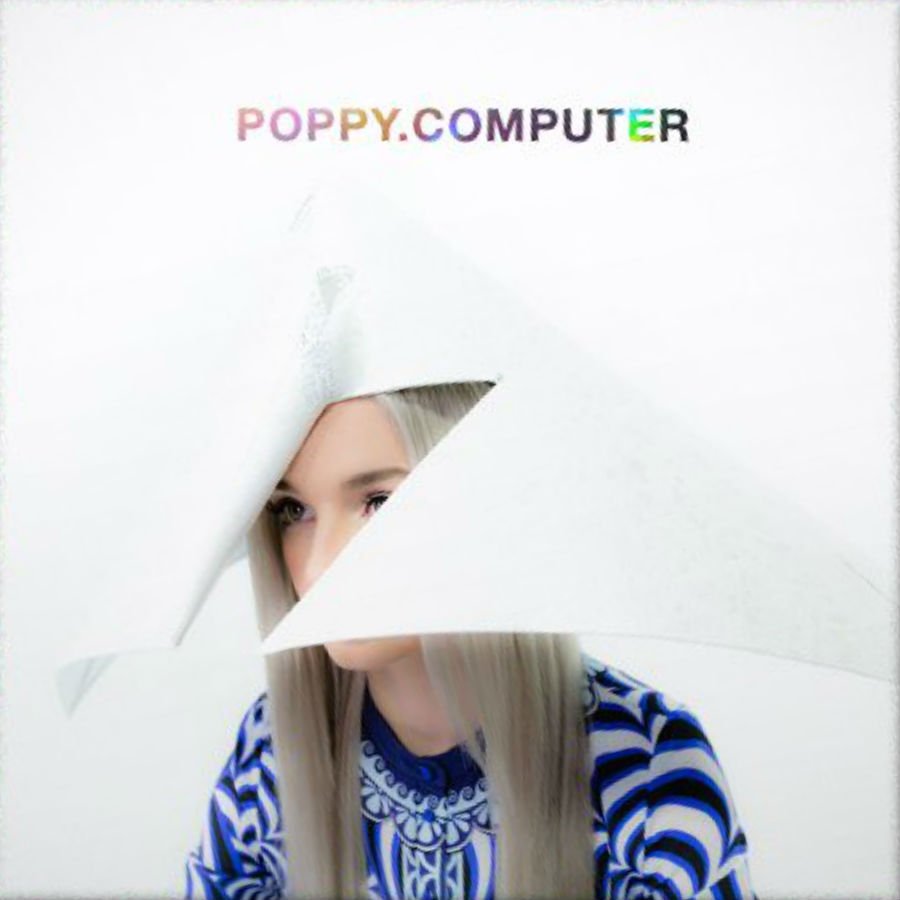 Internet sensation Poppy extends her mysterious and technologically obsessed online persona to a debut collection of ridiculously fun and J-pop inspired pop tracks. Anyone who has seen one of Poppy's bizarre, unsettling videos, often with a satirical twist on our reliance on technology and celebrity culture, knows that it's hard to look away. Something about her draws you in.
It was a pleasant surprise when she started releasing music that not only extended her message to the next level, but was well-produced, engaging and funny. A few of these tracks might pull back the curtain a bit too much or not quite click as a legitimate song, but I've gone too far down this weird and wonderful Poppy rabbit hole to care. "Welcome to the new world, I'm your Internet girl", the opening track greets us.
"Let's Make A Video" is an incredible track. Poppy's voice becomes a lot more innocent as she takes up the voice of an internet vlogger or social media influencer, painting her life as something ideal and perfect to be looked up to. The beat sounds like it's direct from something a 90s-influenced K-pop group like GFRIEND would sing over, complete with sugary chords and a cascading synth piano melody. Poppy harmonizes with herself and throws in some cheerful nonsequiturs to add to the overall image. Like her videos, it's a smiling façade with something much darker underneath, and it's certainly one of the catchiest melodies I've heard all year.
When Poppy delves a bit further into her origin story, things take a turn for the comedic as well. Poppy always seems to be attempting to learn about humanity and more abstract concepts, and we don't know why or where she came from. On "Bleach Blonde Baby", she paints herself as a perfect girl "from your cotton candy dreams", saying she was born with perfect features, bleach blonde hair and makeup on. The key change and buzzing synth undercurrent just send the song over the edge.
Different aspects of Poppy's online persona appears across the board, including jealous nemesis Charlotte on "My Style", longing to understand the concept of love on "Fuzzy" and going full psychopath killer mode on "Computer Boy" – "don't go to sleep without me", "never talk to anyone else", she instructs her digital lover.
The instrumentals across the board are all infectious in the best way – this is masterful bubblegum pop approaching a Carly Rae Jepsen level. It's impossible to deny that rush as the chords start pounding faster and she introduces the chorus with a "hey hey hey, ok!" on the adorable "Moshi Moshi". Most of these tracks are driven by loud synth chords and an underlying techno bassline – blips and bloops to add to the overall computer theme.
"My Style" is one of my favourite instrumentals on the project – Poppy is largely on one note except for some dramatic builds at the end of the verses. The eerie, slurred synths come in to support her, building up in spectacular chords before falling away on the same pitch as her vocal run. The whole thing is driven by this hypnotic bassline, functioning like the tuba in a band, and hi-hats that never let up. It succeeds at being unsettling and impossibly catchy at the same time, and as she asserts back to back, "Poppy is your best friend. Poppy will break your neck.", I just become more invested in the mystery that is this smiling girl on our computer screens.
At the same time, "I'm Poppy" is too obnoxious to function as a song despite how much I enjoy the fact it is the closest thing we get to one of her videos in musical form. The constant repetition and spelling out of her own name, and interjections from the plant character – asking how he can be more like Poppy, of course – detract too much from enjoying the track as an actual musical experience and won't have me returning to it.
"My Microphone" is hilarious, but that repetitive guitar riff is grating and out of place, especially when it cuts in and out overtop of a more standard bubblegum pop beat. The track is essentially a 3-minute build up to a punchline at the end – Poppy finds her lost microphone. It's another one-off spoof.
Closing track "Pop Music", on the other hand, is more of a stripped-down, acoustic track where Poppy muses on the value the genre brings to the world, but it seems out of character. The verses seem too articulate, and the change in style draws more attention to her vocals. She sounds a lot more human.
I understand that Poppy is basically an elaborate and brilliant marketing scheme, but when its this fun to look at and the product is this good, I have to congratulate Titanic Sinclair and everyone behind this weird character experiment. Repeat after me: I am not in a cult led by Poppy.
Favourite Tracks: Let's Make A Video, Moshi Moshi, Bleach Blonde Baby, My Style, Computer Boy
Least Favourite Track: Pop Music
Score: 8/10