California pop-rock sister trio HAIM unleash their sophomore album after a 4-year wait that felt much longer. After the spectacular debut Days Are Gone, and the many interviews the band gave where they stated that they were going to "tap into their inner Kanye" – that is, perfectionist – fans were expecting something big from this project. The band has also detailed a few instances of their writers' block, and this plan may have suffered a bit.
Something To Tell You is still a strong project, but it is a clear step down from Days Are Gone for the amount of time it took to create. Luckily, the sisters' music is still packed with rapid-fire rhythms, snappy harmonies and enough boundless confidence and charisma to keep me returning to the project multiple times. But as the genre of genreless pop they helped create expands ever wider, something a little more ambitious may have been needed to stand out from the pack.
The project was almost singlehandedly produced by Ariel Rechtshaid (Sky Ferreira, Carly Rae Jepsen), who also contributed heavily to Days Are Gone and has since entered a relationship with Danielle Haim. He also appears alongside the three sisters in the writing column on each track. Backing him up on a few tracks are frequent collaborators Dev Hynes (Tinashse, FKA twigs) and ex-Vampire Weekend member Rostam Batmanglij (Frank Ocean, Solange), so on paper there was absolutely nothing to worry about here. These are the best in the business.
Something To Tell You opens with lead single "Want You Back", which features a shimmering, glossy chorus as lead vocalist Danielle Haim deftly navigates through tongue-twisting phrases and her two sisters back her up with sugary sweet harmonies. It is everything that is great about HAIM, and many of the album's opening tracks follow suit. All of the sisters are multi-instrumentalists, and it is nice to see the band leaning heavily on their own musical ability. Is any band with HAIM's level of popularity still using this much guitar in their work?
The rhythms created by Este Haim's slap bass and Alana Haim's percussion drive all of these tracks, but HAIM's greatest appeal of all might be hearing all three sisters come together in perfect harmony. It brings to mind some of Fleetwood Mac or Wilson Phillips' best tracks. If anything, Something To Tell You brought this degree of their music even more. "Little Of Your Love", the album's best track, features an incredible moment in the bridge where most of the instrumentation drops out and the rapid-fire three-part harmony is brought directly to the forefront. The bouncy guitar hooks and pseudo-country flair of the track make it a unique gem on an album where many tracks slowly start to blend together.
Danielle Haim is still a rockstar in every sense of the word, and I love the way she quiets her voice down when she's delivering her most passionate and heartfelt lines. The understated chorus of "You Never Knew" is one of the best here. "Walking Away", the only solo Batmanglij track, is another standout due to its uniqueness, as HAIM drifts closer to R&B than they've ever been and build much of the instrumental through loops of their own vocals. HAIM's live shows are always incredible, and I'm excited to see if they can pull the complexity of this one off.
There are some very strange musical decisions all over the project, and the lack of polish makes me think that the writers' block may have been worse than we imagined. It feels like the band was rushing to finally get an album out in the world after so many years. What reason is there to suddenly snatch all of the building energy away from a great track like "Nothing's Wrong" for a very quiet bridge and distorted vocals? "Right Now" was originally released as a beautiful, stripped-down version in order to promote the album, but now there is too much background clutter and white noise distracting from the simple but powerful melody of the track.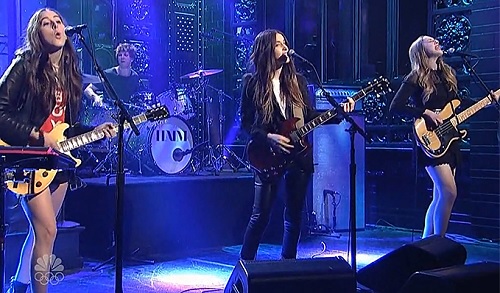 One more than one occasion, a few transitions from verse to chorus never quite click the way they're supposed to, which is strange for a band so focused on rhythm – "Ready For You" and "Walking Away" come to mind.
Ultimately, the most noticeable change from Days Are Gone is the new sparkling sheen of production that is placed over all of these tracks. Where their previous work felt so much more organic and real, like they simply put their raw recording session on the record, all of this just seems a little too perfect. HAIM is working with some of the greatest producers out – I can truly say I've almost never heard an idea that's less than perfect from either Rechtshaid or Batmanglij. This decision, and the way these tracks seem to attempt to capture a big idea through repetition of one chorus line and never quite get there, is an uncharacteristic dip in the quality of their work.
HAIM has fallen head-over-heels into all of the pitfalls of a sophomore slump. Many of the aspects that made the band so great in the first place are still here in abundance, but the seemingly rushed nature of the logistics detract from what made Days Are Gone such a trailblazer.
Still – anyone who has seen the band live knows they are one of the most talented and exciting groups out there right now, and I hope I don't have to wait another 4 years before they inevitably get back on track.
Favourite Tracks: Little Of Your Love, Walking Away, You Never Knew, Want You Back
Least Favourite Track: Found It In Silence
Score: 6/10