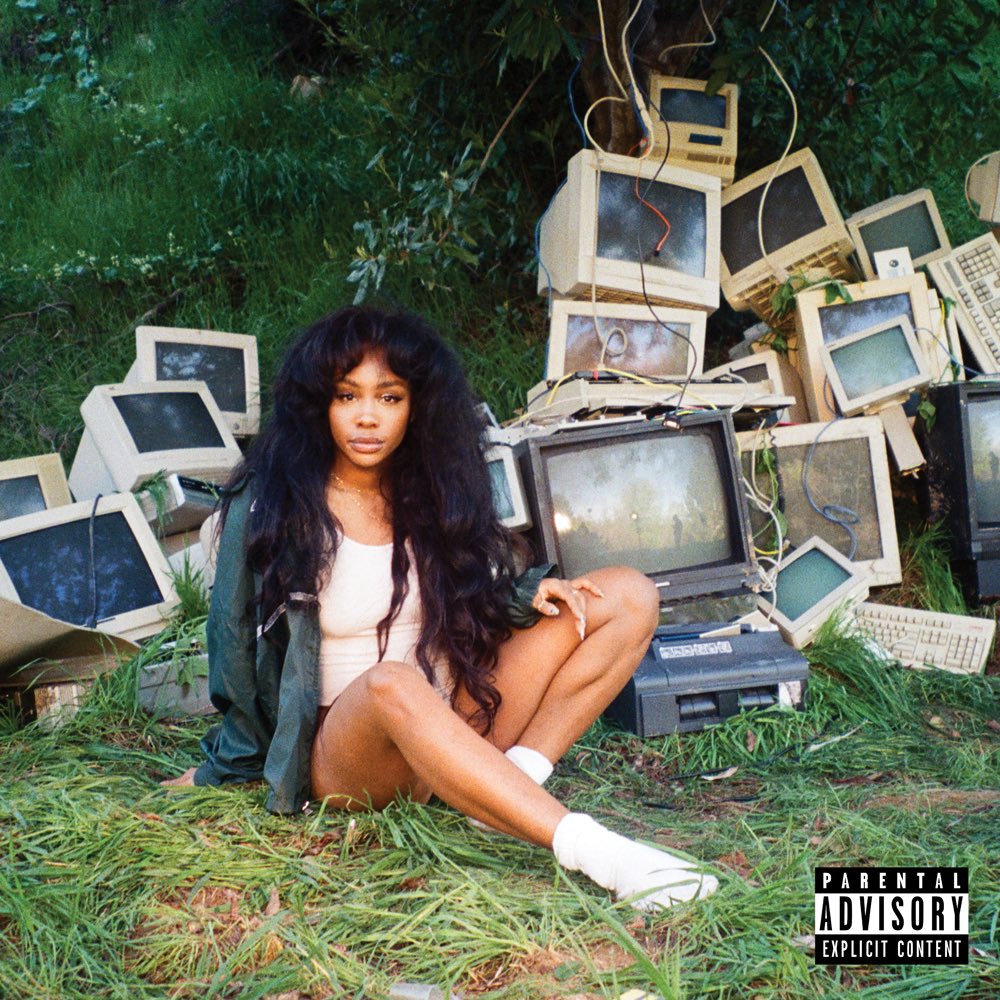 Top Dawg Entertainment signee SZA, their solitary female artist, finally unleashes her long-delayed debut album on the world. We last heard from her in 2014, on the EP Z, which reached for lofty heights with its neo-soul style and atmospheric soundscapes but was ultimately too underproduced to be exciting. Now with a few more years to hone her craft, SZA's debut is certainly a surprising breath of fresh air. While her previous work didn't offer a lot of insight into her life or personality, here she adopts a very confessional tone that could only be compared to what Frank Ocean was doing on his recent masterpiece Blonde. As the album progresses, she takes us on a sexually charged and brutally honest ride through her relationship struggles. This is exactly what a burgeoning talent finally coming into her own should sound like.
SZA, like most of her labelmates, keeps as many of her collaborators as possible within the TDE family. Some of TDE's lesser-known in-house producers show up here, as well as label rappers Isaiah Rashad and Kendrick Lamar. Surprisingly, it is Travis Scott who delivers the best feature verse on "Love Galore", elevating himself over Rashad's sleepy verse and Lamar's turn on "Doves in the Wind", in which he references a certain female body part 20 times. Lamar is there more to add to the dry humour of the song than to add a technically amazing guest verse. Pharrell Williams is the only big producer here, and he sets the tone perfectly with the opener "Supermodel".
On this opener, SZA recites some rapid-fire lyrics over a sparse guitar instrumental, addressing the problems she faces with her own self-image in the wake of being cheated on. Her melody is all over the place, her lyrics rarely rhyme and her phrasing doesn't follow a typical structure. But the thing is — it's more human than anything else I've heard this year. These are real issues and emotions, and when she reveals, "I've been secretly banging your homeboy" in a sudden burst of rage, you're on her side.
The confessional and straightforward nature of her lyrics, many of them addressing female sexuality in a very open and refreshing way, carry the project far above any of the lingering issues from projects like Z. SZA lets the listeners eavesdrop at her bedroom window, and hearing things we aren't supposed to hear is intriguing. It's even better that her ex-boyfriend, as well, apparently didn't know about the aforementioned line until the album dropped.
It's easy to get lost in this album – SZA's delivery really manages to hook you and draw you in to what she is saying like no other. She's talking to us like a trusted best friend, and we want to hear the next part of the story. "Normal Girl" is another very compelling track, as SZA speaks on her desire to be more conventionally ladylike in order to have a better chance at maintaining a relationship. Punctuating all of these truth bombs are some pretty beautiful high harmonies, synth basslines and trap hi-hats that help accentuate SZA's quicker delivery on tracks like "Garden (Say It Like Dat)".
The biggest critique of SZA's earlier work was a simple one – that she was boring. While she's improved her lyrical aspects tenfold, a few of these instrumentals still call back to those earlier days. Many of them are minimalist, clearly inspired by tracks like Frank Ocean's recent "Ivy", but they are not as dynamic as Frank's end up being, often looping endlessly. This might be fine if SZA had more to offer vocally, to give the track a few more "wow" moments – but she often opts for a scathing burn or a rhythmic, rambling stream of consciousness to make up for the lack of a big note or vocal acrobatics. Her delivery is a lot more like a rapper's.
"Drew Barrymore" is a great example of one of these slow guitar instrumentals  which is saved when she kicks the chorus off with a beautiful high note – "Warm enough for ya?" – as the drums explode and guitar builds slowly. The instrumentals are frequently very similar, nearly an afterthought on this album. This makes it increasingly difficult to differentiate between some of the lesser tracks here, as one song flows into the next and you wait for something to snap your attention back. Usually, it is one of those lyrics that makes you do a double take. The fact that this specific aspect of the project is the thing consistently doing this makes it a very unique listening experience, and is one of the main reasons why this album is so innovative.
For a few years, it was looking like SZA might be one of the members of TDE with the least to offer. She has now made it clear why the decision to sign her was made, and since this is technically considered her debut studio album, the quality and artistic vision she presents here is very impressive for a debut. There are still some lingering issues, but like she says on the album's closer – she's still just "Ms. Twenty Something".
Favourite Tracks: Drew Barrymore, Garden (Say It Like Dat), Normal Girl, Broken Clocks, Supermodel
Least Favourite Track: Pretty Little Birds
Score: 7/10