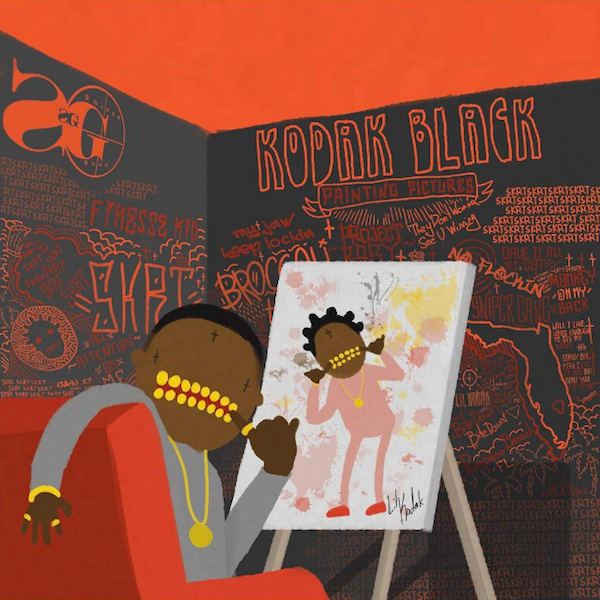 19 year old Florida rapper Kodak Black releases his debut full-length studio album surprisingly quickly after the meteoric success of single "Tunnel Vision", considering the fact he is in prison more often than not. While graduating past his mixtape days and working with some larger names in the industry has improved the overall production value of his music considerably, Kodak's grating nasally voice and eye-rolling lyricism are still far too prevalent to get past. Painting Pictures is over an hour of repetitive trap beats – though there are a few diamonds in the rough – and immature, cliched lyrics delivered by an individual whose success baffles me.
Painting Pictures is a trap album through and through, as the all-too-familiar 808 bass and snare rolls echo for the hour-plus runtime of the album. However, Kodak did attract some of the genre's best innovators to the studio and sometimes the beats can actually be good enough to save a song here and there.
One of the biggest contributors to the album is frequent Weeknd collaborator Ben Billions, who brings along some of his XO labelmates to co-produce. His joyful piano melody on "Patty Cake" surprised me in its ability to make me genuinely enjoy a Kodak Black Song. Mike Will Made It shows up on one track, choosing to showcase the bland trap side of him rather than the genuinely very creative side we see sporadically, while the flutes on "Tunnel Vision" were of course made by the now-ubiquitous Metro Boomin and Southside. Still, all of this unfortunately becomes largely irrelevant.
Some of the features on here make the best of their appearances, or perhaps they just sound like hip-hop savants next to Kodak. The production is the only consistently strong aspect of the album even if it does get rather uninspired after 18 tracks, and better rappers like Bun B, Future and Young Thug make the most out of these beats. Honestly, if Kodak has anything going for him it is a knowledge of how to make a catchy rap melody – "Tunnel Vision" is by no means a good song but I still find myself singing the hook often, while "Candy Paint" is one of the better songs on here due to the sing-song chorus. If Kodak had a better voice, the album might have been much more enjoyable.
Kodak is largely incoherent and even arrhythmic at times. In fact, everything about his delivery is some of the worst I've heard on a major label hip-hop release. Incredibly monotone, making the chorus of a song like "Coolin and Booted" sound like a playground chant from hell, he brings new meaning to the term "mumble rap" and when you can understand him he's delivering sexual lines about mac and cheese and Caillou. Sometimes it fits a rapper's style to sound like they don't care, giving the impression that it is effortless, but as Kodak's voice drones on you start to wonder why someone who raps like this bothered to make an 18-track album.
Kodak completely lacks the charisma to stand out in any way despite all of his vocal shortcomings, and I could really go on all day about all the many ways he makes me want to swat the mosquito buzzing in my ear for an hour. And yet, the lyrics are still somehow the worst part of the album. They are frequently unnecessarily vulgar, or terrible attempts at making a Lil Wayne-level punchline. You could make a hilarious list of all the worst bars on this album. For all the material here, there is really nothing that makes me come anywhere close to taking Kodak Black seriously.
The bottom line is that this album honestly gave me a headache, and that hasn't happened in a long time. This is the album that I needed to truly appreciate the return of Kendrick Lamar.
Favourite Tracks: Patty Cake, Candy Paint
Least Favourite Track: Side N***a
Score: 2/10