Indie-pop duo Broods, hailing from New Zealand and consisting of siblings Georgia and Caleb Nott, obliterate the sophomore curse with what is easily one of the best albums of the year. Working with the same personnel for the most part, multi-instrumentalist Caleb and Grammy Award-winning producer Joel Little, who also collaborates extensively with fellow New Zealand native Lorde (co-writer of standout track "Heartlines"), establish synth-based instrumentals which can be both intricate and dreamy, and absolutely huge and hard-hitting, often switching seamlessly between the two mid-song. Such a soundscape provides the perfect environment for Georgia's vocals to shine, and shine they should.
Now with a wider audience, it would surprise me if Broods did not ultimately cross over to North American pop radio rapidly for nothing other than the strength of her voice alone. A breathy soprano with the potential to transform into an almost overpowering and emotionally laden belt at any given moment mirrors the dynamic quality of the music which accompanies it. This is a bold, confident sound to present, and it expands on the similar sound presented in their previous works mainly by raising the complexity of the instrumentals for a more creative and interesting overall product.
The music itself consists of a variety of clean-cut and punchy rhythms and anthemic choruses, lending the majority of the songs a kind of pulsing energy which one would be hard-pressed not to move to. These instrumentals are quite carefully crafted and the degree of work put into every facet of the many sounds we are hearing certainly comes across to the listener. One of the greatest examples is the layering on Georgia's vocals on nearly every track, creating harmonies with herself and adding to the overall atmospheric, dreampop-style sound permeating the project. These pounding and frenetic instrumentals occasionally cease for a few interludes of calmer tracks, toning down most of the percussion to showcase Georgia's marvellous instrument further. Though while it's usually all about Georgia, the instrumentalists do get to flex their muscles a bit on closing title track "Conscious", in which the flowing synth orchestra takes over and Georgia's voice is chopped up over the wave of sound for a powerful and effective outro.
Many of these songs do tend to sound quite similar to each other, falling into somewhat of a formula, the formula they have going is so overwhelmingly good that I find it hard to care. However, this similarity does cause some of the slower tracks, often more experimental and unique ("All of Your Glory"), to stand out. The true appeal of Broods is the strength of the chemistry between this trifecta of musicians: Caleb, Georgia and Joel Little. Such a boundless voice combined with a very creative pop producer and talented multi-instrumentalist, plus the added brother-sister connection, is a force to be reckoned with. This is a very cohesive project, and care was clearly taken with the transitions.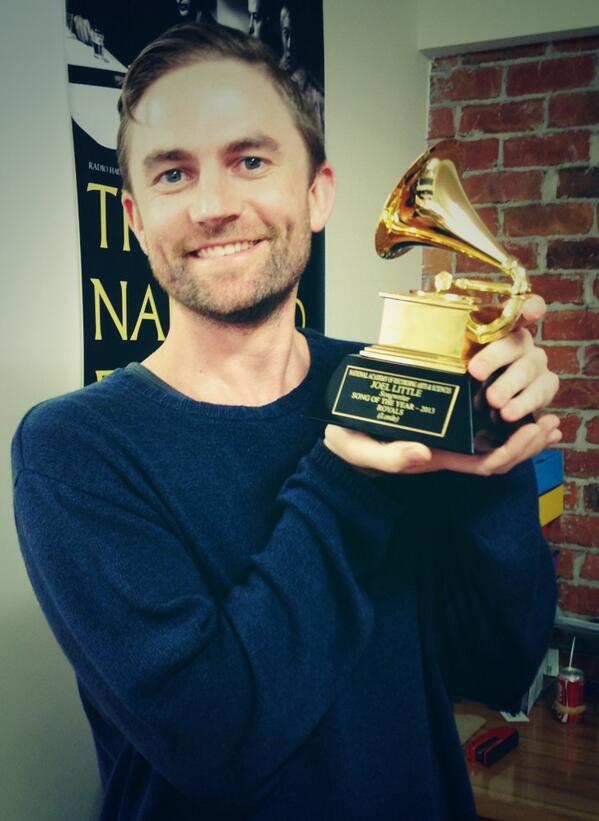 Joel Little with his Song of the Year Grammy for "Royals"
"Freak of Nature", featuring Tove Lo, is a masterpiece and perhaps the best song I've heard all year. Slow building songs are difficult to pull off effectively and, when done right, are my favourite kinds. The track begins at a near whisper, backed only by a minimalistic piano loop, and continues to add elements until Tove Lo and Georgia's emotive and wailing vocals are bouncing off of each other over a massive instrumental. The kicker is that the song also contains the album's heaviest and most meaningful lyrics depicting struggles with mental illness. And, like all great songs of this variety do, concludes at the whisper that began it once again.
Broods comes across to me like a more mature and established version of CHVRCHES, what the band could be exercising at their full potential at all times, which is a bold statement for me to make as quite a large fan of CHVRCHES especially because the bands are at essentially the same stage of their careers. The main reason this album crossed over into perfect score territory, something I intend to give out very sparingly, is because I agonized over choosing my favourite and least favourite tracks because they are all so perfect. It is an absolute wonder that an opening song as fantastic as "Free", a somewhat sinister-sounding song which establishes the sound and serves as great preparation for what is about to come, is immediately followed by 5 straight tracks that are even better. Conscious is flawlessly melodic synthpop bliss.
Favourite Tracks: Freak of Nature, Are You Home, We Had Everything, Full Blown Love, Bedroom Door
Least Favourite Track: Worth The Fight
Score: 10/10